NFL Thursday TV Schedule: Philadelphia Eagles vs. New York Giants Betting Odds, Predictions, Start Time, Live Stream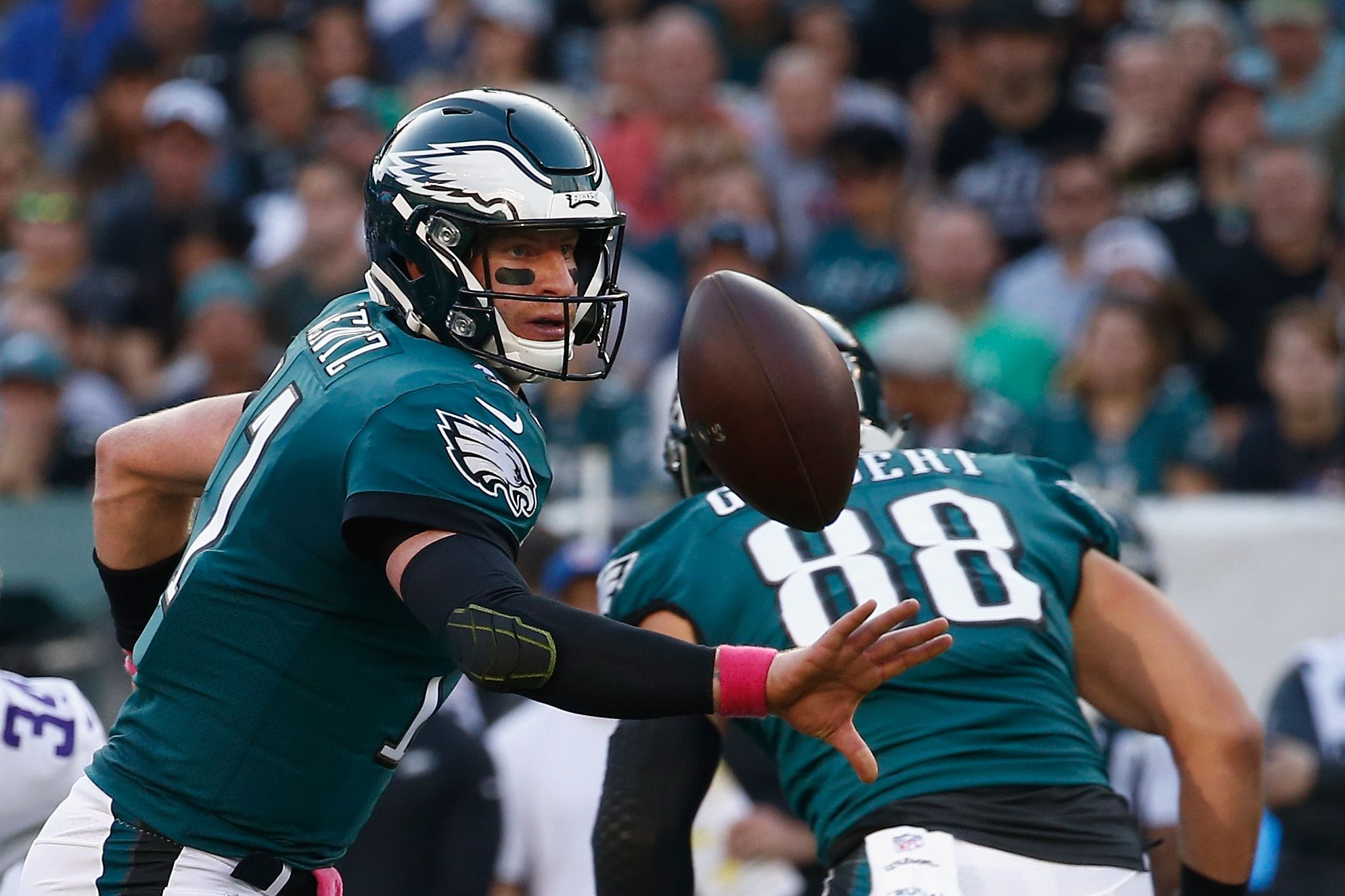 It sure feels like do-or-die time for the defending champion Philadelphia Eagles this Thursday night.
After a Week 5 loss to the Minnesota Vikings, Philly has fallen to 2-3 heading into their Week 6 road matchup against NFC East rivals the New York Giants.
Luckily for the Eagles, New York has proven a relatively weak squad thus far this season with a record of 1-4. But still, Philly was expected to be more impressive. They've struggled to get going on offense and, on defense, have gotten burned a few times in pass coverage. Doug Pederson, the Eagles' head coach, has attempted to put a positive spin on things despite the slow start.
"I see guys that are battling their tails off and competing with one another to play," he said, according to ESPN. "I see their frustration like our frustration when things don't go our way, and I see leaders on the football team standing up and leading, and that's what we need right now. We need those guys."
The Giants, meanwhile, need a pretty massive turnaround. New York's outspoken star wide receiver, Odell Beckham Jr., said Philly caught a lot of breaks last season and haven't had the same fortune this year—but added he wasn't really focused on Philly's issues.
"I haven't got a chance to watch them that much, but there's always a team each and every year where everything is right for them. Even watching them last year, there was third downs, third and sevens—they got all of them," Beckham said, according to USA Today. "It's just the little stuff that was going on for them all year that was happening that allowed them to win each and every game, I don't know if I've seen that in the past games. To be honest, I haven't got a chance to watch much of them, I've really been focused on what we're doing. I just don't know the answers to their problems, I'm more worried about ours right now."
Here's everything you need to know to watch the key NFC East matchup on Thursday night as well as gambling information:
Start time: 8:20 p.m. ET
TV channel: Fox, NFL Network
Live stream: fubo TV, Fox Sports Go, Amazon Prime (for members)
Betting odds: Philadelphia -3, via Odds Shark
Predictions: John Breech of CBS Sports picked the Giants to win. Joe Tansey of Bleacher Report picked the Eagles. Four experts at NBC Sports Philadelphia picked the Eagles while two picked the Giants. Four of five experts at USA Today's Giants blog picked New York.