NFL Trade Deadline 2020: Dates, Rumors and Possible Deals
A potentially pivotal day for America as a whole, November 3 could also shake things up in the NFL with the trade deadline falling on Tuesday afternoon as millions of Americans head to the polls for the presidential elections.
Trade deadline in the NFL is notoriously a more sedate affair than its NBA and MLB counterparts, with deals few and far between as opposed to the flurry of trades that unfold in the other two leagues. At the same time, with an expanded playoffs and the ongoing coronavirus pandemic still a major concerns for teams across the league, the upcoming trade deadline day could be more intriguing of its recent predecessors.
Here's everything you need to know about deadline day.
When is the NFL trade deadline?
Trade deadline falls at 4 p.m. ET on Tuesday, November 3.
From that point on, all trading will end until the 2021 league year formally begins. When that will be remains to be seen, as the league is still to officially announce a date, largely due to the uncertainty caused by the coronavirus pandemic.
The current league year began on March 18, 2020 and in all likelihood the NFL will be looking for a similar starting point next year.
Can players move after the NFL trade deadline?
In short, no. From the 4 p.m. deadline on November 3, NFL teams will be banned from trading until the 2021 league year begins, whenever that may be.
It is worth remembering, however, that while a number of trades are completed before the deadline, they can often be formally announced after the 4 p.m. ET cutoff time has passed.
Similarly, teams can agree in principle to trades before the new league year officially begins, although deals cannot be officially registered by the NFL.
Why is NFL trade deadline on Election Day?
Through its NFL Votes campaign, the league has actively campaigned to support players, team members and the general public to get out and vote on November 3. However, there's no connection between the initiative and the trade deadline falling on Election Day.
NFL rules state trade deadline has to fall on the Tuesday following the conclusion of Week 8. Switching the deadline to Monday would have meant the deadline falling just four hours before the New York Giants host the Tampa Bay Buccaneers on Monday Night Football, creating a potentially complicated situation for the two teams and for any other franchises involved in any potential trades with either the Giants or the Bucs.
Similarly, pushing the deadline back to Wednesday would have led to the unusual situation of teams potentially paying players they were no longer on their rosters, as NFL rules stipulate players who are on a team's roster after 4 p.m. ET on any given Tuesday during the season stand to receive a salary for the upcoming week's game.
Therefore, 4 p.m. ET on Tuesday is the most logistically sensible choice.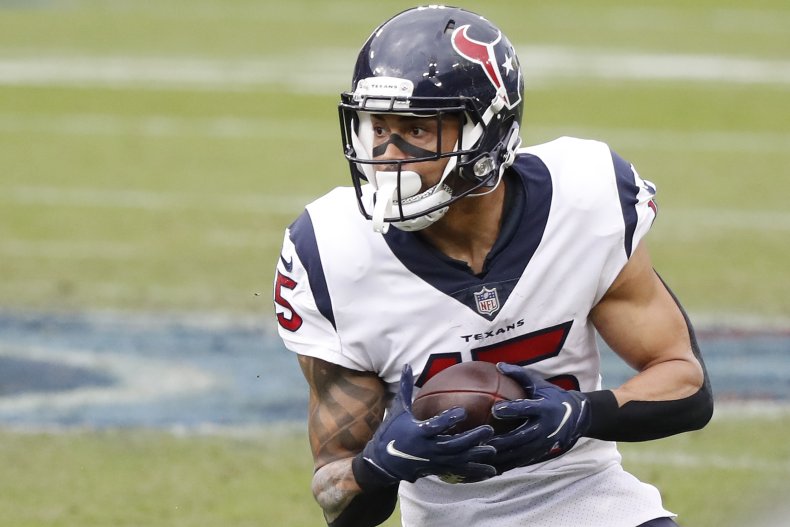 Will there be many trades on deadline day?

If last season is anything to go by, probably not. Only one trade was finalized on deadline day last year, but 2017 and 2018 both saw a flurry of deals being concluded.
Much as was the case in 2019, several teams have already made moves this season, with the Dallas Cowboys trading defensive end Everson Griffen to the Detroit Lions just two months after he signed a one-year deal with the franchise. Similarly, earlier this month, the Minnesota Vikings sent edge rusher Yannick Ngakoue to Baltimore after just five games, while last week the Cincinnati Bengals traded defensive end Carlos Dunlap to Seattle with offensive lineman B.J. Finney going the other way.
On Sunday night, meanwhile, linebacker Avery Williamson left the winless New York Jets for the undefeated Pittsburgh Steelers.
Which players could be on the move?
There has been a lot of buzz surrounding Houston Texans wideouts Kenny Stills and Will Fuller, with the latter drawing interest from the Green Bay Packers, as per NFL Network's Ian Rapoport. Green Bay is looking to add another weapon to its offensive arsenal and Houston may be tempted to part ways with the wideout in exchange for a much-needed draft pick. According to CBS Sports' Jason LaCanfora, the Packers have also spoken with the Cleveland Browns about tight end David Njoku, who has also attracted interest from a number of other teams.
Meanwhile, Washington is open to trade pass rusher Ryan Anderson and the future of Dwayne Haskins remains shrouded in doubt, after the second-year quarterback lost his starting job two weeks ago. Staying with NFC East teams, New York Giants tight end Evan Engram and wide receiver Golden Tate have both attracted interest, but a trade for either is far from a foregone conclusion.
Elsewhere, NFL Network reported that Miami Dolphins running back Jordan Howard has been the subject of interest from a number of franchises, while Cincinnati Bengals wide receiver could follow Dunlap out of the door after demanding a trade.
Buffalo Bills edge rusher Trent Murphy could also be on the move, as the Bills look to steady a defense that has left a lot to be desired so far. Murphy is a free agent and will turn 30 next month, which could convince the Bills to move him on instead of losing him for free.