NFL Trade Deadline: Philadelphia Eagles Acquire Golden Tate from Detroit Lions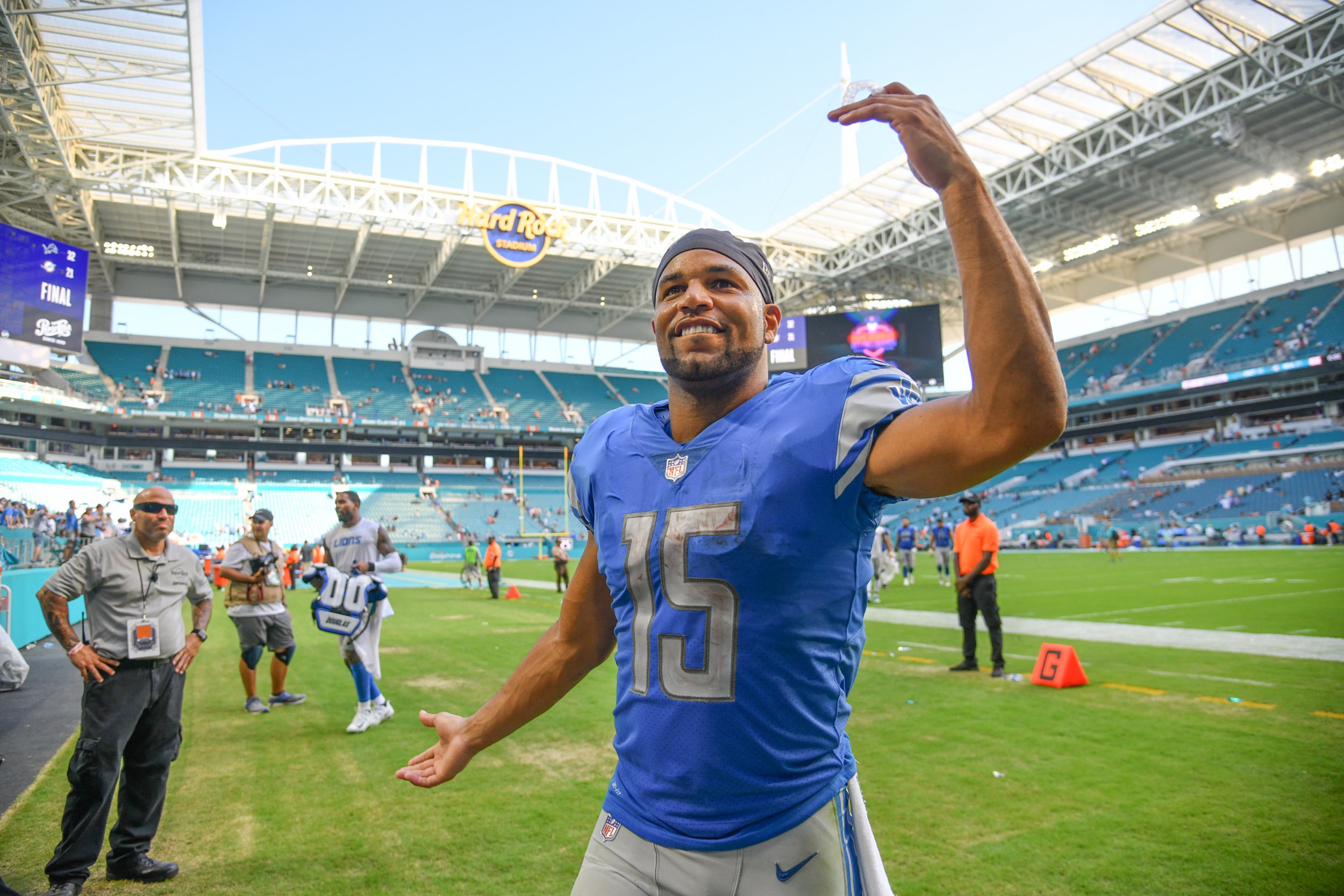 The Philadelphia Eagles acquired Detroit Lions wide receiver Golden Tate in exchange for a third-round pick prior to the NFL's trade deadline.
Tate confirmed reports of the trade by tweeing "It's been real DETROIT! I'll love ya forever. Philly Philly let's get it!!" on Tuesday afternoon.
The former Pro Bowl wide receiver also welcomed the many Eagles fans who followed him after confirming the trade and teased a potential number change.
"WOW. Welcome to all my new @Eagles followers," he wrote. "NEED YOUR HELP. What do you guys think, do I roll with ? Or new team, New Jersey number? #Help"
Tate signed with Detroit prior to the 2014 season and has been the franchise's most consistent wide receiver since his arrival. The Hendersonville, Tennessee native recorded 90 receptions in each of his four seasons with the Lions and had also surpassed the 1,000-yard mark during three seasons.
Tate is currently on pace to reach both milestones once again in 2018 with 44 receptions and 517 yards, as well as three touchdowns during his first seven games. The 30-year-old also has 285 yards after the catch which ranks No. 13 in the NFL, but is third among wide receivers.
Eagles quarterback Carson Wentz also shared his excitement about having Tate join the franchise on Thursday, tweeting "Let's roll my man! Excited to compete with ya! #flyeaglesfly"
Tate is in the final year of a five-year deal with Detroit, made the move in order to get some compensation rather than risk having him sign elsewhere as a free agent during the offseason.
"On behalf of our entire organization, I would like to sincerely thank Golden for his countless contributions to our team during his time as a Detroit Lion," said Lions general manager Bob Quinn. "For more than four years Golden displayed an unwavering commitment to not only his coaches and teammates, but also the City of Detroit. The impact he made on and off the field set an example for our team and serves as a testament to his character. We wish Golden and his family the very best in the next step of his career."
The move addressed a huge need for Philadelphia who lost No. 2 wide receiver Mike Wallace to a broken leg injury in Week 2.
The defending Super Bowl champion Eagles currently have a 4-4 record and are second in the NFC East behind the Washington Redskins.
Detroit appeared to be trade deadline buyers prior to shipping off Tate after acquiring defensive tackle Damon Harrison from the New York Giants on Oct. 24. The Lions also restructured the contract of fellow wide receiver Marvin Jones, which helped them save $2.2 million against their salary cap, sources confirmed to ESPN's Michael Rothstein.