NFL Training Camp 2019 News: Which Players Are Holding out for New Contracts?
The beginning of training camp in the NFL has become synonymous with big-name players opting to hold out for a new, lucrative deal.
Le'Veon Bell was last season's most striking example, skipping camp after being franchise-tagged by the Pittsburgh Steelers for the second successive season.
The running back ended up sitting out the whole season, becoming the first player to hold out for an entire season because of the franchise tag since Kansas Chiefs defensive tackle Dan Williams took the same route in 1998.
This year is no different, and six players have not shown up at training camp so far.
Ezekiel Elliott
Elliott did not join his teammates for the flight to Oxnard, California, where the Dallas Cowboys hold their training camp.
According to Pro Football Talk, the fourth overall pick of the 2016 draft had privately suggested he would not attend training camp unless he got a new contract, and seems to have stuck to his word.
While Elliott has been a two-time Pro Bowler in three seasons in Dallas, renewing his contract is not a priority for the Cowboys, who want to secure long-term deals for Dak Prescott and Amari Cooper first.
With a fifth-year option on his rookie contract, the Cowboys can afford to keep Elliott waiting a bit longer. However, expect them to do all they can to tie him down to a long-term deal sooner rather than later.
The former Ohio State star has averaged 1,349 rushing yards per season in Dallas, scoring 28 rushing touchdowns in three seasons.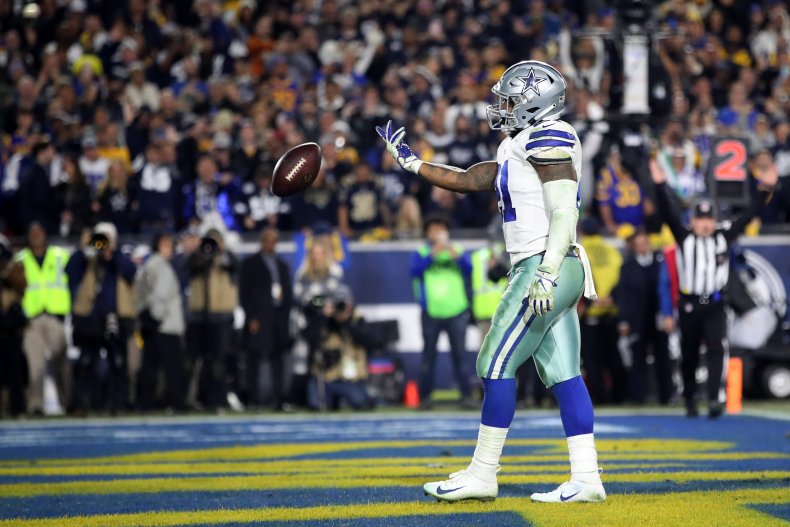 Michael Thomas
Thomas was absent when the New Orleans Saints veterans joined training camp on Thursday. It was a surprising move, given the 26-year-old spent the offseason denying he could do such a thing.
"I'm a football player first—I like being at work," he was quoted as saying by ESPN in May.
Much like Elliott—whom he played with at Ohio State—Thomas is looking for a lucrative new deal, given he's in line to make $1.15 million this year. With 321 receptions for 3,787 yards, no player has made more receptions than Thomas since he entered the league three years ago and the Saints are keen to keep him.
"We're gonna do a deal that we feel works for us, regardless of what the other teams may or may not do," said general manager Mickey Loomis.
Melvin Gordon
According to ESPN, the Los Angeles Chargers running back has told the franchise he will not be seen at training camp until he gets a new contract.
He's due to make $5.6 million in the final year of his rookie contract, more than what he's made in his first four years in the league combined. His demands present the Chargers with a dilemma, given Gordon's production is often offset by his injury record.
The first-round pick of the 2015 draft has played the full 16 regular-season games just once in four years. On the other hand, he has amassed over 3,600 rushing yards across the same period, with his yards-per-carry rising from 3.8 to 5.1 last season.
According to Spotrac, the Chargers have $39 million in salary cap available for next season, which means they will have a decision to make over Gordon.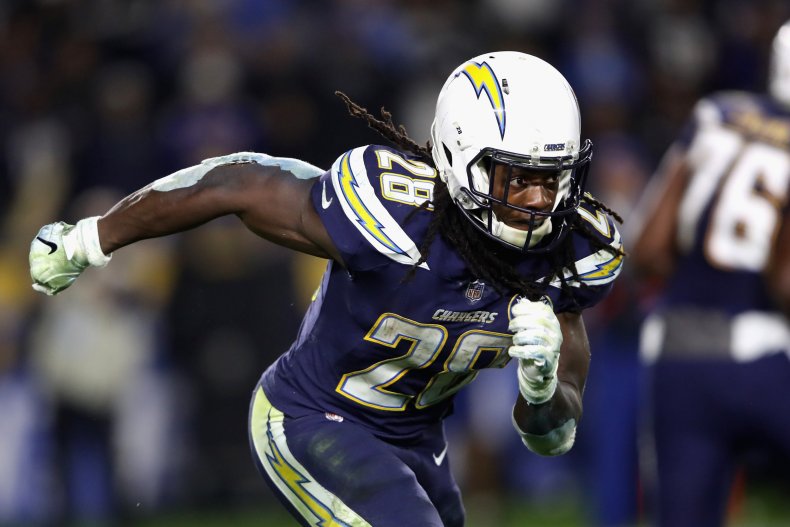 Jadeveon Clowney
The Houston Texans defensive end's situation differs from that of his colleagues mentioned above, as he was franchise tagged by the team.
That means the first overall pick of the 2014 draft will make $15.9 million this year, but he did not get the extension he wanted before July 15—the deadline for franchise-tagged players to sign a new deal.
The former South Carolina student can play as both defensive end and linebacker. However, the franchise tag for the former position is $17.1 million, while for a linebacker is $15.4 million. Unsurprisingly, the Texans used the latter on Clowney.
The three-time Pro Bowler now finds himself in the same scenario Le'Veon Bell faced last season. He can either sign the tag—he has until November 12 to do so—or he can sit out the entire campaign.
Trent Williams
Unlike his colleagues, Williams' issue isn't of a financial nature. With a $66 million deal in his pocket, the Washington Redskins man is the league's fourth-best paid left tackle. He is due to make $11 million next season and $12.5 million the following year.
According to The Washington Post, Williams wants to be traded after growing frustrated with the franchise medical staff after suffering a major health scare.
Earlier this year, Williams underwent surgery to remove a growth on his head, which had doctors worried could be malignant. Washington coach Jay Gruden admitted the seven-time Pro Bowler "wished the diagnosis had come a little sooner".
Yannick Ngakoue
The Jacksonville Jaguars defensive end has insisted he wants to remain in Florida, but did not report for camp as his contract negotiations have yet to be resolved.
With the third-round pick of the 2016 draft entering the final year of his rookie deal, the Jaguars can't afford to let time tick by.
According to NFL's Next Gen Stats, Ngakoue ranks fourth in the league with 161 total pressures in the last three seasons and set a franchise record for sacks by a rookie.
Expect the Jaguars and the former Maryland student to reach an agreement sooner rather than later.