Trump Vs. NFL: What Do Crisis Experts Have to Say About the War of Words Between the League and the President?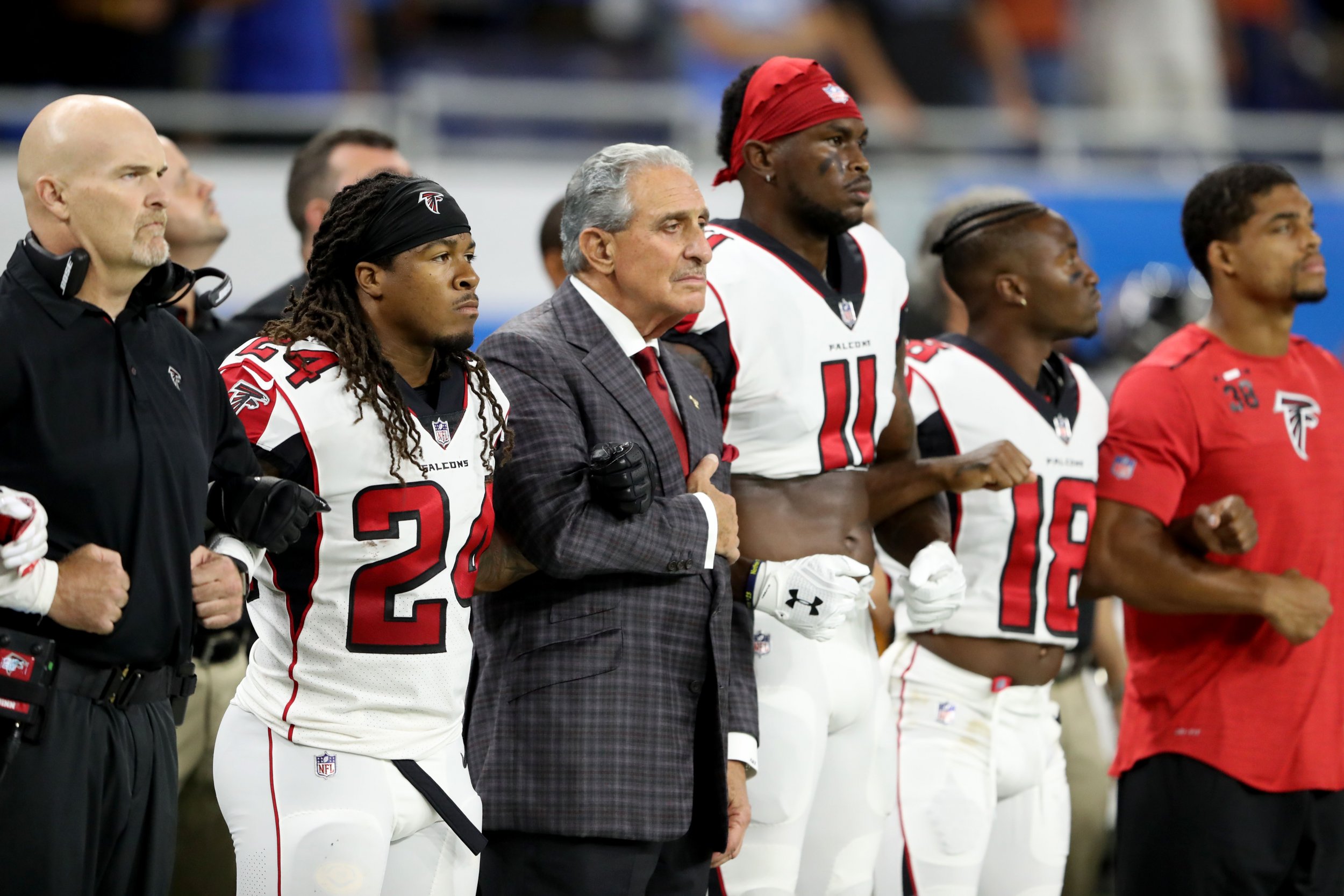 Colin Kaepernick first sat during the National Anthem on Aug. 26, 2016, in a National Football League preseason game against the Green Bay Packers. The San Francisco 49ers quarterback explained his reasons afterward: "I am not going to stand up to show pride in a flag for a country that oppresses black people and people of color."
As the 2016-17 regular season began, Kaepernick kept protesting, though he now knelt instead of sitting. Roger Goodell, the NFL commissioner, was asked about Kaepernick's protest. "I support our players when they want to see change in society, and we don't live in a perfect society," he said. "We live in an imperfect society. On the other hand, we believe very strongly in patriotism in the NFL."
Kaepernick started the 2017-18 season without a job in professional football, leading some to wonder if he were being punished for his political views. A few players, like Marshawn Lynch of the Oakland Raiders, sat or knelt in solidarity with Kaepernick before games, but he was not a primary concern of the league. There were, instead, renewed worries over traumatic brain injury, exacerbated by reports that Aaron Hernandez, the former New England Patriots tight end who'd killed himself in prison, suffered from a severe case of chronic traumatic encephalopathy, the degenerative neurological condition caused by repeated hits to the head.
And then President Donald J. Trump went to Alabama. There, in front of a conservative audience in the college football Mecca of Huntsville, he mused that kneeling football players were showing a "total disrespect for our heritage." He suggested that the players, whom he called "sons of bitches," should be fired by franchise owners.
Goodell answered the next morning with a statement that departed strikingly from what he'd said almost exactly a year before. This time, he was decidedly less concerned with shows of patriotism, chastising Trump for showing "an unfortunate lack of respect."
The following day, a Sunday, many players across the league knelt and locked arms during the National Anthem. Trump, meanwhile, has continued to rage against them, musing to Pete Hegseth of Fox & Friends last Thursday that league owners fear their players. "Most people agree with me," Trump told Hegseth, exaggerating the truth—but only somewhat. A Reuters/Ipsos poll finds that a narrow majority of Americans (51.3 percent) disapprove of Kaepernick's protest.
Most discussion on cable news and social media in the last week has focused on the propriety of a sitting president issuing such a divisive, racially-suggestive indictment of professional athletes. Americans have also debated whether the kneeling players were justified in using the uncomplicated joys of watching football to make a controversial political point.
But the situation is also fascinating as a case study in crisis management, one that pits the most powerful elected leader in the world against the world's most profitable sports league. Should the NFL have done more to rebut Trump's outrageous claims? Should it have done less, in effect ignoring the president as if he were just another Twitter troll? Is the league's stance genuinely principled, or is it profoundly hypocritical?
Conversations over the last several days with a half-dozen crisis management experts found broad praise for the NFL — though with some notable dissent. If there was agreement on anything, it was that Trump put the league in an untenable position by subverting Kaepernick's original complaint about racially-biased policing and turning the players' protest into a referendum on love of country.
"There are a lot of crises you can anticipate, but a three-day tweetstorm from the president of the United States is probably not one of them," says Risa B. Heller, a New York public relations professional whose clients have included members of the Trump family, as well as many prominent Democrats. "They managed to respond in a very dignified, graceful and appropriate way that was true to the league and did not get into the muck."
James F. Haggerty, also of New York, thought that the NFL should have coordinated a response among owners. Instead, each team responded to the National Anthem protest in its own way. Some teams linked arms, while a few stayed in their locker rooms."Whatever you think of the response, it sure was haphazard and reactive," says Haggerty, head of the firm PRCG and author of several books on crisis communications.
"They made a strategic mistake by wrapping themselves around the First Amendment," says Eric Rose, a partner with Los Angeles-based media relations firm Englander Knabe & Allen who works with corporations, law enforcement agencies and governmental entities. He pointed to the league's penalties for excessive endzone celebrations, as well as fines for criticizing referees. "I would have told him to change the narrative and not respond to the president directly," Rose said when I asked him of what he'd say to Goodell.
"They took the bait," he says. "The president was wrong, and a lot of people knew he was wrong, but they gave him the ammunition to continue."
Steven Callander, the Herbert Hoover Professor of public and private management at the Graduate School of Business at Stanford University, says Trump's comments in Huntsville put the league in an "absolutely no-win situation." He explains that "you usually don't want to be between two sides" of a political issue as hotly debated as the role of race in law enforcement. But that's exactly where the NFL found itself, between supporters of president Trump, who cast themselves as patriots, and supporters of the protesting players, who argued they were conscientious objectors making a necessary point about racism.
"They played it about as well as they can," Callander says, describing the league's response as "somewhat decentralized." Trump has capably exploited those divisions, as he often does with political opponents, isolating targets before obliterating them. And while most leaders seek to blunt the wedges of political discord, Trump sharpened this one, simplifying and subverting Kaepernick's argument. Then he drove that wedge right into the underbelly of the American body politic.
And despite the power of the league's central office, Goodell could only do so much. "The NFL is a collection of 32 teams," points out Scott R. Rosner, a professor in the legal studies and business ethics department at the Wharton School of the University of Pennsylvania."It's always difficult when you're trying to steer the collective." Rosner adds that it is impossible for the league to "control what 1,500 players on the sidelines are going to do."
Trump and his supporters in conservative media have amplified the differences in players' approaches. For example, they celebrated Alejandro Villanueva, the Pittsburgh Steelers offensive tackle who refused to protest with the rest of his teammates. They demonized LeSean McCoy, the Buffalo Bills running back who stretched as the National Anthem was performed. And while Trump has continued to assail the protests, he praised Dallas Cowboys owner Jerry Jones, whose team will apparently no longer protest during the National Anthem.
Joseph Lockhart, who runs crisis communications for the NFL, did not answer a Newsweek request for comment. Lockhart is certainly familiar with crisis communications, having served as the White House press secretary in the final two years of Bill Clinton's presidency.
Sam Singer, a San Francisco-based crisis management guru, doesn't believe that the NFL could have done much more — or much less — than what it did, though he cautioned against confronting Trump directly.
"One never engages in a war of words with a psychopath," says Singer. "It's a losing battle."
Rose thinks the league could suffer serious damage from a loss of advertising and television viewership. There is some evidence in support of this opinion, despite the generally positive reviews Goodell has received for his response.
Earlier this week, for example, the Remington Research Group — which has been accused of right-leaning bias — found that 64 percent of those polled believed that players should stand during the National Anthem. In a press release accompanying the poll, Titus Bond, the Remington polling director who was one of the few in his field to predict a Trump victory last November, wrote that "Americans are very clear on this issue. There is no doubt that they do not support political protests during the national anthem." Bond added that "Americans are watching less football and that trend will continue as long as the protests do."
Indeed, influential voices in right-wing media have excoriated the protesting players and the league itself, all but inviting conservatives to find something else to do on Sunday afternoon. Alex Marlow, the editor of Breitbart News, which regularly channels the aspirations and frustrations of Trump's base, told Politico, "I don't think that people, at least if the comments and the phone calls to Breitbart are any reflection, I don't think they like it. They just want neutrality, they don't want politics in football games."
"The NFL is on a politically correct suicide course, alienating fans and wrecking ratings," wrote James S. Robbins, a former defense official in the George W. Bush administration who is now on the editorial board of USA Today:
It can get worse as the NFL continues to squander the goodwill and political cover it has enjoyed for decades. The public might be less willing to support massive taxpayer subsidies for stadiums. Maybe Congress would find it beneficial to open investigations into how much the league has known about the degenerative brain disease endemic among players.
Others are wondering if the league's seeming tolerance of protest is anything more than a superficial display meant to appease liberal anti-Trump forces. If so, it doesn't appear to be working. "These are the same owners," wrote Ken Belson of The New York Times, "who allowed junk science produced by league-sponsored doctors to paper over the growing scientific consensus that repeated head hits are linked to long-term brain damage. They have warred repeatedly, aggressively and publicly with players over labor issues."
Sentiments like Belson's could lead to accusations that the NFL is knee-washing, using its support of the protests to disguise broader shortcomings on issues of race, public health and corporate ethics. Certainly, any notions that the NFL has bested Trump would be woefully premature just two weeks into the season. Perhaps the best the league can hope for is that Trump is distracted by some other development, such as looming war with North Korea.