Texas Youth Football Players Whose National Anthem Protest Canceled Their Season Are Still Resisting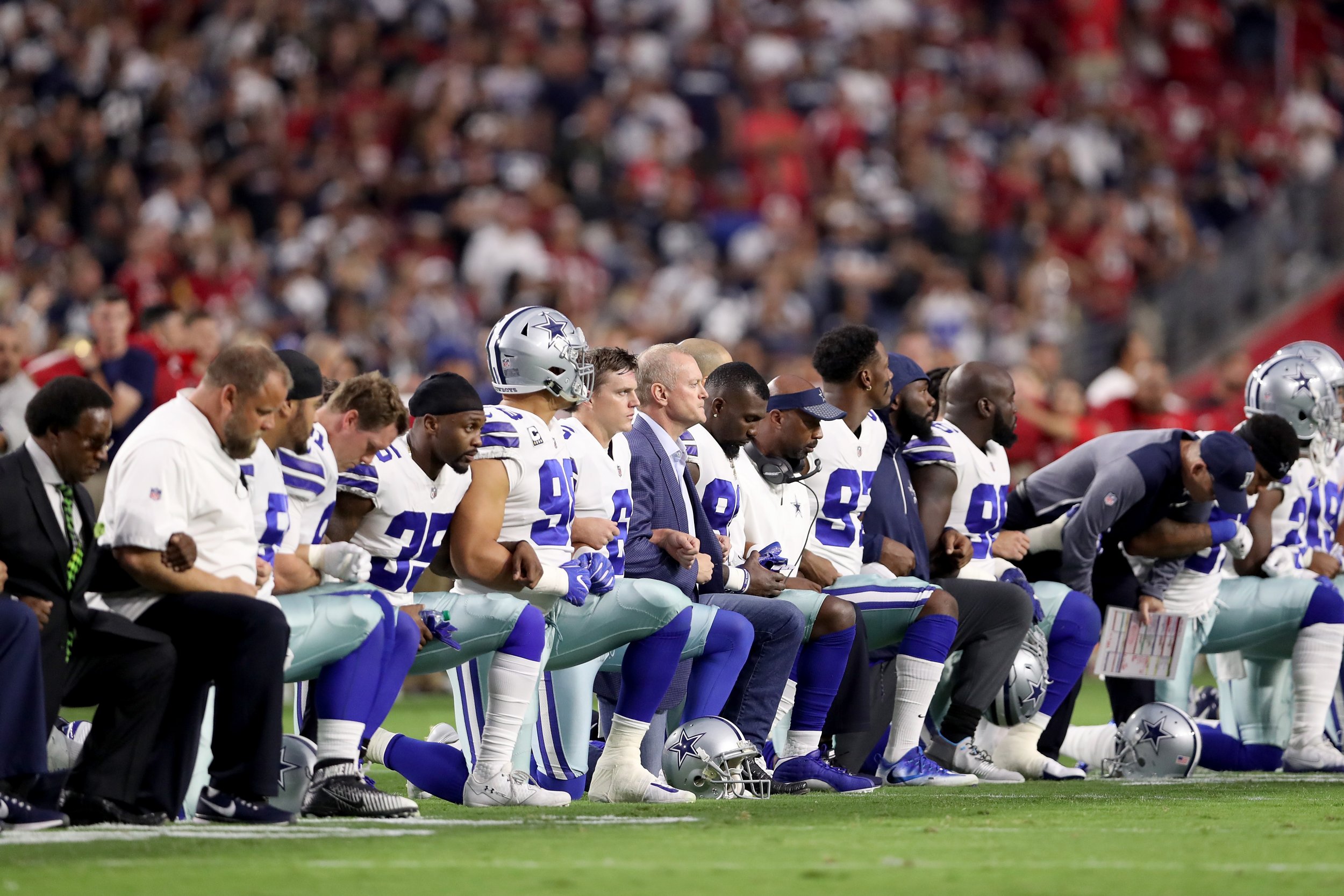 The young Texas football players who made headlines last fall for kneeling during the national anthem—and got their season canceled because of the backlash—do not listen to "The Star-Spangled Banner" during games anymore.
Instead, before kickoff each week, they blare the Bone Crusher rap song "Never Scared."
It's an appropriate theme song for the 11 and 12-year-olds who helped stage a Colin Kaepernick-inspired protest on the grass at a Beaumont Bulls senior game in 2016. Even when league officials turned on them, their coach was removed and their games were called off, they didn't give up. With the help of their ousted leadership, a dedicated mom and the NFL, some of the boys now play for the Southeast Texas Oilers.
A year after everything fell apart, they remain committed to their cause. And they're winning.
"All the stuff that happened—the consequences and stuff that followed right after it—some of the kids [were] like, 'Wow, I thought I was doing the right thing, but now they don't want us to play football,'" coach Rah-Rah Barber tells Newsweek. "Now, with everything happening today that you're starting to see, they were doing the right thing."
The saga started last September when Jaelun Parkerson approached his parents and coach after the fatal police shootings of Philando Castile and Alton Sterling. Jaelun asked Barber whether he and his friends could protest the anthem like Kaepernick, who told reporters he refused "to stand up to show pride in a flag for a country that oppresses black people and people of color."
Barber said that first he quizzed Jaelun on what he knew about the reasons behind Kaepernick's demonstration. Satisfied with the young player's answers, Barber brought up the idea at the Bulls' next practice. The team agreed to kneel as a unit and later did so, silently and stoically, near the 40-yard marker.
"It felt good that the kids actually understood what was happening and wanted [their] voice to be heard," Barber says.
They weren't the only ones. Since Kaepernick started the anthem protests, youth football teams in Seattle; San Francisco; Cahokia, Illinois; Camden, New Jersey; Kittery, Maine; and other cities have done the same. Protesters often cite the need to fight back against police brutality, which killed more than 960 people last year—a disproportionate number of whom were black men—or the fact that the third stanza of the anthem has a reference to slavery. Other activists are speaking out more generally about how the U.S. treats people of color, including the roughly 27 percent gap in hourly wages for black and white employees.
At first, the Beaumont story just went viral, appearing in publications like ESPN, New York Daily News, Washington Post and ABC News. But then the kids got death threats, and their supervisors at the Bay Area Football League backed away, citing safety concerns.
"Effectively, we were all kicked out of the Bulls organization," Jaelun's mom, April Parkerson, tells Newsweek. "It was unnecessary. It was supposed to be a beautiful thing where we all stood together, and I don't understand why it didn't work that way."
Parkerson and Barber were banned from the team. So they left the league, linked up with the Texas Youth Football Association and started the Oilers.
It wasn't easy. Barber says that because of the stance he took as coach of the Bulls, several community sponsors refused to support the team. Nobody would let him reserve fields where the players could practice. Luckily, this past June, a collection of NFL players including Malcolm Jenkins, Torrey Smith, Devin McCourty and Anquan Boldin sent the Oilers $20,000 for helmets, shoulder pads and other equipment.
Their support was important to Barber, who says it showed the kids "it's O.K. to stand up for what you believe in, even when sometimes there will be consequences."
Parkerson says their group now includes nearly 140 players and 23 cheerleaders, all of whom just finished their second game of the season. Nobody has approached the team or the league about playing the anthem.
"That's not part of their rules and by-laws. They don't play it unless it's a playoff or championship game," Parkerson says. "Right now, we're undefeated. In the event we make it and the national anthem is played, we will still take a knee because that's not something we will ever stand for."
The issue clearly isn't going away. Just this past weekend, President Donald Trump recommended NFL owners fire athletes "disrespecting the flag" by kneeling. He later doubled down on Twitter, saying that "sports fans should never condone players that do not stand proud for their national anthem or their country." In response, people on teams like Oakland Raiders and the Dallas Cowboys proudly kneeled during their Sunday football games.
All along, Jaelun has been watching. His mom says he's already mad about the president's remarks.
"He is furious," Parkerson says. "He's like, 'We've got to do something.'"
The Bay Area Football League and Beaumont Bulls did not return Newsweek's requests for comment.