After an offseason that felt like an eternity, Week 1 of the NFL season passed in the blink of an eye. And from season-changing injuries to opening night flops, there was plenty of action for even the most critical football fan to enjoy.
But as we enter Week 2, things will feel a bit different. Some of the novelty is gone; we'll develop preconceived notions about which teams are worth watching. But are those sentiments accurate? Or are we being misled by personal biases? No fan, after all, wants to admit that their most hated rival is actually pretty entertaining.
With that in mind, here's your guide to the Week 2 NFL slate from a watchability perspective.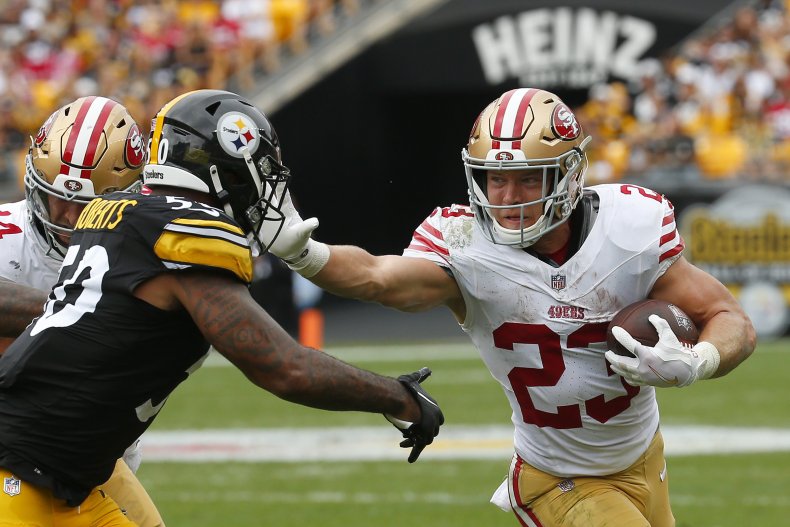 Thursday, September 14
Minnesota Vikings at Philadelphia Eagles, 8:15 p.m. (Prime Video): 2.5 Stars
The Eagles weren't at their best in New England, but the defending NFC champs have big-play potential on both sides of the ball. Minnesota didn't look good against Tampa, but Justin Jefferson is must-see TV. He salvages this one for the Vikings, at least from a watchability standpoint.
This game does lose points, though, for the ugliness potential. It could easily be over by halftime, and no one wants that on a night with only one game on the schedule.
Sunday, September 17
Green Bay Packers at Atlanta Falcons, 1 p.m. (FOX): 3 Stars
The Packers looked good without Aaron Rodgers in Week 1; the Falcons weren't a total disaster, and Bijan Robinson looked like a live wire, even at the NFL level. This game will probably be a bit one-sided, but you could still do worse.
Las Vegas Raiders at Buffalo Bills, 1 p.m. (CBS): 3.5 Stars
The Raiders may be 1-0, but the focus of this game will be on the Buffalo Bills. After a disappointing Week 1 and a stinker from Josh Allen, expect the offense to come out with their metaphorical guns blazing. It's unclear whether we'll see fireworks or a car crash, but it should be entertaining either way.
Baltimore Ravens at Cincinnati Bengals, 1 p.m. (CBS): 4 Stars
Joe Burrow and the Bengals laid an egg in Week 1, but that doesn't mean their offense isn't capable of stuffing the box score. The Ravens are also an exciting team to watch, even with J.K. Dobbins sidelined.
Ideally, we'll get two teams marching up and down the field in this one, but, fear not, even if one team fails to show up, there's still plenty of firepower here.
Seattle Seahawks at Detroit Lions, 1 p.m. (FOX): 2.5 Stars
The Detroit Lions stole the show on opening night, but they didn't exactly blow the Kansas City Chiefs out of Arrowhead. Instead, their offensive line and defense did most of the work. That may be good for winning games, but it's not super fun to watch. Add a disappointing Seahawks team into the mix—Seattle floundered against the Rams in Week 1—and there's probably not much to see here.
Indianapolis Colts at Houston Texans, 1 p.m. (FOX): 2.5 Stars
The Colts performed better than expected in Week 1, and Houston didn't completely collapse, which is certainly something. This game could be worth watching if you're a quarterback aficionado—Anthony Richardson and C.J. Stroud could be future stars— but they're not there yet.
Kansas City Chiefs at Jacksonville Jaguars, 1 p.m. (CBS): 4.5 Stars
While the Chiefs weren't at their best on Thursday night, Travis Kelce is reportedly trending in the right direction, and Chris Jones has signed a new contract. Their mere presence should make KC better, and the club's desire to avoid starting 0-2 should ensure they're ready to play.
Jacksonville is also more than capable of pulling their weight here, Trevor Lawrence and Calvin Ridley already looking like a new dynamic duo.
Combine those talented rosters with some early stakes—the Jaguars will also want to prove they're the class of the AFC—and this is a good one.
Chicago Bears at Tampa Bay Buccaneers, 1 p.m. (FOX): 2 Stars
The Bears lost and looked bad on both sides of the ball. The Buccaneers won, but it's not like Baker Mayfield was the second coming of Tom Brady.
Don't overthink it. There are better games to watch.
Los Angeles Chargers at Tennessee Titans, 1 p.m. (CBS): 2.5 Stars
The Chargers may have failed to close out another game, but their offense is more than capable of putting up points. That's a saving grace for viewers since Ryan Tannehill and the Titans looked rough in Week 1.
And, even if Tennessee is rolling on offense, it will probably be thanks to Derrick Henry. Running the ball is important, but it's not the most fun to watch.
New York Giants at Arizona Cardinals, 4:05 p.m. (FOX): 2 Stars
The Giants were the biggest losers of Week 1 and brought virtually nothing to the table. Arizona was supposed to be bad; they fought hard and had a chance to win, but ultimately came up short. That combines to make this a skippable game.
San Francisco 49ers at Los Angeles Rams, 4:05 p.m. (FOX): 4.5 Stars
While this might have seemed like a snoozefest before the season started, it's now one of the games of Week 2. The Rams came out flying in their opening game and secured an upset victory in Seattle. While that's a guarantee that success will follow, confidence could help this young team build up some early momentum.
On the other sideline, the 49ers silenced any questions about Brock Purdy with an elite Week 1 outing. Between Christian McCaffrey, Brandon Aiyuk, and Deebo Samuel, there are plenty of explosive weapons to watch.
Add some California rivalry into the mix, and you've got a good game on your hands.
New York Jets at Dallas Cowboys, 4:25 p.m., (CBS): 4 Stars
Even with Aaron Rodgers shelved, this matchup has plenty of juice. Dallas' defense terrorized Daniel Jones on Sunday night, and they'll be licking their collective chops at the idea of facing Zach Wilson. Similarly, the Jets' defense will be feeling positive after smothering Josh Allen and the Bills.
Sometimes, defensive struggles can be boring. This one, however, should be full of sacks, turnovers and big plays.
Washington Commanders at Denver Broncos, 4:25 p.m. (CBS): 2.5 Stars
Neither the Commanders nor the Broncos really moved the needle in Week 1. You can pull out some storylines, like watching Sam Howell develop or seeing how Sean Payton and Russell Wilson work together, but that's not enough to really draw in a neutral.
Miami Dolphins at New England Patriots, 8:20 p.m. (NBC): 4 Stars
Across the entire NFL, the Miami Dolphins had arguably the best Week 1. Not only did their offense—and, ultimately, defense—come through to win a shootout, but the rest of the AFC East looked largely unremarkable. They'll take that momentum to Miami on Sunday Night.
Add the Bill Belichick factor into the equation—he'll always break out an interesting wrinkle to slow down the opposition—and a respectable Week 1 showing from Mac Jones and company, and you've got a nice little game here.
Watching Miami, however, is the biggest draw.
Monday, September 18
New Orleans Saints at Carolina Panthers, 7:15 p.m. (ESPN): 2.5 Stars
The Saints looked good, especially on defense, in Week 1, while Bryce Young played like a rookie. That could combine to make this game ugly rather quickly. Derek Carr is also more than willing to air things out, but don't expect him to throw for 350 yards if New Orleans takes the lead and remains in control.
Cleveland Browns at Pittsburgh Steelers, 8:15 p.m. (ABC): 3 Stars
The Browns were one of the surprise teams of Week 1, although their defense did most of the work against Cincinnati. The Steelers, on the other hand, were just plain bad.
Is there potential for things to be better in Week 2? Of course, and the talent on Cleveland's offense earns this matchup an extra half-point above the other MNF game. Just don't hold your breath waiting for the fireworks to start.
Uncommon Knowledge
Newsweek is committed to challenging conventional wisdom and finding connections in the search for common ground.
Newsweek is committed to challenging conventional wisdom and finding connections in the search for common ground.
About the writer
Joe Kozlowski is a Newsweek reporter based in New York City. His focus is reporting on trending sports stories. Joe joined Newsweek in 2023. He is a graduate of NYU's Gallatin School of Individualized Study. You can get in touch with Joe by emailing j.kozlowski@newsweek.com.
Languages: English.