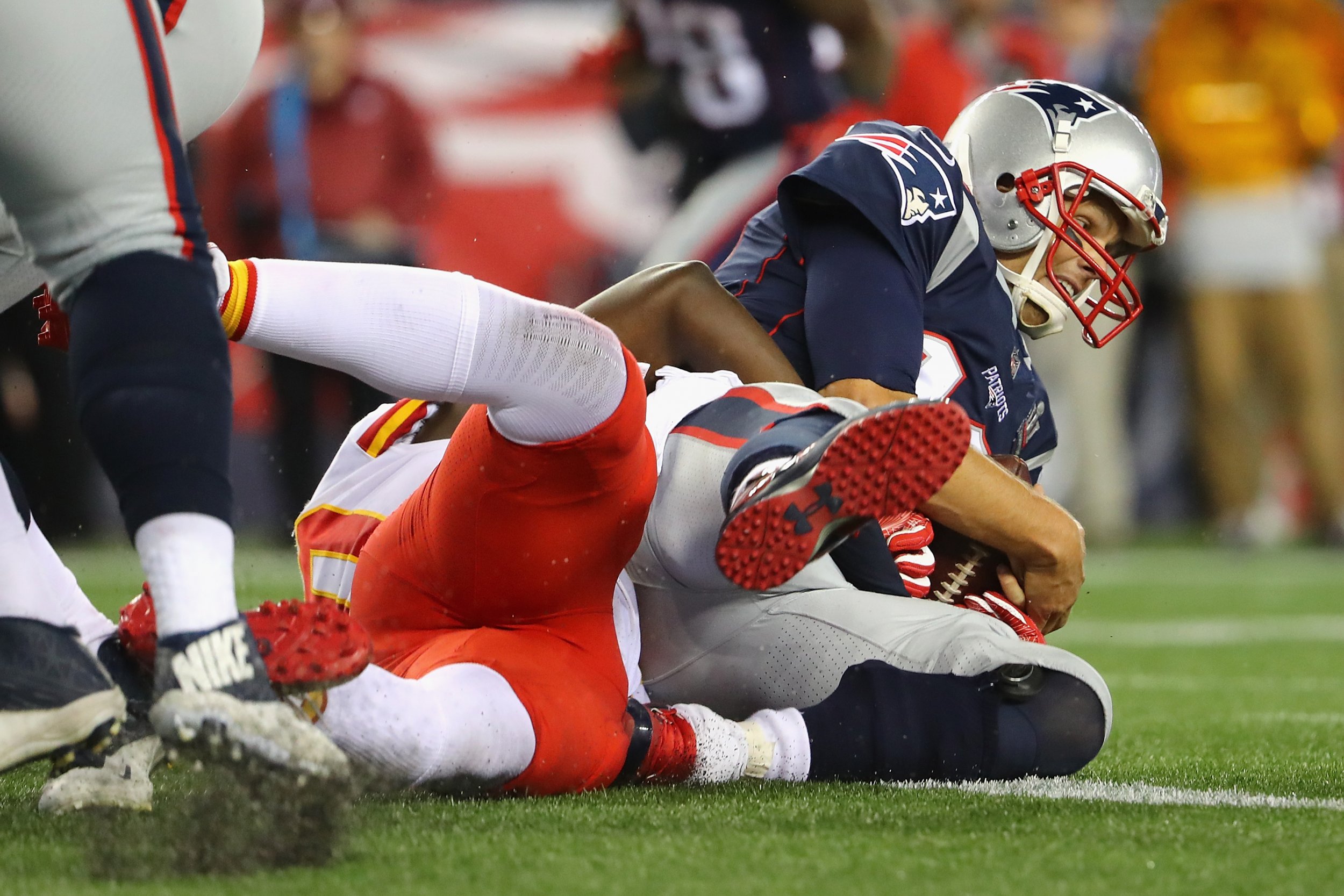 Thursday night's NFL season-opening game between the New England Patriots and the Kansas City Chiefs was a good one. It featured two of the best teams in the league, one of which is quarterbacked by Tom Brady. The game was high-scoring and well contested, until the Chiefs pulled away in the fourth quarter, sealing the upset win with touchdowns from running backs Charcandrick West and rookie sensation Kareem Hunt.
Unfortunately for the NFL, not many people watched it. Just over 21 million Americans tuned in, down 13 percent from last year. It was the first time in five years the game has drawn less than 25 million viewers, and its 14.6 overnight rating was the worst since 2009. Not good.
Related: How to watch the Patriots vs. Chiefs season opener
In 2016, regular season viewership was down by an average of 8 percent, according to ESPN, which is alarming. This may have been a result of presidential election coverage, but it also may indicate that people just aren't as into the NFL as they were five years ago, before Ray Rice, CTE revelations and some of the other unsavory aspects of the league surfaced. The ratings for Thursday night's game were less than stellar, but the NFL shouldn't panic just yet. Not totally, anyway.
We'll know far more about the outlook for the 2017 season after Sunday, when 12 of the 15 opening week games will take place. (The game between the Tampa Bay Buccaneers and Miami Dolphins was postponed due to Hurricane Irma.) If you do decide to watch, here's a guide for who is playing whom when, and on what network.
New York Jets @ Buffalo Bills
TIME: 1 p.m. ET
TV: CBS
STREAM: CBS All Access
ANNOUNCERS: Kevin Harlan, Rich Gannon
Atlanta Falcons @ Chicago Bears
TIME: 1 p.m. ET
TV: Fox
STREAM: Fox Sports Go
ANNOUNCERS: Kevin Burkhardt, Charles Davis
Baltimore Ravens @ Cincinnati Bengals
TIME: 1 p.m. ET
TV: CBS
STREAM: CBS All Access
ANNOUNCERS: Spero Dedes, Adam Archuleta
Pittsburgh Steelers @ Cleveland Browns
TIME: 1 p.m. ET
TV: CBS
STREAM: CBS All Access
ANNOUNCERS: Greg Gumbel, Trent Green
Arizona Cardinals @ Detroit Lions
TIME: 1 p.m. ET
TV: Fox
STREAM: Fox Sports Go
ANNOUNCERS: Chris Myers, Daryl Johnston
Jacksonville Jaguars @ Houston Texans
TIME: 1:00 p.m. ET
TV: CBS
STREAM: CBS All Access
ANNOUNCERS: Andrew Catalon, James Lofton
Oakland Raiders @ Tennessee Titans
TIME: 1 p.m. ET
TV: CBS
STREAM: CBS All Access
ANNOUNCERS: Jim Nantz, Tony Romo
Philadelphia Eagles @ Washington Redskins
TIME: 1 p.m. ET
TV: Fox
STREAM: Fox Sports Go
ANNOUNCERS: Kenny Albert, Ronde Barber
Indianapolis Colts @ Los Angeles Rams
TIME: 4:05 p.m. ET
TV: CBS
STREAM: CBS All Access
ANNOUNCERS: Ian Eagle, Dan Fouts
Seattle Seahawks @ Green Bay Packers
TIME: 4:25 p.m. ET
TV: Fox
STREAM: Fox Sports Go
ANNOUNCERS: Joe Buck, Troy Aikman
Carolina Panthers @ San Francisco 49ers
TIME: 4:25 p.m. ET
TV: Fox
STREAM: Fox Sports Go
ANNOUNCERS: Thom Brennaman, Chris Spielman
New York Giants @ Dallas Cowboys
TIME: 8:30 p.m. ET
TV: NBC
STREAM: NBC Sports Live Extra
ANNOUNCERS: Al Michaels, Cris Collinsworth, Michele Tafoya