NFL 2017 Week 3: How to Watch, Live-Stream Sunday's Games, Including the First London Game of the Year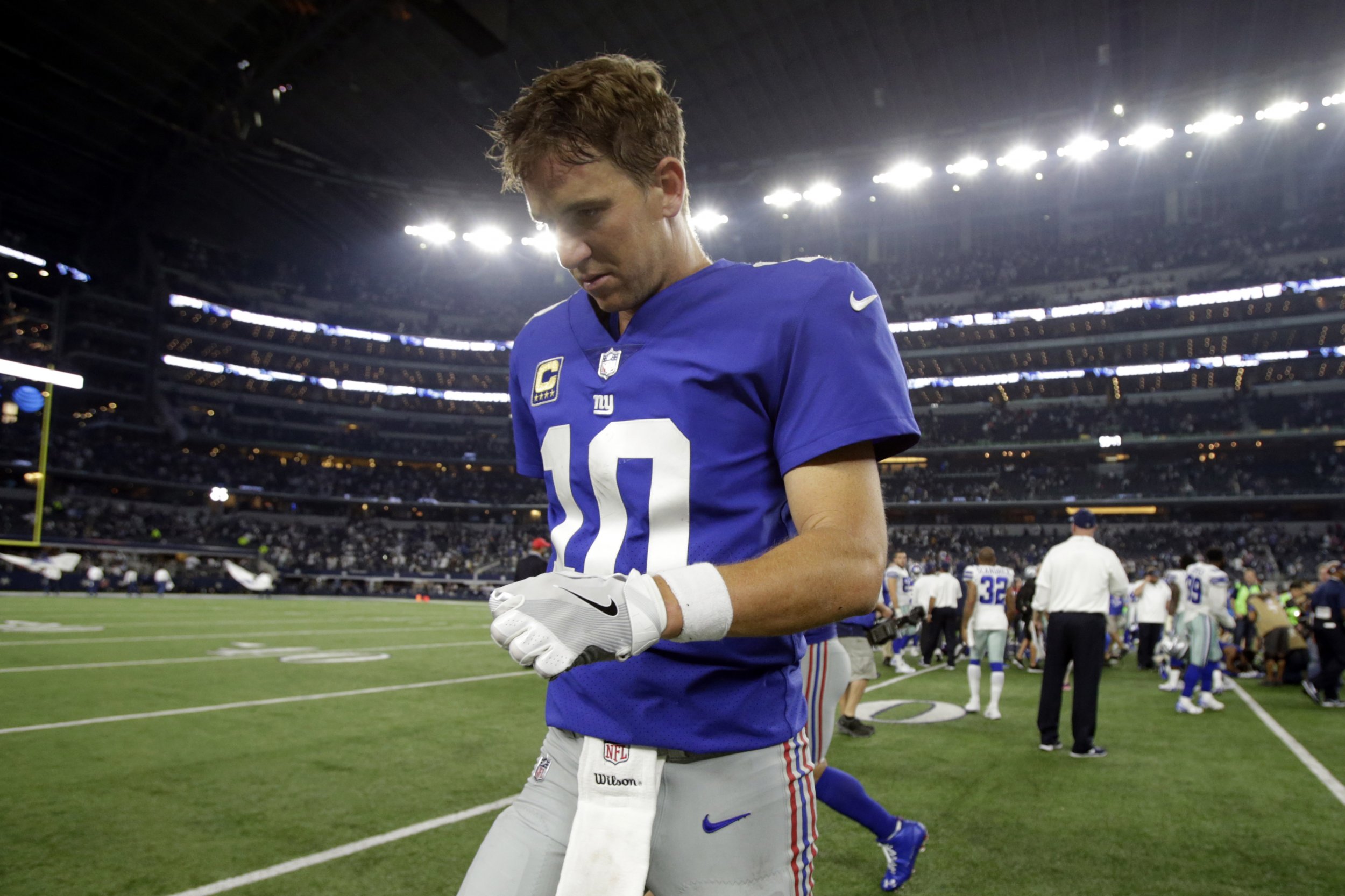 If Thursday night's game between the Rams and 49ers was any indication, we could be in for an action-packed third week of the NFL season. Jared Goff and the Rams held on for a wild 41-39 victory against their division rival, bucking Thursday Night Football's habit of producing sluggish, boring football. Bring on the points!
Related: Tony Romo May Be a Better Analyst Than Quarterback​
In addition to the Broncos trying to move to 3-0, the Giants trying to stave off 0-3 and the Colts and Browns trying to draw viewers who aren't in the immediate families of the players, Week 3 will also bring the first London game of the season, between the 2-0 Ravens and the 1-1 Jaguars. You'll probably have to set an alarm if you want to watch it, though. It begins at 9:30 a.m. on the East Coast and, gulp, 6:30 a.m. out west.
Baltimore Ravens @ Jacksonville Jaguars (from London)
TIME: 9:30 a.m. ET
TV: CBS (Baltimore and Jacksonville)
STREAM: Yahoo
ANNOUNCERS: Andrew Catalon, James Lofto
Denver Broncos @ Buffalo Bills
TIME: 1 p.m. ET
TV: CBS
STREAM: CBS All Access
ANNOUNCERS: Spero Dedes, Adam Archuleta
Pittsburgh Steelers @ Chicago Bears
TIME: 1 p.m. ET
TV: CBS
STREAM: CBS All Access
ANNOUNCERS: Greg Gumbel, Trent Green, Jamie Erdahl
Atlanta Falcons @ Detroit Lions
TIME: 1 p.m. ET
TV: Fox
STREAM: Fox Sports Go
ANNOUNCERS: Chris Myers, Daryl Johnston, Laura Okmin
Cleveland Browns @ Indianapolis Colts
TIME: 1 p.m. ET
TV: CBS
STREAM: CBS All Access
ANNOUNCERS: Beth Mowins, Jay Feely
Tampa Bay Buccaneers @ Minnesota Vikings
TIME: 1 p.m. ET
TV: Fox
STREAM: Fox Sports Go
ANNOUNCERS: Thom Brennaman, Chris Spielman, Peter Schrager
Houston Texans @ New England Patriots
TIME: 1 p.m. ET
TV: CBS
STREAM: CBS All Access
ANNOUNCERS: Ian Eagle, Dan Fouts, Evan Washburn
Miami Dolphins @ New York Jets
TIME: 1 p.m. ET
TV: CBS
STREAM: CBS All Access
ANNOUNCERS: Tom McCarthy, Steve Tasker, Steve Beuerlein
New York Giants @ Philadelphia Eagles
TIME: 1 p.m. ET
TV: Fox
STREAM: Fox Sports Go
ANNOUNCERS: Joe Buck, Troy Aikman, Erin Andrews
New Orleans Saints @ Carolina Panthers
TIME: 1 p.m. ET
TV: Fox
STREAM: Fox Sports Go
ANNOUNCERS: Kenny Albert, Ronde Barber, Kristina Pink
Seattle Seahawks @ Tennessee Titans
TIME: 4:05 p.m. ET
TV: Fox
STREAM: Fox Sports Go
ANNOUNCERS: Kevin Burkhardt, Charles Davis, Pam Oliver
Cincinnati Bengals @ Green Bay Packers
TIME: 4:25 p.m. ET
TV: CBS
STREAM: CBS All Access
ANNOUNCERS: Jim Nantz, Tony Romo, Tracy Wolfson
Kansas City Chiefs @ Los Angeles Chargers
TIME: 4:25 p.m. ET
TV: CBS
STREAM: CBS All Access
ANNOUNCERS: Kevin Harlan, Rich Gannon
Oakland Raiders @ Washington Redskins
TIME: 8:30 p.m. ET
TV: NBC
STREAM: NBC Sports Live Extra
ANNOUNCERS: Al Michaels, Cris Collinsworth, Michele Tafoya