NFL's Colin Kaepernick Thanks Eminem for Support After Rapper Takes Down President in Video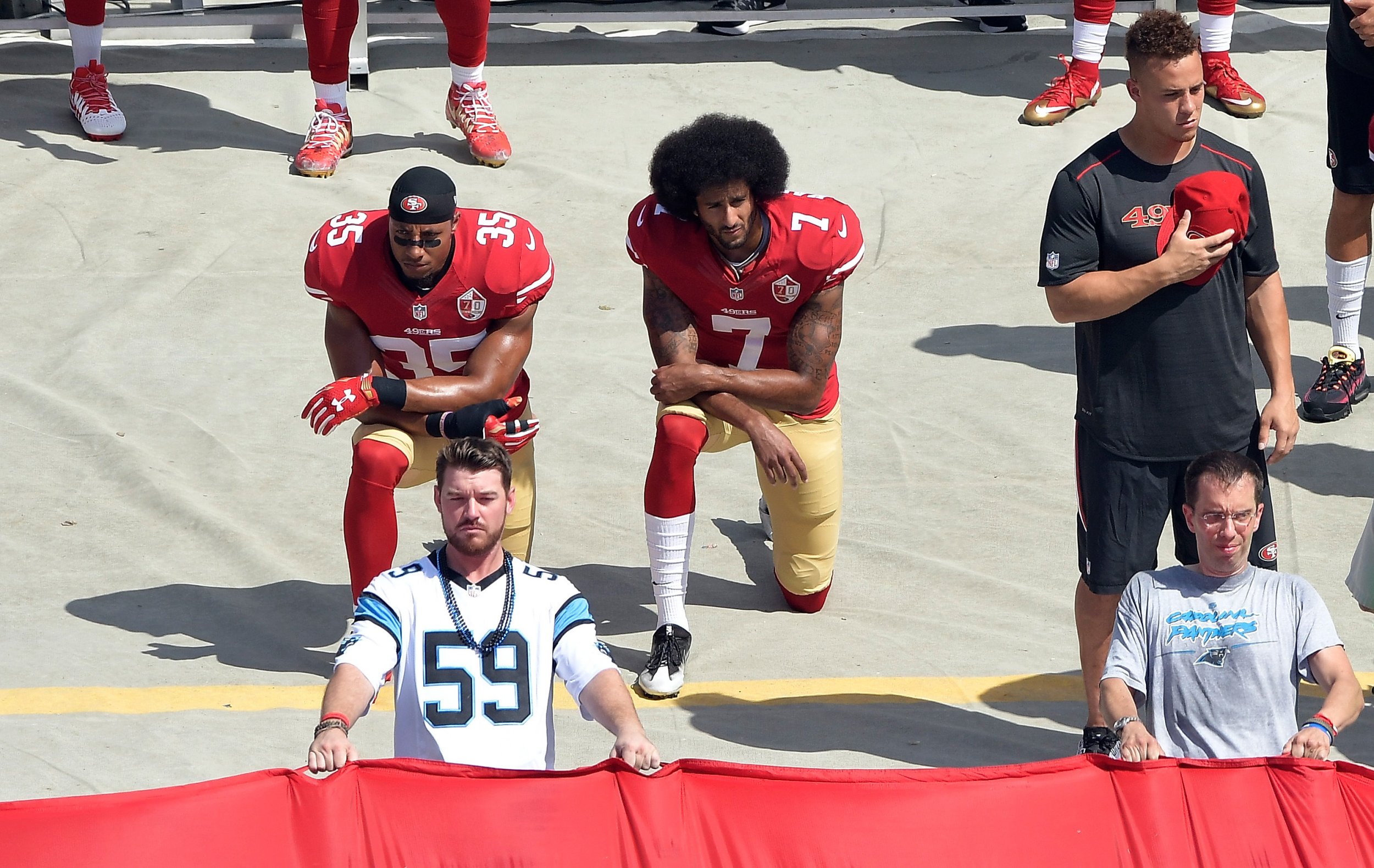 Former NFL player Colin Kaepernick has expressed his gratitude to Eminem for backing his protests against police violence in a new video, in which the rapper attacks President Donald Trump.
Kaepernick, a former player with the San Francisco 49ers, initiated the wave of protests which have swept the NFL, with players kneeling or raising their fist during the national anthem.
President Donald Trump has criticized the players taking part in the protests, accusing them of disrespecting the U.S. flag and calling for them to be sacked.
In freestyle video The Storm, which aired during the 2017 BET Hip Hop Awards Tuesday, Eminem expressed solidarity with Kaepernick.
"This is for Colin, ball up a fist," he said. "And keep that shit balled like Donald the Bitch."
Kaepernick tweeted in response: "I appreciate you @Eminem."
The Detroit rapper, whose real name is Marshall Mathers, went on to question the president's own patriotism following his attacks on athletes, Senator John McCain and response to the Charlottesville white nationalist protests.
He warns fans not to support the president.
"And any fan of mine who's a supporter of his, I'm drawing in the sand a line, you're either for or against, and if you can't decide who you like more and you're split on who you should stand beside, I'll do it for it for you with this. Fuck you," he said toward the end, raising his middle finger.
Basketball player LeBron James applauded Eminem for a lyric in which he mocks the president by comparing him to a character from the Fantastic Four movie, rapping "racism's the only thing he's Fantastic 4 cause that's how he gets his rock off, he's orange."
Political commentators and other rap stars also applauded Eminem's attack.
Kaepernick is currently out of contract, with supporters claiming he has been frozen out of the NFL for his political stance. The NFL is to discuss the issue of players kneeling during the national anthem when it meets in New York next week.
Eminem has criticized Trump before in the nine-minute 2016 freestyle "Campaign Speech," and in Big Sean's "No Favors."
In March Trump hit out at a video by rapper Snoop Dogg, in which a likeness of the president was shot.
"Can you imagine what the outcry would be if @SnoopDogg, failing career and all, had aimed and fired the gun at President Obama? Jail time!" tweeted the president.