Once the Helpers, Now Those in Need—Effects of Pandemic Lockdown in Italy Reaches Essential Workers
Going outside was once for the privileged, the essential.
In Italy, where hairdressers, daycare centers and bars have begun to reopen, many are still trapped inside their homes. They are dealing with the economic fallout of the pandemic by staying at home, waiting for help or finding other ways of coping while furthering the country's extended humanitarian crises.
The systems and volunteers which have worked to mitigate the spread of COVID-19 are now, after two months of lockdown, battling a rise in abuse, extortion, and what are known as "deaths of despair" (suicide, alcohol and drug overdose). In April, the National Council of the Order of Psychologists said that 63 percent of Italians had developed some form of anxiety or depression.
But groups helping the marginalized have themselves faced difficulties in recent years. Oftentimes donor, or grant-supported nongovernmental organizations; those groups are fighting for their survival as they face their own uncertain future in one of the many pandemic's yet unknown aftershocks.
Continued pandemic-related measures in some regions also mean these organizations have to rethink their operations as the needs of the country shift.
The organizations which had for years worked abroad, tending to victims of war, have been called to work domestically. Before the outbreak, nongovernment organizations across Italy had regularly taken flack from populist parties and right-wing politicians who felt the meddling abroad, in conflict zones and developing nations, was not in the national interest.
That was until Italy itself turned into a conflict zone.
"Despite the fact that NGOs in Italy have been targeted and demonized in recent years, we have seen a huge amount of support from ordinary people," Rossella Miccio, president of the Milan-based Italian aid organization Emergency which provides healthcare across the Middle East and Africa, told Newsweek. "The incredible commitment that organizations have shown during this outbreak turns out to have been the best answer to all the criticism."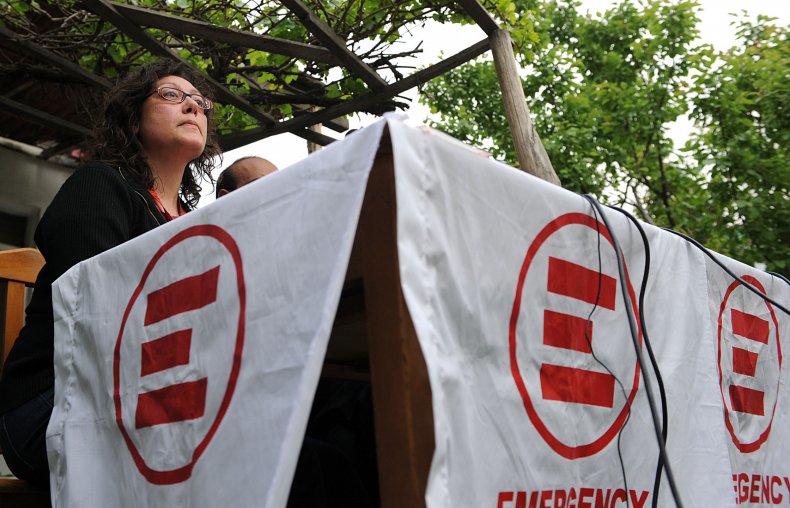 Since the beginning of the outbreak, all manners of institutions have been faced strained relief efforts as they adjust to working domestically, efforts made more difficult through social distancing guidelines and financing.
"The most significant change, however, has focused on small organizations: many are struggling to survive," Katia Scannavini, Deputy General Secretary of ActionAid Italy, told Newsweek. "We keep in mind that the possible closure of some NGOs and associations also means the loss of jobs for many people and the dispersion of the recipients, and also the ability to be able to give the necessary answers."
Scannavini said the country shouldn't seek a return to normal operations, but to strengthen its resolve toward a new future where its emergency services are supported at home as they are abroad.
"The future in Italy will be complex and difficult. Italy certainly has its reaction resources and fortunate to be a country with great potential, but lacks a political-economic-social strategic vision," she said. "It would be appropriate to have the strength to restructure the missions in the country and maybe even do so with courage and creativity."
UNICEF Italy spokesperson Andrea Iacomini said there still existed crises from before the pandemic. Iacomini said there were some 5,000 unaccompanied children across Italy who still need help.
Organizations who help in the migrant and displaced populations have meanwhile taken to the added responsibilities brought on by the pandemic. And those efforts, Iacomini said, are ongoing despite the national emergency.
"COVID-19 has brought new challenges related to health, legal, training and job access systems," Iacomini told Newsweek. "The future must be rethought starting from a perspective of fair access to resources and services, of sustainability, looking also and above all to the most vulnerable groups, to those who are currently suffering from the worst consequences of the crisis."