NGOs That Refused to Comply With Trump Admin's 'Global Gag' Rule Lost Collective $150 Million in Declined Funding: Report
Non-governmental organizations (NGOs) around the world that refused to comply with the Trump administration's Mexico City policy, also known as the "global gag" rule, lost a collective $150 million in declined funding from May 2017 through fiscal year 2018, according to a new report from the U.S. Government Accountability Office (GAO).
The Mexico City policy, which was first implemented in 1984 by the Reagan administration, bars U.S. federal funding to organizations that offer abortion counseling or referrals, or that advocate for the decriminalization or expansion of the procedure.
The policy has been in force on-and-off in the U.S., with past Democratic presidents having rescinded it, while Republican leaders have seen the rule reinstated.
Following the Trump administration's decision to reinstate the policy in January 2017 after it was rescinded under former President Barack Obama, the GAO's report, which was released on Wednesday, reveals the financial toll the rule took on non-governmental organizations in the months after it was implemented.
According to the GAO's findings, there were at least 54 instances in which NGOs did not accept the Trump administration's Mexico City policy, which the accountability office said results in roughly $150 million in declined funding.
In total, the GAO found that the policy was applied to more than 1,300 global health projects as of September 2018, with an estimated $12 billion in planned U.S. assistance.
In a statement shared with Newsweek, Monica Kerrigan, executive director of Planned Parenthood Global, warned that funding lost due to refusal to comply with the global gag rule could be detrimental to communities, particularly in times of a public health crisis, such as the one the world is facing now with COVID-19.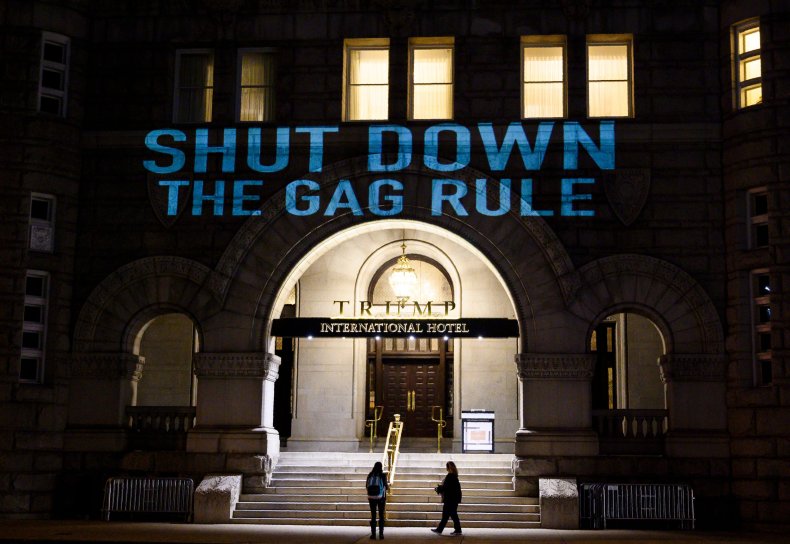 "The Government Accountability Office report confirms what we already know: the global gag rule has been applied at an unprecedented scale, impacting a range of health services and weakening health systems," Kerrigan said.
"The policy has harmed health care access for people around the world, especially those who already face systemic barriers to care including women and girls, young people, LGBTQI people, and sex workers," she continued.
"As the U.S. grapples with its response to the COVID-19 pandemic, we see how critical health systems are to ensuring health and promoting well-being," Kerrigan said, adding: "The global gag rule must be permanently repealed."
Newsweek has contacted the White House for comment.