NH House Speaker Richard Hinch Died from COVID-19, Autopsy Shows
New Hampshire House Speaker Richard Hinch died from COVID-19, according to an autopsy released by the state's attorney general.
"New Hampshire Chief Medical Examiner Dr. Jennie V. Duval has determined that the cause of Speaker Hinch's death was COVID-19," New Hampshire Attorney General Gordon J. MacDonald wrote in a statement. "During this difficult time, the family has requested that their privacy continue to be respected."
Following his death, many lawmakers and politicians in New Hampshire expressed their condolences for Hinch's family. The Republican lawmaker died on Wednesday at 71.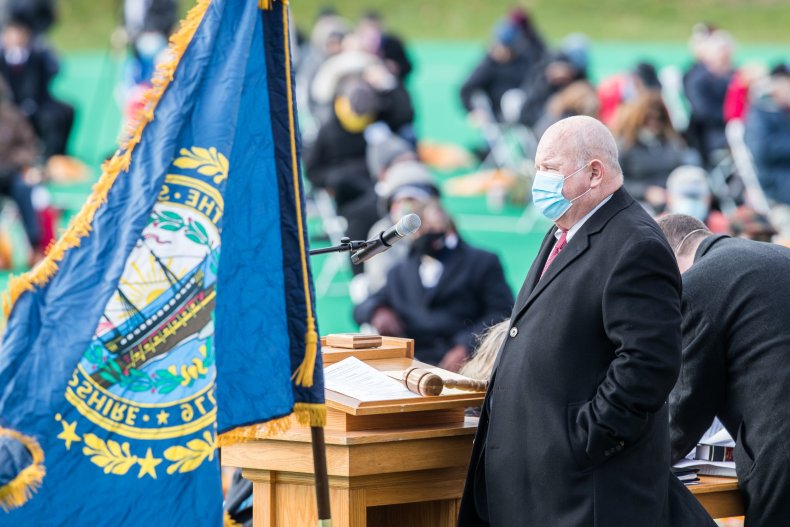 "I considered Speaker Dick Hinch to be one of my very best friends," New Hampshire Republican Senate President Chuck Morse said, according to the Concord Monitor. "The news that he has passed away so unexpectedly is heart breaking. Dick was truly a kind and humble man. He always dedicated himself to what he liked to say, 'to the better of,' that meant his family, his friends, his hometown of Merrimack and the State of New Hampshire."
In a joint statement sent to Newsweek, New Hampshire's House and Senate also expressed condolences following Hinch's death.
"As legislative leaders, we are committed to protecting the health and safety of our fellow legislators and staff members who work at the statehouse in Concord. It is our responsibility to ensure COVID-19 incident notification and transparency. These are responsibilities that we take extremely seriously," the joint statement from Acting Speaker Sherman Packard and Morse read. "We are deeply saddened that the pandemic that spares no one afflicted our friend and colleague."
New Hampshire Governor Chris Sununu wrote in a statement that he was "profoundly sad to learn of the passing of Speaker Dick Hinch."
"Speaker Hinch was a fierce defender of the New Hampshire Advantage, a close friend, and a respected public servant. His loss will be greatly felt by the people of this state, and I ask Granite Staters to join me in praying for his family during this incredibly difficult time," the statement said.
Newsweek reached out to Sununu for further comment but did not receive a response in time for publication.
Hinch was sworn in as the state legislature's House speaker last week. He did not publicly reveal that he tested positive for the novel virus, but the Republican did confirm that several of his fellow GOP state lawmakers contracted COVID-19 following a caucus meeting.
"We are experiencing higher than usual rates of infections in our state, and the Legislature and its members are not immune from that," Hinch said in a statement on December 2. "We are a citizen Legislature, and it can be expected that our legislators are at the same risk as the citizens we represent."
Hinch's death from the novel virus comes as cases, deaths and hospitalizations continue to surge throughout the U.S. According to data from Johns Hopkins University, on Wednesday the U.S. recorded more than 3,000 new COVID-19 deaths, breaking a previous single-day record number of deaths from May and surpassing the death toll from 9/11.
Across the U.S. there are now more than 15 million confirmed cases of the novel virus and at least 290,670 deaths, according to Johns Hopkins University.
Newsweek reached out to MacDonald's office for comment but did not receive a reply before publication.