St. Louis Defenseman Jay Bouwmeester Collapses on Bench, NHL Postpones Game Between Blues and Ducks
The game between the St. Louis Blues and the Anaheim Ducks on Tuesday night was postponed after Blues defenseman Jay Bouwmeester suffered what the team described as a "cardiac episode."
With 7:50 left in the first period at the Honda Center in Anaheim, California, the 36-year-old reached for a drink, but soon began slumping down on the bench.
Bouwmeester had just completed a shift lasting approximately 80 seconds—he logged a total of 5:34 of ice time during the game—and teammate Vince Dunn immediately called for trainers and medical staff to assist.
The Blues player was subsequently taken from the bench on a stretcher, before the two teams returned to the locker rooms and the game was eventually called off.
St. Louis general manager Doug Armstrong confirmed Bouwmeester was "conscious and alert" when he was taken to the hospital.
"Thankfully, with the quick response of our medical trainers, Anaheim medical trainers and their team physicians, they were able to stabilize Jay," he said in a statement. "He was alert and moving all of his extremities as he was transported to UC Irvine Medical Center."
The Blues said a more detailed update on his condition will be released on Wednesday morning.
The game was tied at 1-1 when it was called off and will be rescheduled for a yet-to-be-confirmed date.
"Tonight's game between the St. Louis Blues and Anaheim Ducks has been postponed by the NHL due to a medical emergency that occurred at 12:10 of the first period involving defenseman Jay Bouwmeester," the NHL said in a statement. "A decision on when the game will be played will be made in the near future."
The Blues were scheduled to play the Vegas Golden Knights on the road on Thursday but opted to remain in California following the incident instead.
A native of Edmonton, Canada, Bouwmeester is an NHL veteran in his 17th season in the league. He spent four seasons with the Florida Panthers—who selected him with the third overall pick in the 2002 NHL draft—and the Calgary Flames, before joining the Blues in 2012.
Tuesday was the Canadian's 57th game of the season and the 1,241st of his career—the fourth-most among active players, behind only Patrick Marleau, Joe Thornton and Zdeno Chara.
The veteran won the Stanley Cup with the Blues last year and signed a $3.25 million, one-year extension in April.
Tuesday marked the first time the NHL has been forced to suspend and postpone a game for a medical emergency since Rich Peverley of the Dallas Stars collapsed on the bench during a game against the Columbus Blue Jackets in March 2014.
Almost a decade earlier, Jiri Fischer of the Detroit Red Wings suffered a similar issue against the Nashville Predators when medical staff had to use a defibrillator to rescue him.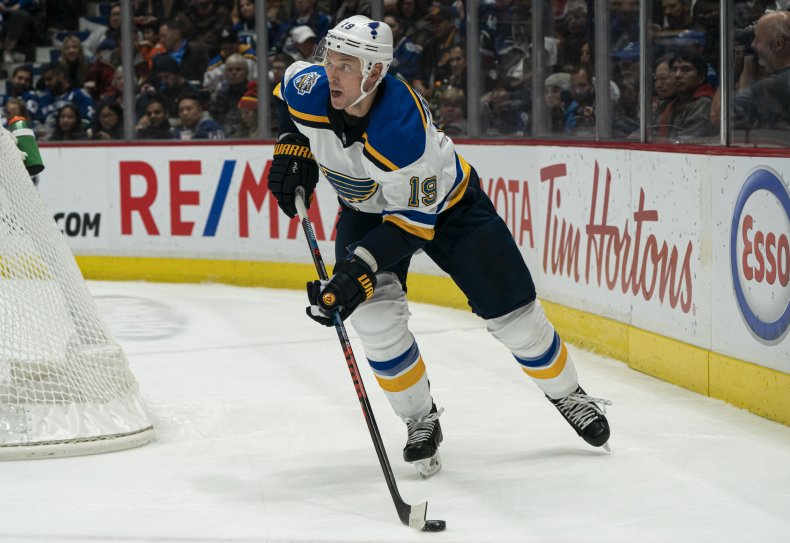 St. Louis Defenseman Jay Bouwmeester Collapses on Bench, NHL Postpones Game Between Blues and Ducks | Sports