Washington Capitals captain Alex Ovechkin is considered by many to be one of the best players in the NHL, and he holds the league record for the most points scored by a Russian-born player. Ovechkin has also been a vocal supporter of Russian President Vladimir Putin, which has recently caused a myriad of problems for the NHL.
Ovechkin was loudly booed at New York City's Madison Square Garden during a Thursday match-up against the New York Rangers. Though he's never well-received by Rangers' fans, some sportswriters noted the response was noticeably more negative than usual in what was his first ice appearance since Putin ordered military strikes inside Ukraine.
The image problem that NHL has with Ovechkin being one of its top stars has also led to issues with sponsors. CCM Hockey, which provides equipment to top players, announced Monday it would stop using Ovechkin and other Russian NHL players in global marketing promotions. The insurance company MassMutual also confirmed to Reuters on Tuesday that it had pulled an ad featuring Ovechkin.
Along with the financial losses the NHL could suffer, the league wrote in a Monday statement that it is worried about the safety of Russian players.
"We also remain concerned about the well-being of the players from Russia, who play in the NHL on behalf of their NHL clubs, and not on behalf of Russia," the league said. "We understand they and their families are being placed in an extremely difficult position."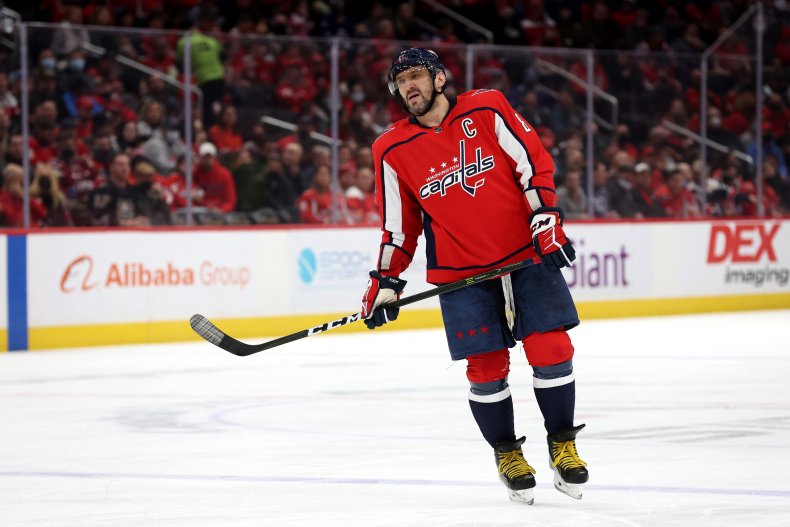 Ovechkin has praised Putin in the past, and his Instagram account—as of press time—features a profile picture of the two together. In 2017, he also started a social media effort called "Putin Team" during the Russian president's re-election campaign.
"I'm confident that there's a lot of us who support Vladimir Putin," Ovechkin wrote in a post at the time. "So let's come together and show everyone a strong and unified Russia!"
However, the hockey star has been less supportive in his public comments about the Russian invasion of Ukraine.
"It's a hard situation. I have lots of friends in Russia and Ukraine, and it's hard to see the war," Ovechkin said to the press on Friday. "I hope soon it's going to be over and there's going to be peace in the whole world."
That wasn't enough to appease some critics, including Dominik Hasek who was born in Czechoslovakia. The Hall of Fame goalie condemned Ovechkin on Twitter Saturday, calling him an "alibist" and a "liar," among other things.
"Every adult in Europe knows well that Putin is a mad killer and that Russia is waging an offensive war against the free country and its people," Hasek wrote.
Other members of the hockey world have spoken out in support for Russian athletes, though. Jordan Martinook, a Canadian playing for the Carolina Hurricanes, said the entire team has the back of their winger Andrei Svechnikov.
"If anybody tries to make him feel bad about the situation, then he's got 23 brothers who will stick up for him," Martinook said during a Tuesday press conference.
Follow our live blog for updates on the Russia-Ukraine conflict.