NHL Player Suspended Without Pay After Allegedly Using Fake COVID Vaccination Card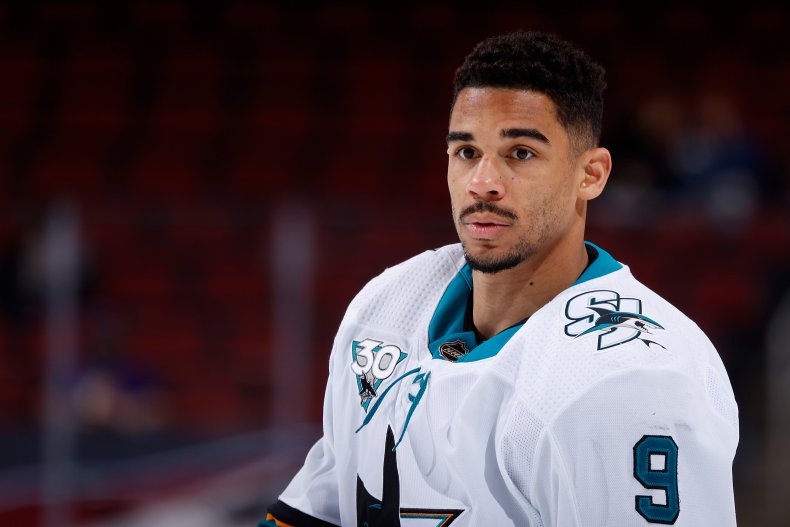 The National Hockey League (NHL) has suspended San Jose Sharks forward Evander Kane without pay after he allegedly submitted a fake COVID-19 vaccination card.
Kane will be ineligible to play until at least November 30 and will not be paid his salary during that time. Kane will miss out on nearly $1.7 million that he would have been paid for the playing games, with the money instead going to the NHL's Players' Emergency Assistance Fund.
While the league did not confirm that Kane was suspended for submitting fake documents, multiple outlets, including the Associated Press, reported Kane was under investigation for allegedly submitting a fake card earlier this month. The NHL also announced it could not substantiate domestic abuse allegations against Kane after conducting an investigation.
"The National Hockey League announced today that San Jose Sharks forward Evander Kane has been suspended for 21 regular-season games, without pay, for an established violation of, and lack of compliance with, the NHL/NHLPA COVID-19 Protocol," the NHL said in a statement. "Under the terms of the Collective Bargaining Agreement, the forfeited pay goes to the Players' Emergency Assistance Fund."
"Kane will not be eligible to play prior to San Jose's game on Nov. 30 [at New Jersey Devils]," the statement continued. "The National Hockey League also announced today that its concurrent investigation into allegations of domestic abuse made against Kane by his estranged wife, Deanna, could not be substantiated."
Kane apologized to his "teammates, the San Jose Sharks organization, and all Sharks fans" in a statement issued through the National Hockey League Players' Association, admitting he had violated "the NHL COVID protocols" without mentioning the allegedly forged vaccine card.
"I made a mistake, one I sincerely regret and take responsibility for," Kane said. "During my suspension, I will continue to participate in counseling to help me make better decisions in the future. When my suspension is over, I plan to return to the ice with great effort, determination, and love for the game of hockey."
The San Jose Sharks said in a statement obtained by Newsweek that they were "encouraged by Evander's commitment to moving forward," while being "extremely disappointed by his disregard for the health and safety protocols." Both the team and the league said they would not comment on the matter any further.
Making, buying, selling or attempting to use counterfeit U.S. vaccination cards—which bear the logo of the Centers for Disease Control and Prevention—is a crime under federal law. The FBI issued a bulletin earlier this year warning of "hefty fines and prison time" for those who violate the law with fake vaccination cards.
There have not been any other reports of major professional athletes allegedly attempting to thwart league mandates using counterfeit vaccine documents, although others have refused to get vaccinated despite consequences that include suspensions and loss of pay.
Brooklyn Nets basketball star Kyrie Irving was recently blocked from playing any games or participating in team practices over his refusal to get vaccinated, a move that could reportedly cost Irving more than $17 million over the course of the NBA season, which tips off Tuesday with two games and a full slate on Wednesday.