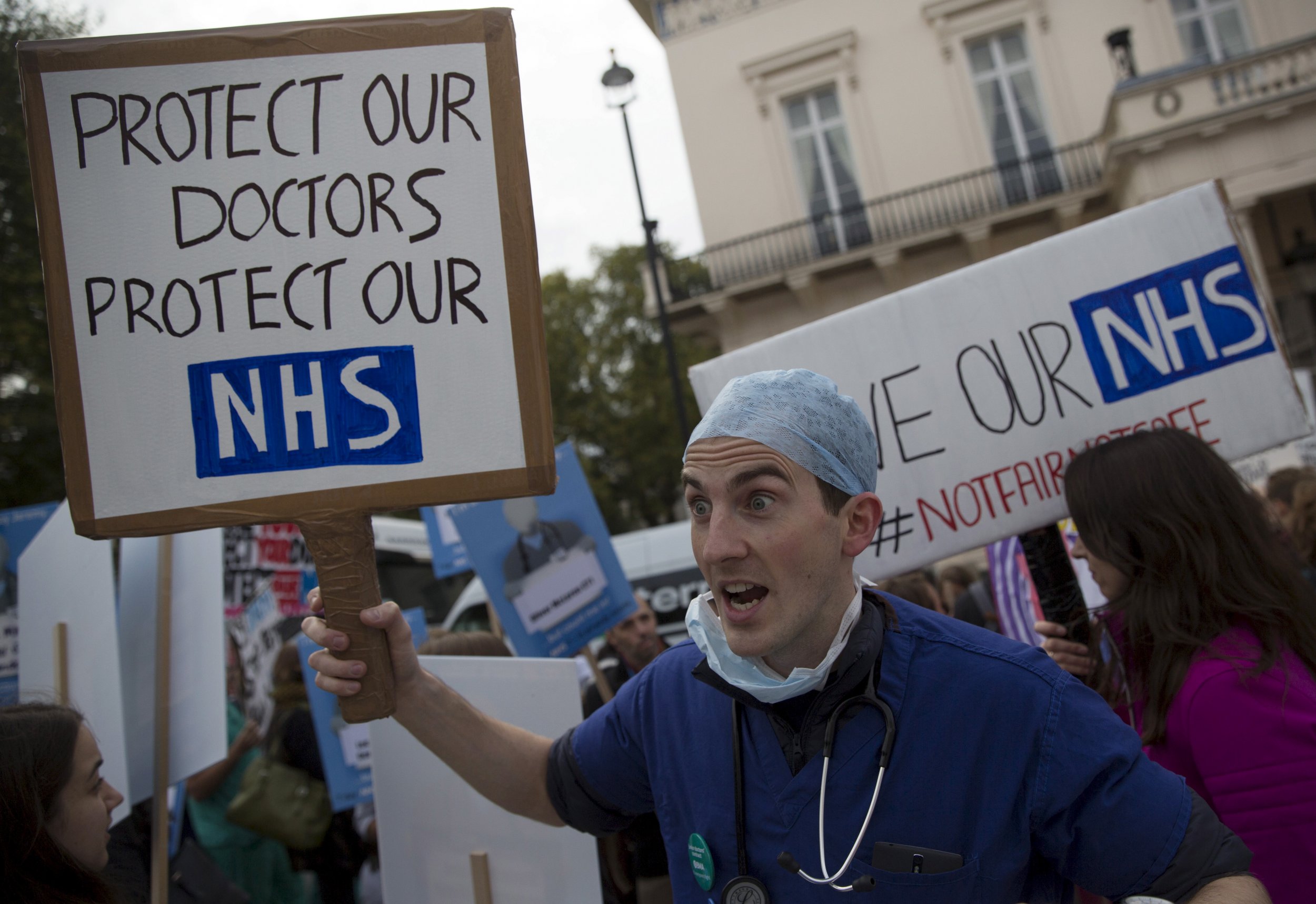 Britain's Health Secretary Jeremy Hunt badly needs to close down his row with the country's junior doctors. After repeated strikes over the terms of a new contract that would slash doctors' entitlement to overtime, opinion polling consistently shows that the public overwhelmingly blames the government for the dispute running on.
Hunt on Thursday moved to end the saga, announcing in parliament that he would push through the government's last offer to doctors despite the lack of an agreement. But, sadly for Hunt, he hasn't managed to quieten things down.
Here's four things we can expect as the conflict rumbles on:
Endless petitions. You have to have a petition now for everything in British politics. It's even got parliamentary backing, with an official site allowing users to formally petition the U.K. government set up in 2015. Perhaps inevitably, a petition for a "vote of no confidence" in Hunt is now riding high with around 80,000 signatures at the time of writing. More fun, though, is one calling for parliament to sit on a Saturday with just over 50,000 signatures, an acerbic reference to the fact that the government's new deal would reclassify that day as an ordinary working day for junior doctors. Petitions need 100,000 names and then they get a debate in parliament.
Recruitment issues. One key line of attack from junior doctors is that the new contract, coupled with what they see as callous treatment for Hunt and his department, will lead to many leaving the National Health Service (NHS). The most dramatic figure was in The Independent, which ran a poll this week that found 90 percent of doctors would quit over the new contract before it was imposed. That was conducted on a junior doctors' online network so should be taken with a large pinch of salt, but some are likely to leave. Junior doctor Robyn Jacobs tells Newsweek : "Yesterday was the first time that I genuinely started looking at what other jobs I could do with my medical degree. I have never considered leaving the NHS before... [but] I'm not going to spend the next 10 to 15 years of my life beaten down and undervalued." However many doctors do end up leaving, the bad publicity around the dispute might create future problems with recruitment. A BMJ analysis in 2014 warned that the lack of a work-life balance was making it harder to recruit junior doctors.
More strikes. Industrial action looks likely; the British Medical Association (BMA) confirmed to Newsweek on Wednesday that it was considering the option of strikes, while the BBC reported that there was talk of other dissent, potentially including the refusal to sign contracts.
Bad relations. A row broke out on Thursday between Hunt and several senior NHS executives who felt they had been misrepresented as overly supportive of the government's position. Some 20 executives signed a letter supporting the final deal offered to doctors by the government, saying that they wanted to see a speedy resolution to the dispute. But at least 10 have since confirmed that they did not mean they supported imposition of the contract on junior doctors. "I do believe that the contract offered is reasonable however I do not support contract imposition," David Sloman, chief executive of Royal Free London, said in a statement. "My view is that the best way to reach resolution is negotiation." Hunt will need to take care not further anger his potential allies in the higher echelons of the NHS.