"I would love to come back to the U.K.," said Arun Panabaka, who spent four months in intensive care units as a nursing assistant, risking his own life to treat COVID-19 patients but who had to leave the country after his visa expired.
Arun is one of thousands of foreign-born NHS and social care support staff who did not benefit from the government's decision to extend visas for doctors, nurses and paramedics free of charge, for one year, as part of the government's effort to combat the spread of the virus. The measure was also designed to demonstrate how "valued overseas NHS staff are to the U.K." at a time when the country needed them most.
Arun arrived in the U.K. in September 2019 on a spouse visa but his work permit ran out on October 12. As a nursing assistant, he was ineligible for the government's visa extension scheme. The same is also true for hospital porters and cleaners, as well as carers, many of whom worked on the frontline to battle the virus but who ministers decided to exclude from the scheme.
"I feel like it's unfair, it was teamwork," said Arun who is currently in Andhra Pradesh, southern India. "When you enter into hospitals, everybody plays their role in order to save lives, when you consider those who are highly paid, they get free visa extension and other benefits but why not me?"
His sentiments are a sharp contrast to those expressed when people up and down the country took to the streets for two months every Thursday to "clap for carers", to show their support for NHS staff who battled against the virus during the first phase of the pandemic.
Arun feels that the sacrifices he has made have gone ignored and he is not alone in thinking this. In June, the Home Affairs Select Committee criticized the government's failure to extend the visa scheme to all NHS workers and care staff, saying that excluding them was unfair.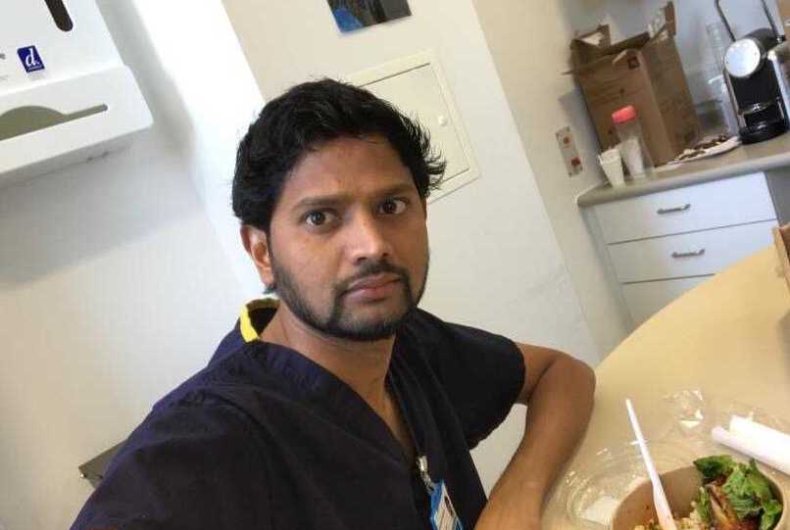 It went on to add that it "cannot be right" that non-UK health and care staff have to worry about their status and residency in the country. The U.K. trade union Unison also called for the government to change its position, saying that the initial scheme benefited only 3,000 NHS workers, leaving thousands more without support.
"I was so anxious," Arun said. "When they promised, I was under the impression that I too would get it [visa extension]. After six months of struggle, they did nothing."
He also said he sacrificed seeing his wife and 10-year-old daughter when treating COVID patients for four months, desperate not to infect them with the virus, moving out of the family's East Ham home in London and spending it instead at accommodation provided by Queen Mary, University of London.
"Working in COVID was so intense, as I never had any experience in ICU," Arun said. "I had to undergo one-week training and started working with COVID patients. When my manager asked me if I can volunteer to work with COVID patients, straight away I said yes."
Now that he's back in India, he cannot understand all the vacancies he sees in health and social care. The NHS has over 100,000 vacancies, according to the British Medical Association and yet the government has resisted extending the visas of migrant workers like Arun.
As of January 2020, 169,000 NHS staff report a non-British nationality, which is 13.8 percent of all staff whose nationality is known, out of a total workforce of 1.28 million. According to thinktank the King's Fund, the NHS workforce shortage means that it will need to recruit 5,000 nurses a year from overseas to fulfil roles. Across the NHS there is a shortage of 84,000 staff.
Arun said: "Despite a huge shortage when you don't care to recruit, I don't know how to react, because it's so silly. I worked in Royal London Hospital I worked in Newham University Hospital, I do bank shifts, extra shifts. When there are supposed to be four staff, even a shortage of one or two staff to keep up with patient demands is not easy, stress levels peak, when you can't meet patient needs, they are very upset, when I see those situations, I really felt this is unfair.
"When you need so many people and you don't recruit them and patients are suffering a lot, you don't care about those patients, ultimately when you see bad reviews about the NHS, it's not because of the staff, it's because the government is not fulfilling those empty vacancies for a long time."
The Migration Advisory Committee concluded in September that nursing assistants such as Arun, should be included on the Shortage Occupation List, a Home Office list of jobs that it deems to be in short supply in the U.K. In October, Home Secretary Priti Patel rejected the recommendations of the report. Arun cannot understand why, but he still holds out hope that the government may change its mind.
The Home Office said it was grateful for the vital contributions all NHS staff have made during the pandemic. A spokesperson said: "This is why we have introduced a range of unprecedented measures in response to the ongoing pandemic to ensure the health and care sector are supported fully.
"This includes extending the visas of more than 6,000 frontline health workers and their dependents for free so they can continue their crucial work in the fight against coronavirus. We are introducing a new points-based immigration system that will attract the best and brightest global talent to the UK by prioritizing the skills a person has to offer and not the country they come from. Nursing assistants will be able to come to the UK under the Skilled Worker route."