Nicaragua Opposition Leader Claims His Country's Government Is Abducting and Murdering Those Who Stand In Its Way
Medardo Mairena spent roughly eleven months in a hellhole Nicaraguan prison cell where people go to die. He slept for an hour a day, endured unbearably hot temperatures, was forbidden to contact family and watched as the police state threatened to murder his 3-year-old daughter unless he confessed Catholic bishops had orchestrated to overthrow the Nicaraguan government.
Now in Miami, the Nicaraguan opposition leader spilled the beans of the horrors happening in his country, and especially to its farmers who face getting their land confiscated for a Pacific-to-Atlantic canal.
But for Mairena, it's actually more of an international plea to help to his fellow countrymen fed up with a government they call corrupt, vile, heinous and ruthless.
"The streets in Nicaragua are fully militarized," Mairena said in the Miami Herald. "[We all live] in distress. If we set up a small meeting, even if it's just 15 or 20 people, the police show up to intimidate us."
He said those who oppose the country's government leaders are closely watched, and often imprisoned in places like the one in Tipitapa in the capital city of Managua. It's a place called "El Infiernillo" by local prisoners. In English, it translates to "Little Hell," or a place to die because of its insufferable heat.
"Those are not prisons, they are graves," said Mairena, who told the Herald he figured he was "buried alive" during his 11-month stay. Its government passed an amnesty law that allowed his release earlier this summer.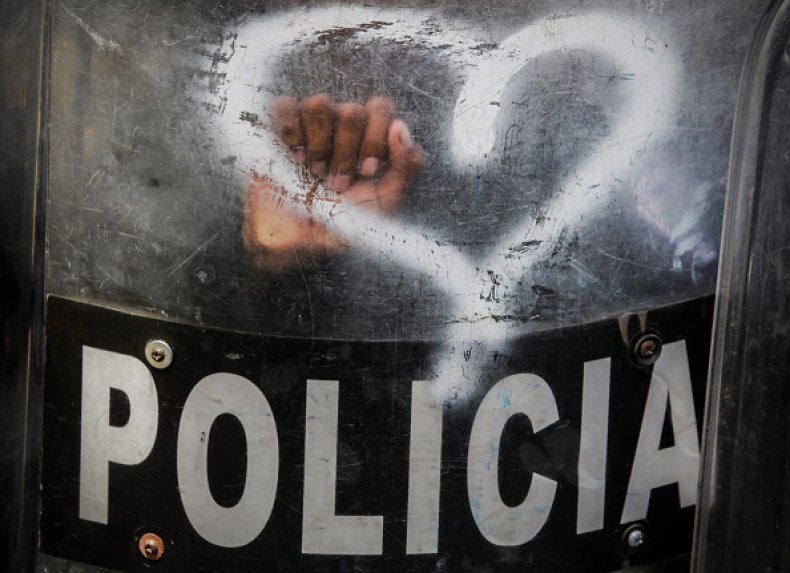 Mairena made his way to the United States so he could condemn the repression placed upon him and his fellow Nicaraguan farmers by the regime of Daniel Ortega and wife, Rosario Murillo. Mairena wanted to bring awareness to the 140 Nicaraguans suffering in prison and also objurgate the gag order placed on the farming sector by not only the Ortega regime, but the country's media.
For the back story, a group called the National Council for the Defense of the Land, Lake and Sovereignty — also known as the Anti-Channel Farmer Movement — emerged in 2013. Its purpose was to oppose a law that gave China businessman Wang Jing the rights to build a channel connecting the Atlantic and Pacific oceans, and with China having concessions, or access, for 100 years.
The group led by Mairena claim this gave Nicaragua and its business partners unwavering rights to farmland and violated their landowning rights.
When farmers circled the wagons in retaliation, the government fought back with alleged murder, kidnapping, imprisonment, disappearances and other events resulting in missing persons. Not all were reported as many in the country feared retaliation if they reported it.
"There have been farmers' bodies who have been cut piece by piece until only a little bit of meat is left in a bag. It's hard what, us, Nicaraguans are experiencing," Mairena said.
As Mairena planned a trip to warn other Nicaraguans abroad in the United States of the atrocities happening in his country, he himself was kidnapped by the regime at the airport.
Those questioning him told Mairena that if he did not accuse the Episcopal Conference of a coup d'etat, then they would murder his 3-year-old daughter. Mairena said they would video record her mutilation if he did not make the accusation and accept their bribes of a house in Managua, cars and money.
"I am going to tape a video where I'll cut her, finger by finger ... and then you will realize that we're serious," Mairena said.
He never accused the church of conspiring to overthrow the Nicaraguan government, but he was charged with killing six people — five police officers and a civilian — in Rio San Juan. Mairena said the claims were unfounded.
"How is it possible that you saw me in Morrito if we had called for a march of more than 200,000 people in the streets of Managua that same day," Mairena said.
A murder sentence typically carries a maximum of 30 years in prison. He was sentenced to 216 years.
Mairena called his release a ploy for Ortega to shield his repressive forces and paramilitary from any potential liabilities in the future.
"Ortega is protecting the true murderers and kidnappers, and uses us as a mask to say that he took us out of that amnesty," Mairena said.
Mairena said the government will claim his imprisonment was actually a kidnapping, since he did not commit a crime. He said others released through amnesty have been recaptured, but now have a common crime pinned to them.
"The world must know what is happening in Nicaragua, and hopefully the international community can do something for Nicaraguans, because we are human beings and they are killing us every day," Mairena said, hoping for a better future for both his country and his daughter.
"We are not going to get used to living under this regime. My daughter also needs to go to school; she needs education. We need to develop Nicaragua, but through a democracy, and we don't have that right now."