Nicaragua's President Blames 300 Protester Deaths on Political Opposition, Refuses to Resign
Nicaragua's president has adamantly refused to step down, blaming hundreds of demonstrators' deaths on opposition politicians and drug cartels as protests continue to rock the country.
Speaking in an interview with news anchor Bret Baier on Fox News, President Daniel Ortega went on the offensive, blaming the political opposition for the country's turmoil and suggesting that things are now calming down.
"It's been a week now that turmoil has stopped," Ortega told Baier. "Matters are becoming more normal in the country, and there have been some demonstrations both against and in favor of the government."
The Nicaraguan government has reported that some 200 people have been killed since the unrest began in April. However, local and international rights groups put the number at around 300 or even higher. More than 1,500 have reportedly been injured in the demonstrations.
Despite Ortega's claims that the unrest has ended, thousands of demonstrators took to the streets once again on Monday, according to the BBC. Rival protests took place, with some supporting the embattled president and others calling for his resignation. Pro-government demonstrators accused anti-government groups of being "terrorists," but the latter protested by holding notebooks and pencils, saying they were "not terrorists but students."
Criticizing the anti-government demonstrators, Ortega said that political organizations have been "organizing paramilitary groups for some time now." He said, "They have taken advantage of every small situation to launch attacks" and suggested that opposition groups have sought financial support from the U.S.
Ortega was elected president from 1985 to 1990 and assumed power once again in 2007. Since then he has been re-elected in 2011 and in 2016, selecting his wife, Rosario Murillo, as his vice president during his most recent campaign.
The Nicaraguan leader was once considered to be a leftist reformer in his country, but in recent years his positions and alliances have shifted. The president's political party, the Sandinista National Liberation Front, has become increasingly viewed as a pro-business association and less of a party supporting the common people's interests.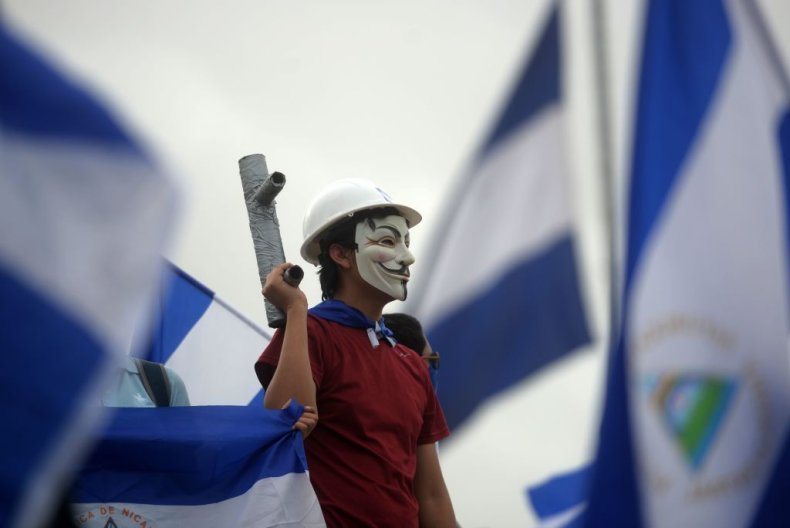 However, even a leading business organization, the Superior Council of Private Enterprises, which has traditionally been seen as close to Ortega, has turned on the president and demanded early elections. The president's own brother, Humberto Ortega, the founder of the Sandinista army and former Sandinista army chief, told The Miami Herald last month that he supports holding elections early.
"The opposition to Ortega consists of a variety of forces, with a variety of visions for the future of the country. They include business groups and ex-Sandinistas, right, center and left," Geoff Thale, vice president for programs at the Washington Office on Latin America, told Newsweek. "What has united them is the recognition that the Ortega era has come to an end and that Daniel must go. They will need to work out what they want for the future of Nicaragua."
Despite Ortega's insistence that he remain in power at least until the next election in 2021, Thale said that "there is consensus" among protesting groups "that he must go."
He added, "The government has to recognize that it has to engage in serious dialogue with the growing and diverse opposition if it wants to address the unrest in the country."