Nicaragua Is Using 'Military-Grade Weapons' Against Protesters: Report
Nicaraguan police and pro-government groups are reportedly using "military-grade weapons" against people who have been protesting social security reform since April, according to a report released by Amnesty International on Thursday.
Police and pro-government groups have killed more than 322 people and injured at least 2,000 others in what the government is calling "Operation Clean-Up." At least 21 police officers are dead and the government—led by President Daniel Ortega and his wife, Vice-President Rosario Murillo—has brought charges against at least 300 protesters.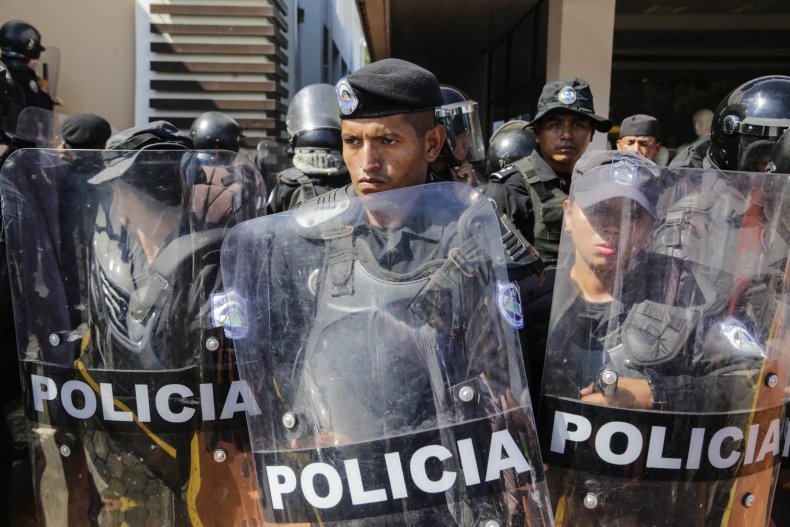 "Not only did President Ortega deploy police to arbitrarily arrest and torture demonstrators, he also used heavily armed pro-government groups to kill, wound and intimidate all those brave enough to stand up to his repressive strategy," Erika Guevara-Rosas, Amnesty International's Americas director said, according to a press release from the human rights nongovernmental organization.
Amnesty International conducted 115 interviews to compile the report that sheds light on several instances of torture and violence.
According to the NGO, pro-government groups killed two people and injured at least 16 when they attacked students trying to defend the National Autonomous University of Nicaragua in July. Police trapped more than 200 students inside during the attack by blocking all of the exits.
While some of the protesters have used homemade weapons, the report says that the police and pro-government groups are using "weapons of war that are prohibited for use in public security situations," including AK-style rifles, Dragunov sniper rifles—and even Russian made rocket-propelled grenade launchers.
Instances of torture are also recorded in the report. Police officers allegedly killed their colleague Faber López one day after he told his family that he was going to resign. Police said that a "terrorist" shot him in the head. While his body showed evidence of torture, a gunshot wound was not found.
"Torture is being used not solely as an instrument of punishment, but as a means of dissuading others from protesting. It is one element in a strategy of lethal repression intended to terrorize the population," Caroline Jimenez, the deputy director for research at Amnesty International said, according to The Telegraph.
Critics have called Ortega an authoritarian leader. The president, however, is credited with toppling a dictator in the 1980s while leading the left-wing Sandinista National Liberation Front. He was elected as president in 1984 and then lost elections in 1990, 1995 and 2001. Following several allegations of rape by his daughter and changes to the constitution that the opposition deemed to be illegal, Ortega won the 2006, 2011 and 2016 elections.