Star Trek Icon Nichelle Nichols the Victim of Abuse at the Hands of 'Confidence Man', Her Family Alleges
Court documents filed to the Los Angeles district of the Superior Court of California describe allegations of sustained elder abuse against Star Trek cast member Nichelle Nichols, who played Starfleet communications officer Nyota Uhura across two TV series and six Star Trek movies. The filings are the latest in ongoing legal disputes between Nichols' son Kyle Johnson and the man who became Nichols' manager who continues to live in her adjoining guest house, Gilbert Bell.
"What we're dealing with is a confidence man," Marian Smothers, Nichols' younger sister, told Newsweek in a telephone interview. "It's just been harrowing."
According to allegations made in court documents and in interviews with Newsweek, Bell has embezzled an unknown amount of money from Nichols, transferred ownership of her house to him, removed her from medical care, taken possessions from her house, subjected her to a grueling schedule of sci-fi convention appearances, intentionally isolated her from family contact and coerced her into signing a long-term lease that has kept him in her guest house for eight years, paying $300 a month in rent and nothing toward utilities—a pattern of financial mismanagement that has, according to Smothers, drained Nichols' assets completely and left her in debt.
Smothers and the rest of Nichols' immediate family are currently raising money to fund ongoing legal actions and to support the 87-year-old Nichols in a GoFundMe fundraiser called "Shields Up, Nichelle Nichols!"
While Bell did not speak to Newsweek, his lawyer William D. Bowen described the allegations as "frivolous and offensive," presenting a counter-narrative portraying Nichols' only child Johnson as a greedy abuser and "Johnny-come-lately," who has imprisoned Nichols in her own home in order to drain her money and eventually sell her house.
According to Bowen, Bell is an additional victim of Johnson's "shenanigans," which he describes as having decimated his 82-year-old client's ability to earn an income. While Bowen initially portrayed Bell as having multiple clients under his management, in response to emailed follow-up questions he claimed to have misspoke, writing "Ms. Nichols is in fact Mr. Bell's sole client."
"Except for Kyle, they seem like lovely people," Bowen told Newsweek, when asked why the rest of Nichols' family would go along with the elder abuse of which he accuses Johnson on Bell's behalf. "They're outraged because they're hearing a narrative that's false."
But both Johnson and Smothers dispute that framing, describing instead a close-knit family, many of whom have had substantial interactions with Bell that led them to the same conclusions without needing to be filtered through Johnson.
"During that time I was in very much with contact with Bell and was able to observe how he interacted with her," Smothers said. "He was always, and never stopped, being in her face with 'I'll do anything for you, it's just me and you,' and ingratiating himself and making sure he was the one she depended on."
"It's an odd thing to have someone state that they know and are the authority on what happens within your own family," Johnson told Newsweek in a telephone interview. "The suggestion that I was turning the family against Gilbert: They were witnesses. Marian had extensive contacts with him after he moved in, because she was essentially keeping an eye on things and we often had conversations about our misgivings about Gilbert. This wasn't something I instilled, she was instead more often informing me, filling in details from when I was not present. Over time, those anxieties increased."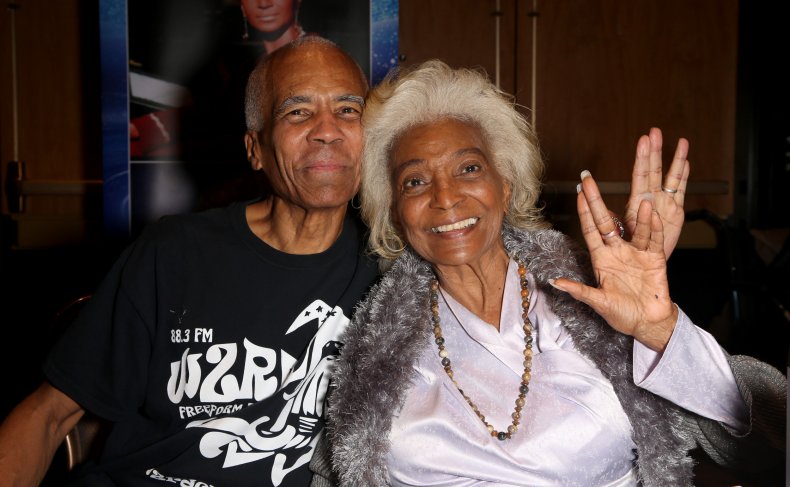 According to the account provided by Smothers and other members of Nichols' family, Nichols first met Bell in 2010, when Bell presented a feature film idea to the actor, with Nichols as the project's co-star and profits split evenly between her and Bell. The project never materialized.
(Bowen disputed the timeline of their meeting, initially describing Bell and Nichols as having "known each other for decades." In an email follow-up, Bowen wrote "I have now confirmed the 2010 date is not correct to the best of my client's recollection," but did not provide an alternate timeline.)
Instead, Bell became Nichols' manager and took fees from convention appearances. Smothers, who described traveling with her older sister to several conventions, said the Star Trek star was typically guaranteed, and often exceeded, $10,000 per appearance, typically paid in cash. In court filings, Johnson accuses Bell of "siphoning cash" and otherwise misappropriating money from these appearances.
"We believe that Bell has taken financial advantage of Nichelle to the tune of well over a million dollars," Smothers said in the GoFundMe description. "But we have only scratched the surface."
After a 2018 petition, Bell's power of attorney over Nichols was suspended by Los Angeles Superior Court, which appointed temporary conservators until conservatorship eventually passed to Johnson, who is now Nichols full-time caregiver. In 2019, Bell filed a lawsuit claiming "Johnson is trying to have Ms. Nichols and Mr. Bell removed from the adjoining properties so that he may sell it," leading to Johnson's counter-complaint, filed in mid-August.
While Bell has lived on the property and paid only nominal rent since 2012, Johnson's countersuit describes a defining moment in the ongoing conflict between Bell and Nichols' family as occurring on February 8, 2013, a day Johnson described to Newsweek as the moment he became aware of Bell's "mal-intent."
In January of that year Nichols was hospitalized for pancreatitis and was subsequently released to a Los Angeles area rehabilitation center and nursing home. Family members described to Newsweek how Nichols' valued her independence and didn't want to live in a nursing home. Diagnosed with dementia the same year, the rehabilitation center transfer, even if intended as a temporary medical measure, was likely an unpleasant experience for the actor.
The legal filing on behalf of Johnson alleges that Bell "surreptitiously" removed Nichols from the facility against medical advice, and, on that same day, arranged for Nichols to sign both a directive naming Bell as her primary agent for health care decisions and documents handing General Power of Attorney to Bell.
"He snuck her out of the facility—made some arrangement that got her out the door—and hopped in a car and took her to this attorney's office, where these Powers of Attorney were signed," Johnson said.
That very same day, Johnson's court filing alleges, Bell also arranged for new bank accounts to be opened at Wells Fargo, granting him direct access to Ms. Nichols assets. In 2017, Bell deeded Nichols' house to his name, triggering a property tax reassessment that has "substantially increased" Nichols' tax obligations, according to the Johnson's counter-complaint.
Smothers described the transfer of Nichols' house to Bell as "the last straw"—a breach of fiduciary duty obligated by Bell's Power of Attorney over Nichols' financial affairs, which allowed Johnson to petition for conservatorship. Within a week of Johnson's petition to the court, Bell purportedly "secretly caused Ms. Nichols to sign an Exclusive Management Agreement."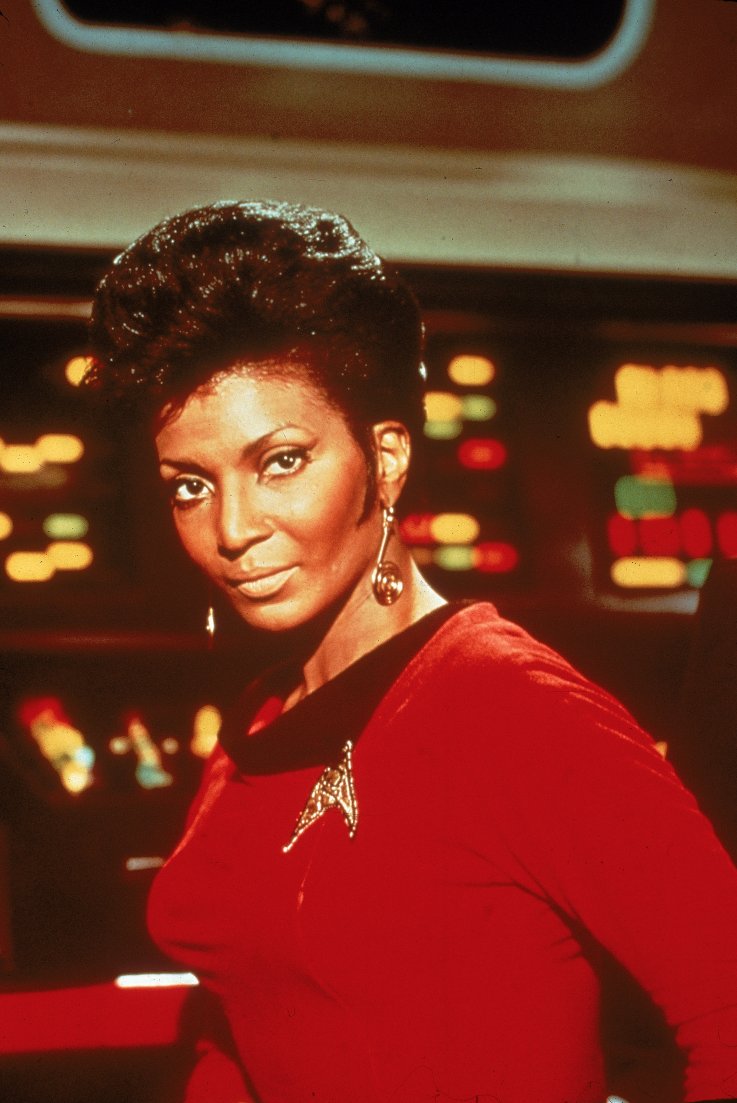 Nichelle Nichols in 1968, as Lt.Uhura in 'Star Trek: The Original Series.'
Photo by Fotos International/Courtesy of Getty Images
Litigation is ongoing, with Johnson and Bell behind the same fence, living, in large part, approximately a hundred feet apart from each other. In a telephone conversation and multiple email follow-ups, Bowen didn't dispute factual claims made in either Johnson's filing to the Los Angeles Superior Court or the events as described on the GoFundMe page authored by Smothers, except for the year Nichols and Bell first met. Instead, Bowen described Johnson as "dominating the narrative," disputing their characterization of Bell's relationship with Nichols.
"My client is being portrayed as a bad guy for trying to keep Ms. Nichols in her home and save her home," Bowen said, describing the court's decision regarding her conservatorship as attributable in part to a "strong preference for biological family."
According to Bowen, Nichols "begged him to live on her property for free" and was "terrified" and "upset" at the prospect of Johnson's conservatorship over her affairs, part of a larger characterization of Bell's relationship with Nichols as that of a concerned "best friend," protecting Nichols against a family member determined to exploit her.
Nichols' sister instead described Bell as "the proverbial 'Yes Man. He was systematically coming between Kyle and his mother by telling Nichelle he wanted to take the house away from her and put here in a nursing home," Smothers said. "That scared her to death. None of us had ever wanted to put Nichelle in a nursing home, especially not Kyle."
To bolster his own characterization, Bell and other associates who may have stood to benefit from Nichols' financial affairs have periodically taken video or audio recordings of Nichols, which was wielded as powerful demonstrations of her wishes in the press. (Bowen said there was "no conscious strategy to release this to the media.")
"He's fixed it so nobody can come," Bell can be heard telling Nichols, in audio partially aired by a CBS affiliate in Atlanta and published on tabloid site TMZ in 2019. "Thanksgiving, Christmas, your birthday. He wouldn't even let me come to say hello to you for your birthday."
"How could he stop you?" Nichols can be heard responding. "I'm the boss of me, Gil. He's not the boss of me."
The audio and accompanying video is shocking to listen to, particularly when Nichols can be heard screaming at Johnson, who came over to accompany his mother back to her house.
Additional video, released by associates of Bell's and titled "NICHELLE'S OWN WORDS," comprise nearly an hour of interview material with Nichols, featuring questions leading the actor to speak about her son and her desire to continue working.
The video was taken on the night of February 8, 2013—the same day Bell allegedly had Nichols transfer power of attorney, authority over her medical affairs and her bank accounts to his control.
"What I see all the time is financial exploitation," Dr. Stacey Wood, a professor of psychology and neuropsychologist involved in conservatorship work in Los Angeles told Newsweek in a telephone interview. "You have an older person who has some cognitive impairment and they were making decision about their power of attorney. So one question is: Was that made during a period of lucidity? Did they have capacity to make that decision? A separate concept is undue influence, which is when a person exploits a trusted and close relationship to gain power over an elder."
While basic details (such as the state in which the legal dispute was occuring) were provided to ensure there was no conflict with Wood's existing work, identifying details were left out of Newsweek's initial discussion, so Wood, one of the nation's top experts on financial elder abuse, could speak to general trends found in elder abuse cases. She described elder abusers as using tactics like isolating a person from their family, in order to create a "siege mentality; us against them."
"It can sound like an attempt to invoke fear: 'You can live in your house as long as you want, but they're trying to do these things,'" Woods said of typical financial elder abuse situations.
"It can be hard for family to persuade the older person that that's not the case," Woods told Newsweek. "It has this cyclical affect where the elder becomes more dependent on the alleged influencer, which only increases their influence."
While Woods said, "I've probably seen every scenario," she described a common familial abuse situation as involving an adult child who moves back home after experiencing a financial or life setback. "They've come back into their life for reasonable reasons, but then some exploit that."
Johnson, who lived with his wife of 22 years in New Mexico, returned to Los Angeles to look after Nichols in 2018, in relation to the conservatorship petition.
"They're very complex situations," Woods told Newsweek, describing a process that can take six months and involves both a court-appointed advocate and an independent investigation of the older person's circumstances. "It can take a lot of time to untangle, really what's going on."
Asked about situations where the press becomes involved, such as in leaked audio and video framing an older person's preferences, Woods urged caution.
"They're not seeing the whole context of the situation," Woods said. "When they have a vulnerability like dementia, they're more vulnerable to exploitation, both because of their capacity and because of undue influence."
It can be difficult for the public to accept any limitations placed on someone's ability to make their own financial and legal decisions, but especially so for a figure as iconically independent as Nichelle Nichols, whose role on Star Trek brought light to the lives of countless people, including Martin Luther King Jr., astronaut Mae Jemison and former president Barack Obama.
Acutely aware of her groundbreaking position as a Black role model, Nichols directed Uhura's legacy expertly, such as refusing a line that compared the arrival of a Klingon delegation to the 1967 Sidney Poitier movie Guess Who's Coming to Dinner in the 1991 Star Trek movie The Undiscovered Country. For decades she worked with NASA to recruit women and racial minorities to the Space Shuttle program, reshaping not just humanity's science fictional journey to the stars, but it;s real one as well.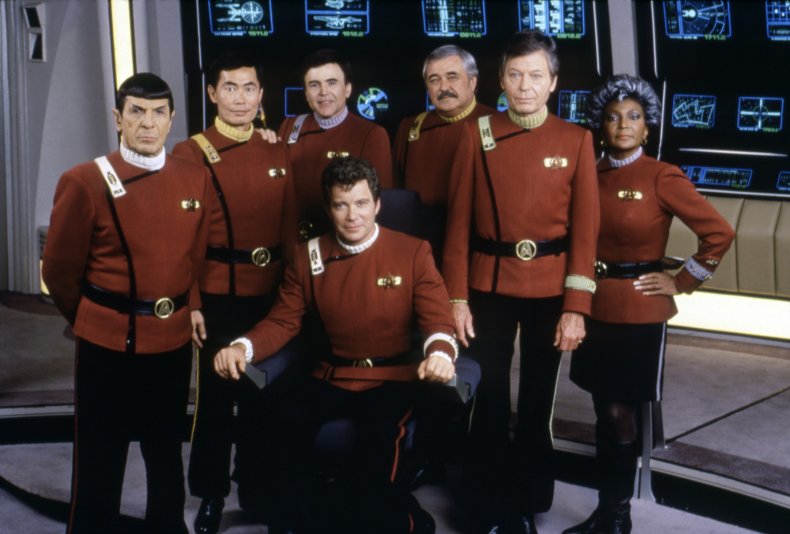 Walter Koenig, who played Star Trek character Pavel Chekov has added his voice to Nichols family, urging people support their efforts to push back against Bell's alleged elder abuse.
"Nichelle Nichols has been a true and loyal friend for over fifty years," Koenig said, in a statement included in the GoFundMe. "She has been financially abused by a person pretending to protect her interests. I urge everyone who knows what a beautiful person she is to support the GoFundMe established in her name. It is a cause very much worth contributing to. She is one of the really great people out there."
Newsweek reached out to additional Star Trek: The Original Series cast members, including William Shatner and George Takei, via their publicists. Newsweek also attempted to contact Zoe Saldana through representatives for the actor, who played Nyota Uhura in the 2009 Star Trek movie remake. But the Star Trek cast members did not return comment in time for publication.
But while the dispute between Bell and Nichols' family over her care has been marked by competing accusations of elder abuse and conflicting accounts of motives and relations between individuals and Nichols herself, Johnson's lawyer, acting on behalf of his conservatorship, urged people to set aside dueling characterizations and look at the facts.
"He entered into an eight year lease, with no increases, I mean who does that?" Johnson's lawyer, Rickey Ivie, told Newsweek. "This is clearly not in her best interest. And yes, he did have a fiduciary relationship with her, and concomitant with that he was supposed to take actions in her best interest. How is this in her best interest?"
Ivie described part of the intention behind the counter-complaint as compelling Bell to release financial documents demonstrating how he handled Nichols' finances as her talent manager.
"Mr. Bell thinks everybody was, as they say, born yesterday; born at night, can't see the light of day," Ivie said. "It may be I was born at night, but it wasn't last night."
Should the conflict between Bell and Johnson find a final legal resolution, there will still be the challenges of mending family relationships strained by Bell's presence in her life.
"This has been a long, horrifying situation for our family. We've had to just suck it up and try to deal with Bell in our own way," Smothers said.
"What I've been through, I feel, has not served my mother well, though I'm grateful for the decisions that have been made through the court," Johnson said. "I'm looking forward to holding him accountable and, foolish or not, demanding justice and ensuring that my mother is well-cared for and comfortable for the duration of her time here with us."