Nicholas Sandmann Decries Cancel Culture During RNC Speech, Puts MAGA Hat On
Nicholas Sandmann, the MAGA hat-wearing high school student featured in a controversial viral video with a Native American elder in 2019, lashed out at "cancel culture" before donning the hat again during an appearance at the Republican National Convention (RNC) on Tuesday.
Sandmann gained widespread notoriety, nearly all of it initially negative, after the January 2019 incident, which happened during a school trip for a Washington, D.C. anti-abortion protest with Kentucky's Covington Catholic High school. Sandmann recounted the fallout of the incident going viral while denouncing the media and praising President Donald Trump during his short speech.
"What I thought was a strange encounter quickly developed into a major news story complete with video footage," Sandmann said. "My life changed forever in that one moment. The full war machine of the mainstream media revved up into attack mode. They did so without researching the full video of the incident, without ever investigating Mr. Phillips' motives, without asking me my side of the story."
The video of the incident initially went viral showed an apparently smirking Sandmann and his fellow students in a brief interaction with Native American activist Nathan Phillips, who Sandmann described as a "professional protester" that had attempted to use him as "the latest poster child showing why Trump is bad."
Sandmann and his classmates were denounced as racists by many, based on claims that they were taunting Philips his companions and blocking their movement. However, further video soon emerged that revealed the situation was more complex, including involvement from a third group that had shouted insults at both groups, with Sandmann not having provoked a confrontation.
"While the media portrayed me as an aggressor with a relentless smirk on my face, in reality the video reveals that I was standing with my hands behind my back and an awkward smile on my face that hid two thoughts," Sandmann said. "One, don't do anything that might further agitate the man banging a drum in my face. And two, I was trying to follow a family friend's advice never to do anything to embarrass your family, your school or your community."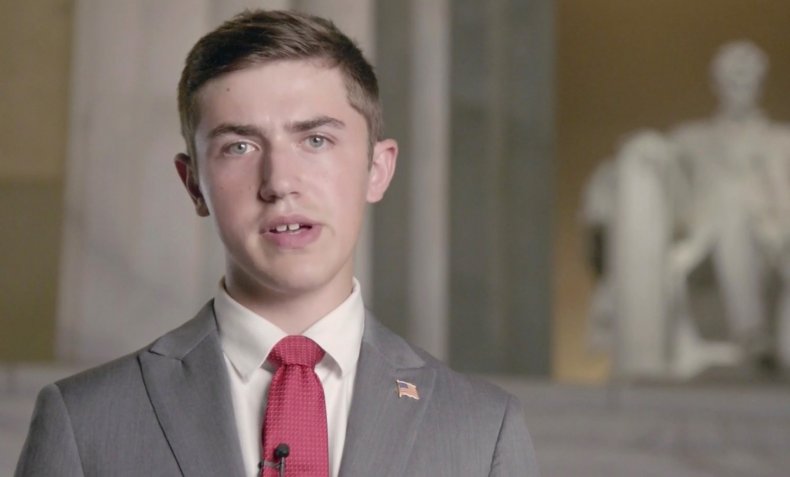 Sandmann said that he then heard "one of Philips' fellow agitators" shout that they had "got him" by recording the incident on video. He stressed that had been "defamed by the media," who he claimed had sought to teach him a lesson due to his choice of hat, because of cancel culture—a popular topic of discussion for RNC speakers during the convention's first two nights.
"I learned what was happening to me had a name, it was called being cancelled," said Sandmann. "Cancelled is what's happening to people around this country who refuse to be silenced by the far left. Many are being fired, humiliated, or even threatened."
Sandmann went on to say that he had "fought back hard to expose the media for what they did to me" and had "won a personal victory," possibly referring to lawsuits against both CNN and The Washington Post over their initial coverage of the incident, which were later settled for undisclosed amounts.
While Sandmann's speech was largely focused on his own experience, he insisted that Trump had been the ultimate victim of the media before ending the speech by once again putting on a MAGA hat and repeating the slogan it bears.
"I know that you'll agree with me when we say that no one in this country has been a victim of unfair media coverage more than President Donald Trump," Sandmann said. "Let's make America great again."