Nicholes Lentz, Ex-Cop Who Livestreamed Capitol Riot, Arrested in Florida
A former Florida police officer who took part in the Capitol riots and livestreamed the siege is facing criminal charges.
Nicholes Lentz, 41, was arrested on Friday and charged in a criminal complaint for entering a restricted building as well as disruptive and disorderly conduct on restricted grounds, according to court documents seen by The Miami Herald.
Lentz was among the crowds of Donald Trump supporters who stormed the Capitol building on January 6 while lawmakers were preparing to certify Joe Biden's election win.
Five people, including a police officer, died during the violence. A Justice Department court filing later revealed that at least 134 police officers were assaulted.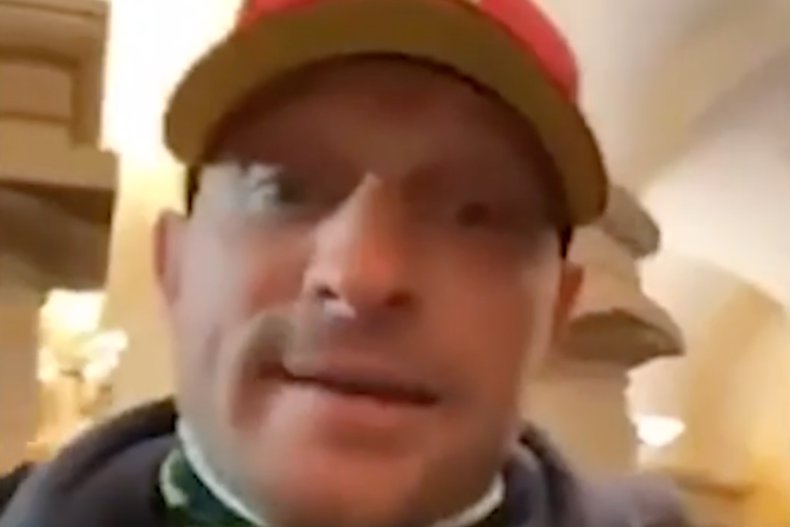 Lentz, a former U.S. Marine, shared a film he took from inside the Capitol, which showed crowds of loud insurrectionists flooding the building. In the clip, he records himself saying: "America has spoken. You cannot stop millions of people. You can't stop it. It's impossible.
"America has a voice. We give them the power. We give the power. The people give the power and we're here to take it back."
He also said: "There's honestly been no violence to police officers. We're trying our best. I'm trying my best to protect police officers and security that are trying to maintain order. We're not here to hurt any cop. I love my boys in blue but this is overwhelming for them. There's no way they could hold us back."
According to The Miami Herald, an FBI affidavit in support of the arrest—which was among records unsealed in federal court on Sunday—cited a video he posted on Facebook Live.
The FBI reportedly questioned Lentz at his home in Boynton Beach on Friday, where he admitted to being inside the Capitol building during the insurrection.
Lentz told the FBI he "drove through the night from Florida to Washington, D.C., arriving in the early hours of Jan. 6" to attend Trump's rally.
He reportedly told agents that he did enter the building but through the front door and remained on the grounds for two hours—but denied committing acts of physical violence.
The FBI affidavit reportedly says: "Lentz believed no one at the U.S. Capitol seemed concerned about trespassing, nor were there any warning signs regarding trespassing. He stated that, despite the foregoing, 'of course you know you're trespassing.'"
Lents appeared in court via videolink in the Southern District of Florida, where his bond was set at $25,000—which he posted bail. His next court hearing is set for February 26 via Zoom in the District of Columbia.
Lentz worked for the Fort Pierce police department in St Lucie Country from 2014 to 2016 before joining the North Miami Beach Police. He voluntarily left his position in August and is not currently a sworn police officer in Florida.
Newsweek has contacted Lentz for comment.