Nick Bosa–Baker Mayfield Feud Explained
On Monday night Nick Bosa, defensive end for the San Francisco's 49ers, had a very creative celebration while playing the Cleveland Browns.
On the final play of the first half, Bosa ran past the Browns' offensive line to sack quarterback Baker Mayfield, reigniting a feud that stretches back to their collegiate football careers.
In 2017, Mayfield and the No. 5 Oklahoma Sooners faced No. 2 Ohio State. After securing the win with 386 yards and three touchdowns, Mayfield celebrated by planting the Sooners' school flag in the middle of Ohio State's football field.
Two years later, when meeting again in the NFL, Bosa decided to use Mayfield's celebration against him.
"I think everybody knows what that was for," Bosa said. "Just wanted to get payback. He had it coming."
Bosa's imitation may have sparked by Mayfield's lack of respect to the 49ers prior to the game. San Fransico's star cornerback Richard Sherman told NFL.com that Mayfield refused to shake hands during the pregame coin toss.
"What's amazing, and annoying, was him not shaking hands at the beginning," Sherman said.
The 49ers expressed their feelings toward Mayfield's disrespect on the field with 4 sacks, 2 interceptions and 2 fumble recoveries while holding the Browns to only 3 points.
Following the 49ers win, while talking to reporters, Bosa mentioned how he was trash talking Mayfield during the game. "I don't know. I was just screaming his name like 'Baaaaaker' 'Baaaaaaker,'' Bosa said.
During post-game interviews, Mayfield did not have much to say about the celebration. "I didn't know that until I was informed before I got up here," Mayfield told Mary Kay Cabot of the Cleveland Plain Dealer. "Good for him. Good play."
Many people were upset about Mayfield's flag plant at Ohio State in 2017, sparking an apology from the quarterback.
"It was an emotional game. After the game, I did not mean for it to be disrespectful toward any Ohio State people at all, especially not the team or the players because they're a great team and a great program. I didn't mean it to be disrespectful at all. I mean, we do the flag thing at OU/Texas so it's just something I got caught up in an emotional win. And yeah, it should've been something I did in the locker room so I apologize for doing it in the middle of the field," Mayfield said at the time.
While playing at Oklahoma, the quarterback had another controversial celebration while playing against Kansas. After throwing a touchdown in the third quarter of the game, cameras followed Mayfield to the sideline where he grabbed at his crotch and mouthed "f—k you" to the Kansas sideline. Mayfield once again apologized to reporters regarding this incident as well as posting a statement on Twitter.
Bosa's celebration was well deserved after finishing the game with 2 sacks, 1 fumble recovery and 1 forced fumble. The 49ers played up to par with their record which was led by their rushing combo of Matt Breida and Tevin Coleman. The two combined for 211 rushing yards and 2 touchdowns.
The Browns move to 2–3 on the season and will face the Seattle Seahawks at home next week, while the 49ers stay undefeated at 4-0 and will take on the Los Angeles Rams in week 6.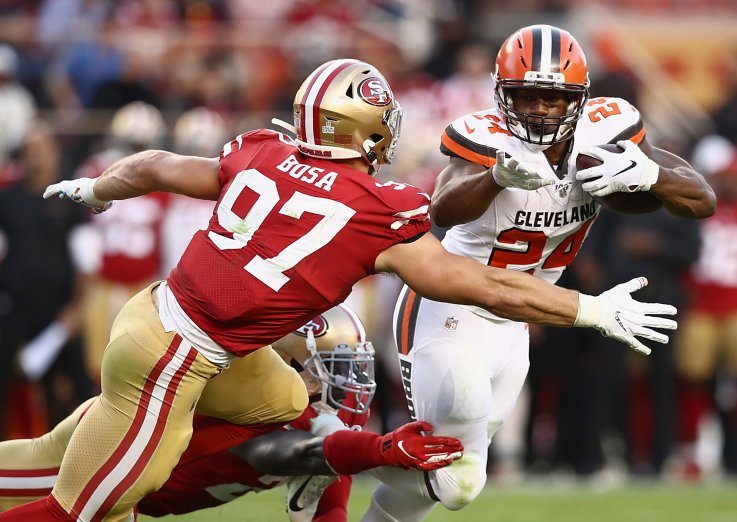 Nick Bosa–Baker Mayfield Feud Explained | Sports