Nick Cannon Dances to Ex Mariah Carey's Hit 'Emotions' With Daughter Monroe
Nick Cannon and daughter Monroe shared a sweet moment together while dancing to his ex Mariah Carey's hit song "Emotions."
On Thursday, August 18, the Masked Singer host, 41, took to TikTok to post a video with the 11-year-old, who he shares with the singer, 53. The couple is also parents to the pre-teen's twin, Moroccan.
"Best way to start our morning!!" Cannon told his 1.5 million followers. "All in my #Emotions," he captioned the clip while tagging his former wife.
The video has since been viewed more than 177,000 times on the platform and another 365,000 times on Instagram.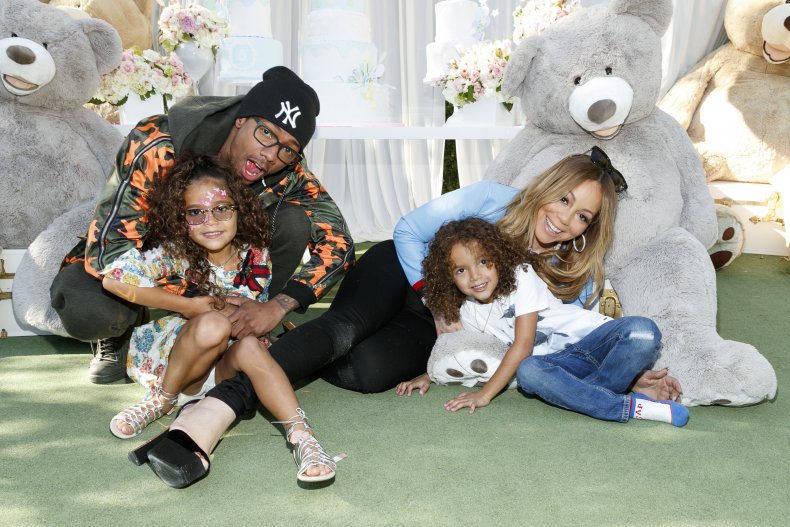 Fans were loving the positive co-parenting.
Comedian Karlous Miller, who boasts 2.1 million followers on Instagram, wrote via the platform, "I don't blame you!"
"Nothing like a parent/kid dance session!" someone else added on TikTok. "Bonus points that it's to her mom's song."
Another said, "Awwww dancing with her dad while dancing to her mom's song, simply beautiful," And a third posted, "I don't care what anyone says, Nick is a amazing father."
Cannon is a dad to eight children and may be expecting a ninth. He shares Golden "Sagon" and Powerful Queen with ex-girlfriend Brittany Bell, a second set of twins Zion Mixolydian and Zillion Heir with then-partner Abby de la Rosa and Legendary Love with actress Bre Tiesi. His 5-month-old son Zen, who he had with model Alyssa Scott, died of brain cancer in December.
In June, TMZ reported Cannon and de la Rosa are expecting again, though the report has not been confirmed.
That said, during an appearance on the Lip Service podcast that same month, he responded to speculation he has "three babies on the way" and hinted the rumors were true.
"Let's just put it this way...the stork is on the way," he told hosts Angela Yee, Stephanie Santiago and Gigi Maguire. "If you thought the numbers I put up in 2021 was...wait 'til 2022! You know, there was a lot of kids last year."
Cannon revealed he was celibate for a brief period while suffering from depression following his son's passing.
"I didn't even make it to January. I was supposed to make it to the top of the year, but obviously, I started going through some things," he continued.
"In Decembr...everybody saw I was so down, so everybody was like, 'Let me just give him a little vagina, that's going to cure it all!' And I fell victim to it because I was in a weak state," Cannon added. "So December especially, right before Christmas, I started f***ing like crazy."
Cannon and Carey wed in 2008 after a six-week, whirlwind romance. They split in 2014 and finalized their divorce two years later in 2016.
In her 2020 book The Meaning of Mariah Carey, the "All I Want for Christmas Is You" artist revealed why the couple called it quits.
"Making the necessary adult adjustments to being working parents in entertainment took its toll on our relationship," she wrote, adding that she thought the pair "could have worked it out" but "egos and emotions got inflamed."
"It was tough," she said. "We both wanted to make sure everything was cool for our family."
Carey's representative declined to comment. Newsweek also reached out to Nick Cannon for comment.
Update 08/25/22, 11 a.m. ET: This article was updated to add that Mariah Carey's representative declined to comment.