Nick Foles, Eagles Keep Playoff Hopes Alive with Upset of Rams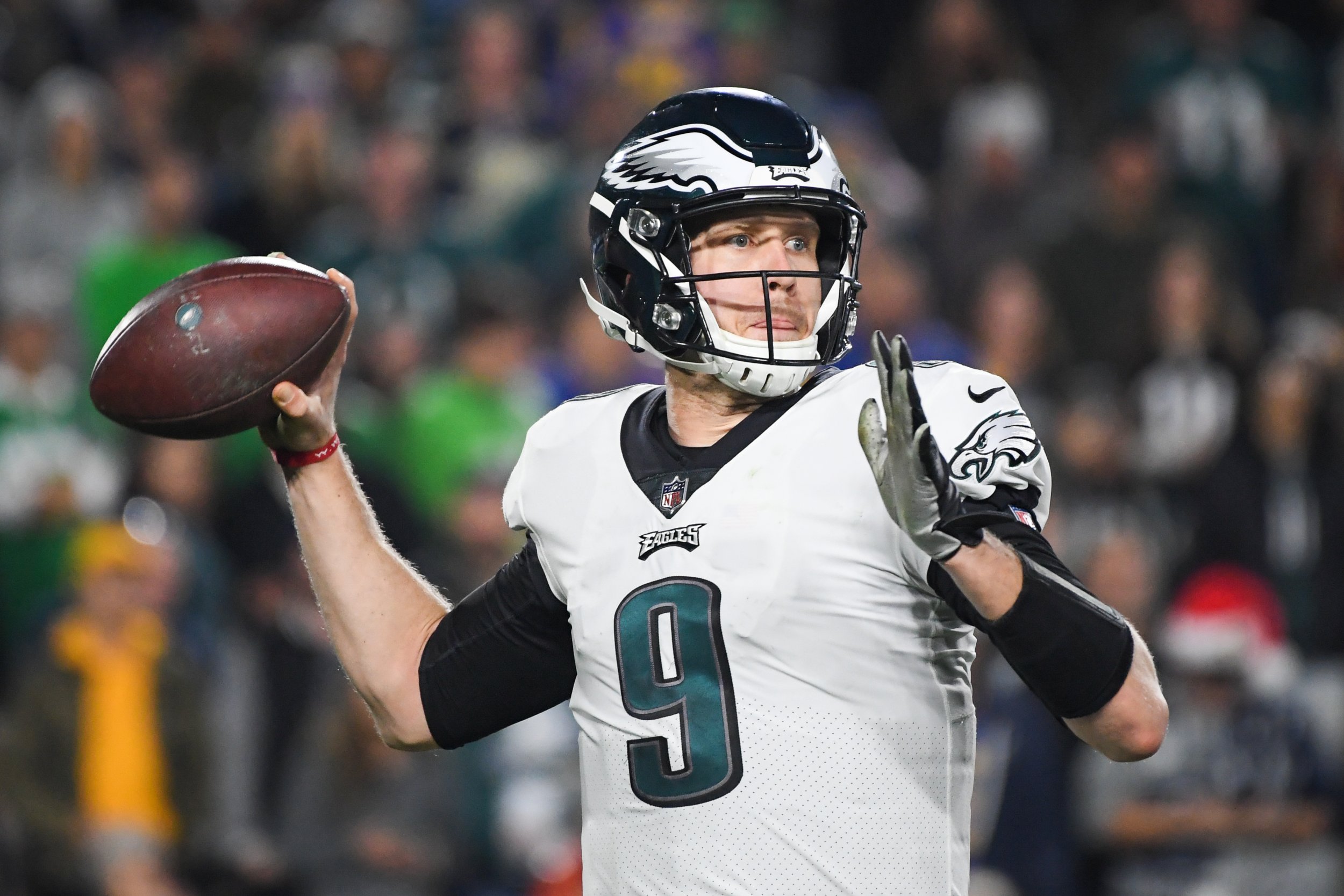 Nick Foles has once again kept the Philadelphia Eagles season alive with a 30-23 upset over the Los Angeles Rams at the Los Angeles Coliseum on Sunday.
The former Super Bowl MVP threw for 270 yards and an interception on 24 of 31 passing, helping the Eagles hold a 31:36 edge in time of possession.
Philadelphia held a 30-13 lead in the fourth quarter, which the Rams managed to cut to seven points. However, the Eagles prevailed as time ran out on Los Angeles during its final drive.
"I really didn't look at the time on the clock, the score," Foles told NBC's Michelle Tafoya after the game. "I just wanted to go out there when [Coach] Doug [Pederson] called the play, just communicate in the huddle, just tell the guys, 'hey, we're living for this moment, stay in this moment. Don't think of anything else, all the distractions or the score, whatever it may be, just execute this play.' We were able to do that. It's a great team win today and the Rams are an amazing team."
Foles faced a similar scenario to last season's heroics when franchise quarterback Carson Wentz suffered ACL and MCL tears to his knee during a December game against the Rams at the Los Angeles Coliseum. Foles kept the Eagles afloat through the playoffs before being named the Super Bowl MVP during a 41-33 victory over the New England Patriots.
On Sunday, the backup was once again asked to save the Eagles' season after Wentz was diagnosed with a fractured vertebrae in his back on Thursday and could once again miss the remainder of the season. However, this wasn't a juggernaut trying to keep homefield advantage, rather a team holding on to slim odds.
The Eagles trailed the Dallas Cowboys by two games for the NFC East Division lead and the Minnesota Vikings by one game entering Sunday's matchup. But now, Philadelphia has momentum entering its final two game -- vs. Houston (Dec. 23) and at Washington (Dec. 30).
"I'm not trying to think about it," Foles said when asked by Salters if he realized how eerie the scenario was on Sunday to last season. "Just trying to stay in the moment with this. I'm blessed to be a part of an amazing team, the Eagles franchise, guys like Fletcher [Cox] so I'm just enjoying the moment."
Foles connected with Alshon Jeffery eight times for 160 yards, rekindling his chemistry with the former Pro Bowl selection, despite only one week of practice together.
"He's a tremendous player," Foles said. "He made some amazing catches tonight that helped me out a lot."