Nick Foles Remains Eagles Starter, Carson Wentz Not on Injured Reserve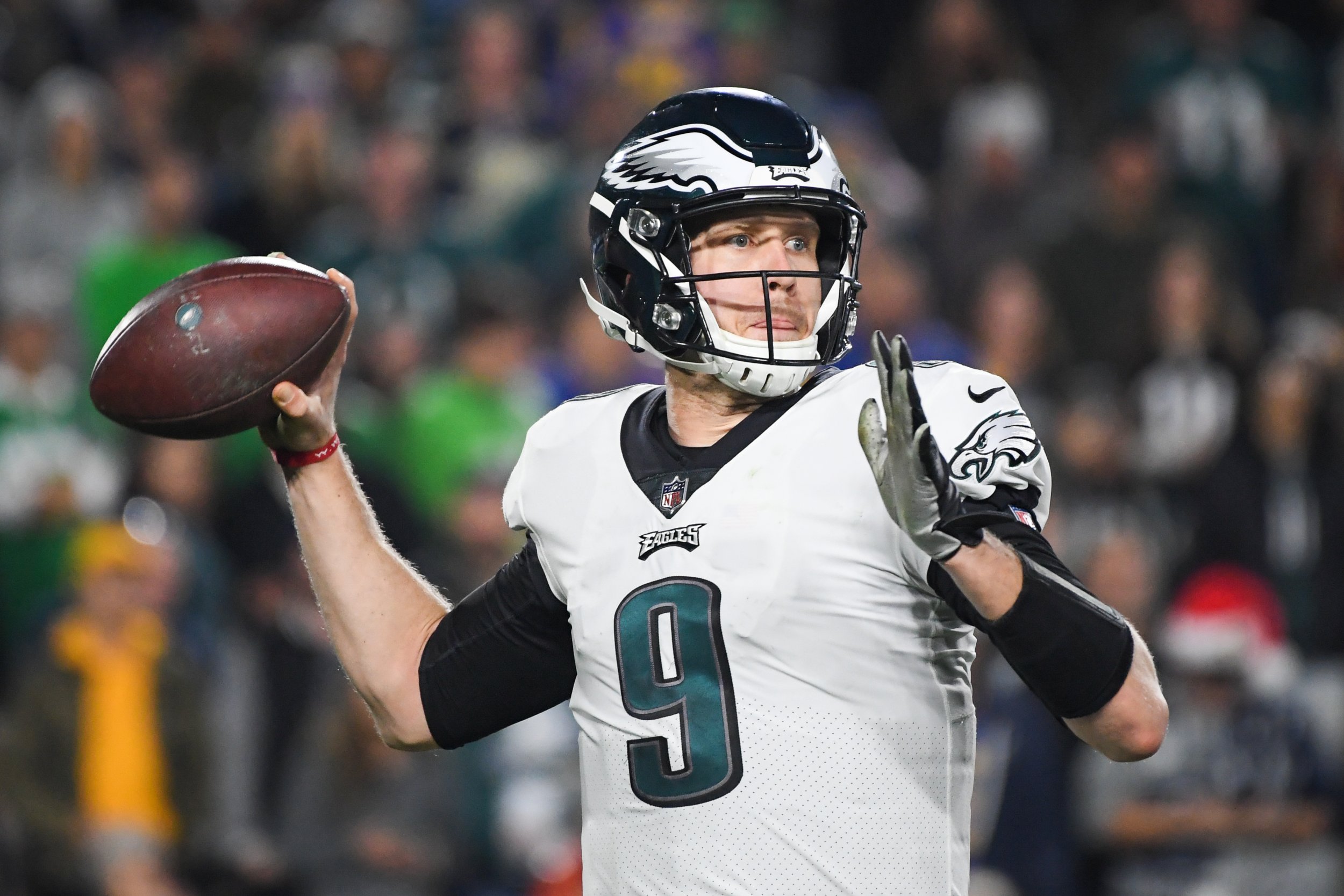 Philadelphia Eagles coach Doug Pederson confirmed that quarterback Nick Foles start in Sunday's game against the Houston Texans.
Pederson told reporters that the Eagles plan to give Carson Wentz another week to recover from a fractured vertebrae, but will not put him on injured reserve yet.
Foles threw for 270 yards and an interception on 24 of 31 passing, helping the Eagles hold a 31:36 edge in time of possession during Sunday's 30-23 upset of the Los Angeles Rams.
He had previously replaced Wentz after he suffered ACL and MCL tears to his knee during a December game last season against the Rams at the Los Angeles Coliseum. Foles kept the Eagles afloat through the playoffs before being named the Super Bowl MVP during a 41-33 victory over the New England Patriots.
The Eagles currently trail the Dallas Cowboys by one game for the NFC East Division lead and the Minnesota Vikings by a half game with two games remaining against the Texans and at Washington for Week 17.
Last week, ESPN's Adam Schefter reported Wentz underwent the procedure this week after dealing with back issues.
"A recent CT scan on Carson Wentz's back revealed a fractured vertebrae that, if allowed time to rest, would fully heal without further expected issues, sources tell ESPN. There will be a continued evaluation to determine if continuing to play this year will make injury worse," Schefter tweeted.
Schefter also reported that Wentz underwent a previous scan of his back last Wednesday that was inconclusive, leading to the later MRI procedure and was expected to last Sunday's game against the Los Angeles Rams prior to his diagnosis.
"Eagles' QB Carson Wentz underwent a scan on his back Wednesday that was inconclusive and was scheduled to undergo an MRI today on his back to help diagnosis an issue that has plagued him for several weeks, per source. Wentz unlikely to play Sunday night vs. Rams," Schefter tweeted.
Pederson said Wentz was experiencing "soreness" and "tightness" when he was excluded from practice last Wednesday. The third-year pro dealt with a previous back issue in late October, but last week's injury was the first to force him to miss practice this season.
The former Pro Bowl selection was a limited participant twice on consecutive Wednesdays while dealing with his previous back injury.