Wild Turkey Survives Crash Into Semi's Windshield
He's clipped coyotes, a variety of bird species—even a bear. But never a wild turkey.
And certainly, not one that turned his semi truck into a triage bed.
"Livestock doesn't have much of a chance on the highway today with all of the vehicles on the road," Nick Gerken told Newsweek.
The Florida-based truck driver, who is close to reaching 2 million miles in his two-decade career, was hauling down the Florida interstate in his 18-wheeler on the
at around 6:30 a.m. on February 26 to load up on vitamins cargo and drive them to Seattle.
But the 66-year-old Floridian made it only 5 miles on the two-lane Interstate 75 when a 20-pound wild turkey smashed through his front windshield.
"I saw this large bird launch out of the treeline," said Gerken, who also managed to capture every frame on his dash cam, and who thought the creature was a vulture. "It appeared like it was going to land on the grass."
Instead, it flew straight through a pane of glass.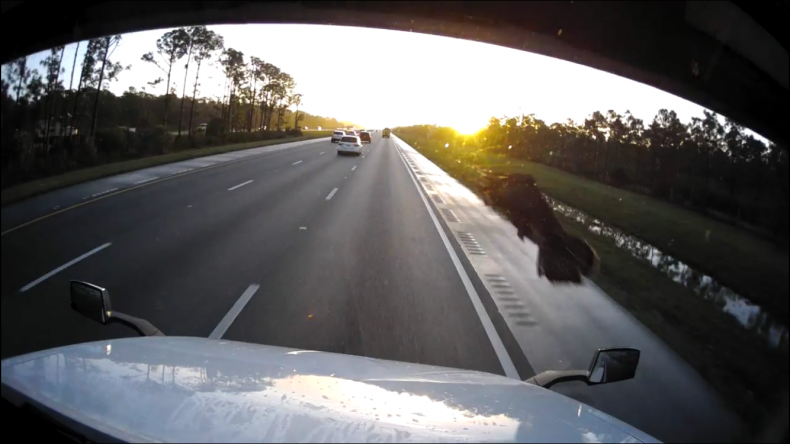 "At the last second he decided to land and bang, it hit my passenger side window," the stunned Gerken recalled. "There was no avoiding it."
The sound of the bird's body smashing into his 36,000-pound semi punching 65 miles per hour was distinct.
"It was a loud thud or thump," he said.
He kept driving until he realized the impact caused the windshield to buckle from its frame.
"Three-quarters of the windshield fell down on the dash," he said, forcing him to "make a loop" and return to the garage.
It wasn't until Gerken rolled up his windowless truck back to Venice, Florida and onto his employer D-Trans grounds, did he learn that he had picked up a surprise passenger.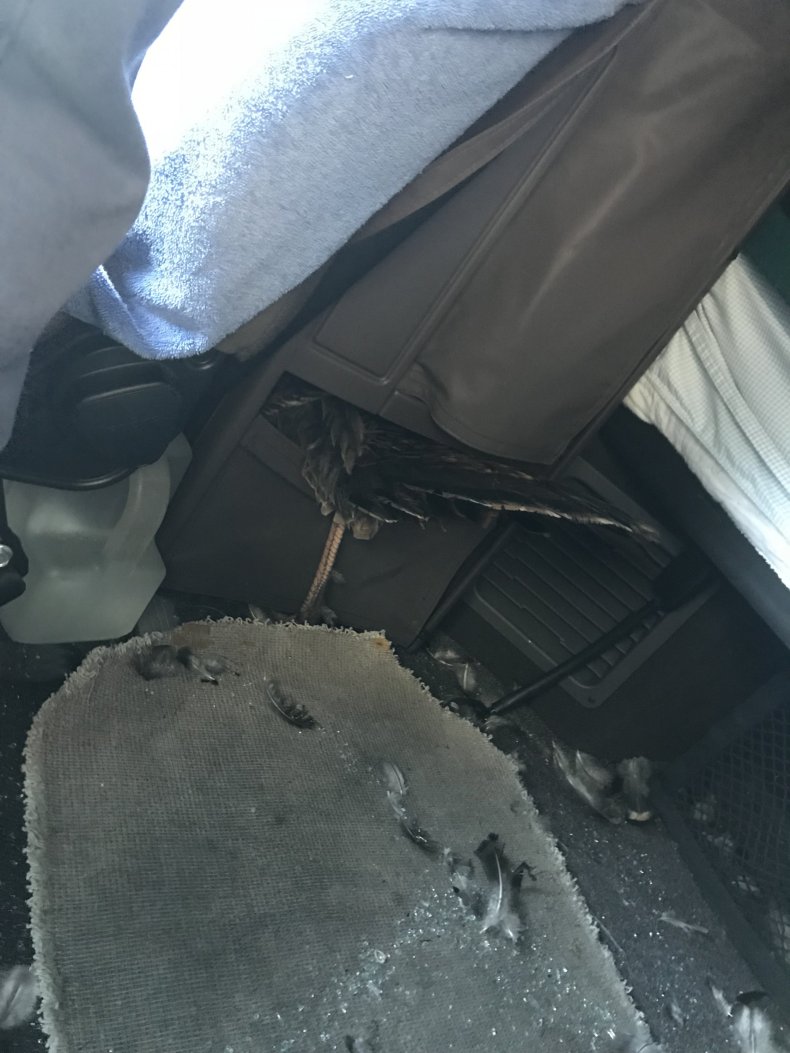 The kamikaze turkey was stuffed in the man's sleeping bunk bed behind his car seat.
"There was a pair of legs and a great big feather tail sticking out," said Gerken.
The bird was tangled in the cargo netting underneath the bunk where he catches shuteye. "That silly bird was burrowing in the net, head first," he said.
Gerken assumed the creature croaked due to the impact.
"I thought it was dead, obviously," he said.
He couldn't have been more wrong.
"I reached back and grabbed one of the tail feathers and it gave it a yank and the thing came life.
"He wanted out of there and I got the hell out of the cab."
Leaving both doors ajar didn't work. So one of his junior colleagues put on some gauntlet gloves and plucked the dazed poultry from the truck. "He grabbed it by the legs and neck and set it on the parking lot and it ran off," said Gerken.
The bird never squawked or made any sound. But the feral fowl made a huge mess.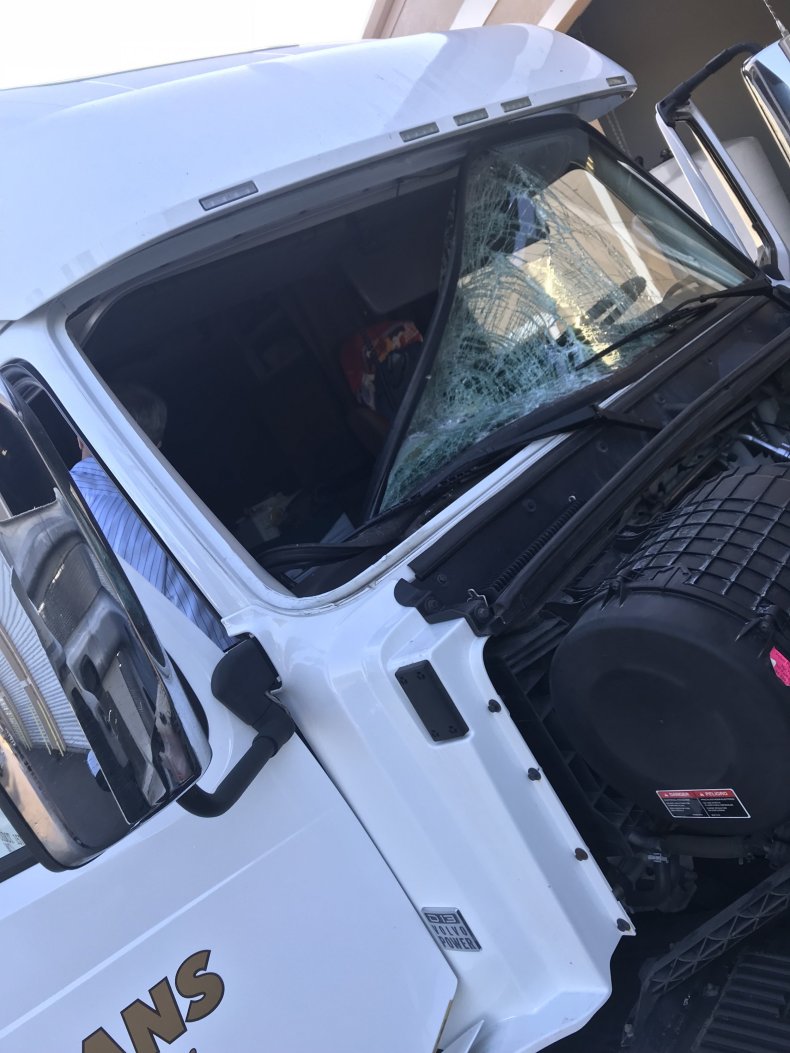 "It took a day-and-a-half to vacuum up all the teenie shards of feathers and glass," he said.
The affair made Gerken conjure all of the creatures he's clunked while behind the wheel. "I've hit coyotes, all kinds of birds and a bear one time in Oregon," he said.
"It was a mama and two cubs," Gerken said. They were all sitting on the interstate at night and one scrambled one way [toward the shoulder] and the other cub scrambled the other way."
It was the one cub who failed to traipse over the concrete divider on the highway that he hit. "I think I just rolled it though," he said, confident that the young bear lived.
And while the turkey lived after the collision with Gerken—he suspects its left wing was badly banged up and that it "probably wouldn't fly again."
He also suspects because of its dinged state, it might become easy prey.
"It's part of the food chain now so if it doesn't roost a fox or a coyote will get it," he said.
The bird fracas forced Gerken to miss his vitamin shipment. "I had to give the load away to another driver," he lamented.
But he was back on the road, this time delivering roofing supplies.
The matter has Gerken feeling a higher power.
"I believe in God bigtime," he said. "I'm not sure why he allowed that turkey to come through my windshield. But I'm pretty lucky I didn't hurt myself."
Wild Turkey Survives Crash Into Semi's Windshield | U.S.