Nick Kyrgios: Controversial History of Tennis' Brilliant New 'Bad Boy'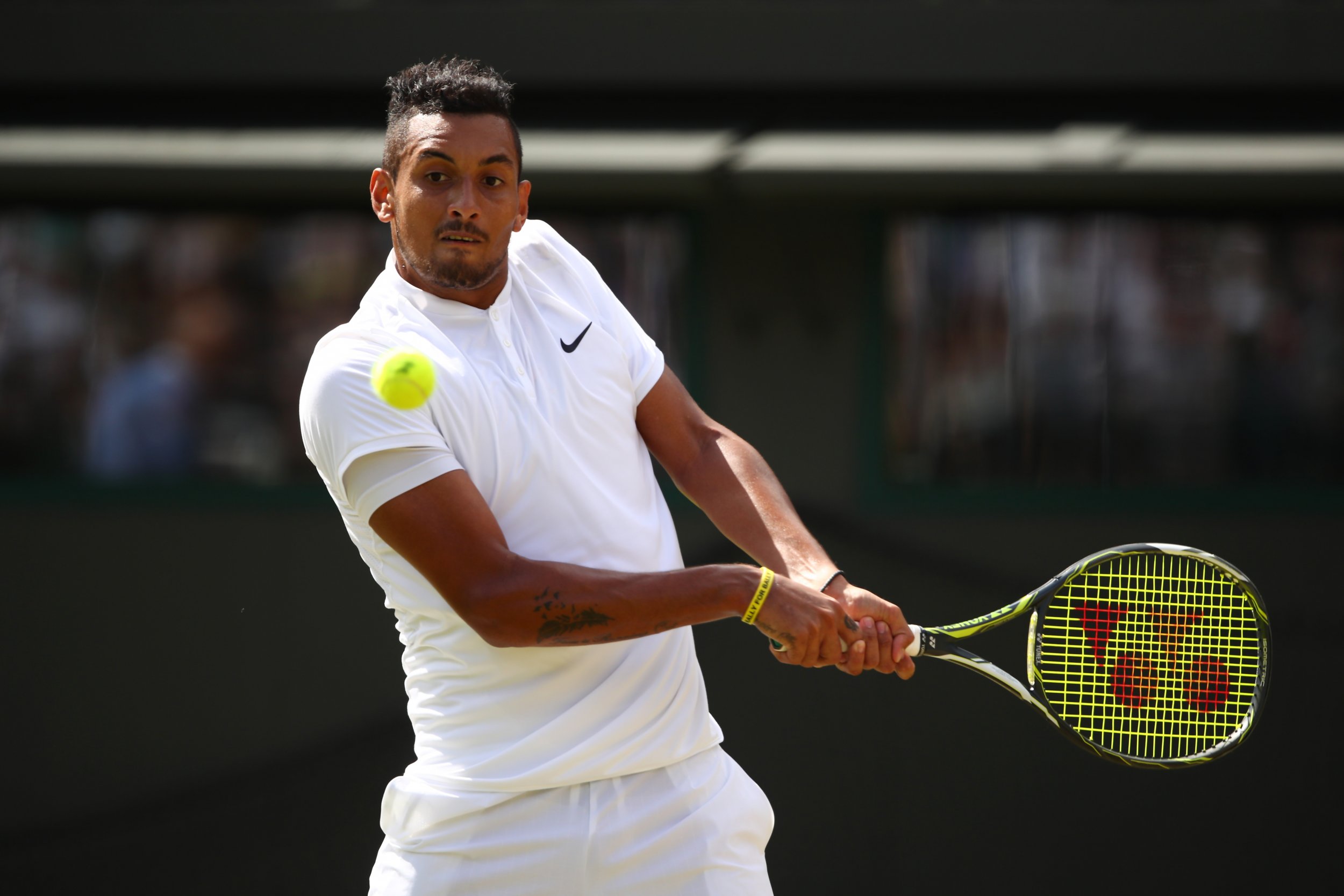 Nick Kyrgios, Andy Murray's opponent in the fourth round at Wimbledon on Monday, is "box office," but that doesn't mean he's always well behaved.
Often brilliant, as often frustrating, Kyrgios pulls in new fans to tennis and manages to ostracize others with his on-court behavior.
Murray is a big fan of the 21-year-old burgeoning superstar; the Australian Olympic Committee, with whom Kyrgios has been engaged in a very public slanging match, less so.
There is little doubt Kyrgios is an extraordinary talent—but what other controversies has he got mixed up in during his short career so far? Newsweek takes a look.
July 2015
Booed by the Wimbledon crowd amid accusations of "tanking," or not trying hard enough, following defeat to Richard Gasquet of France in a match in which he berated his support team several times.
Later denied those accusations in a fiery post-match press conference.
August 2015
Branded "unacceptable" at the Montreal Masters for sledging opponent Stanislas Wawrinka during games.
Kyrgios was caught on camera muttering to Wawrinka: "Kokkinakis (Kyrgios' friend and fellow professional) banged your girlfriend. Sorry to tell you that, mate."
The comment reportedly referred to 19-year-old tennis player Donna Vekic, whom Wawrinka and Kokkinakis have both been linked to in the past.
Wawrinka hardly held back in his criticisms. "I think the way he behaves on court, he has big problems," he said. "Every match he has problems. Every match he behaves very badly."
January 2016
Told chair umpire James Keothavong "you are terrible" in four-set defeat to Tomas Berdych at the Australian Open.
Keothavong was the same umpire who had been in charge of the controversial Gasquet match at Wimbledon the previous July.
"And stand by for the abuse and haters!!!" Kyrgios Tweeted after the match.
May 2016
Another bust-up with a chair umpire—this time Carlos Ramos at the French Open. Kyrgios was warned for speaking rudely to a ball-boy, and then launched into a diatribe against Ramos that also included reference to Novak Djokovic, the Serbian world number one.
"How can you sit there and give me a code for that? But when Djokovic pushes an umpire out of the way that's alright?" Kyrgios asked, referring to an incident ten days previously in Rome, when Djokovic had appeared to brush Ramos' hand away when he was pointing out a mark on the clay.
"I think we all know in this room if that was me that did that, it would be an absolute circus," the Australian continued in the post-match press conference.
July 2016
Forced to apologize after calling his support team "retarded" during his Wimbledon victory over Feliciano Lopez.
Kyrgios was upset that members of his entourage, including his father, George, were not cheering him on vociferously enough.
"It's all in the heat of battle," Kyrgios said. "I know some people can obviously get offended by that. I'm not meaning to be rude or disrespectful at all. Sometimes I'm just a pest."
Nick Kyrgios: Controversial History of Tennis' Brilliant New 'Bad Boy' | Sports