'Absolute Lunatic': Nick Kyrgios Slams Umpire, Crowd, in Wimbledon Meltdown
Nick Kyrgios lived up to his reputation by throwing a series of tantrums in his first round match at Wimbledon on Tuesday and describing himself as "an absolute lunatic."
The 24-year-old's remarkably short fuse was laid in plain sight again as he took on fellow Australian Jordan Thompson on Court number 3 at the All England Club.
The latter started strongly and took the lead in the first set as Kyrgios' customary flair shots repeatedly went awry. Eventually, he stirred into life and took the first set, but not before having a go at a woman in the crowd
"Can you stop being so loud please, thank you. So loud," he shouted exasperatedly.
Having taken the opening set, Kyrgios lost the second and then found himself down 5-4 in the third, at which point he blew up again.
When one of the line judges made what he perceived to be a bad call, the Australian began remonstrating to the chair umpire, suggesting judges should face consequences for making wrong calls.
"I'm playing for hundreds of thousands of dollars out here. Why is the linesman not getting fined? Tell me. Why?" Kyrgios complained.
"Does he get fined? Why does he not get fined?
"It shouldn't be happening like that. Wake up."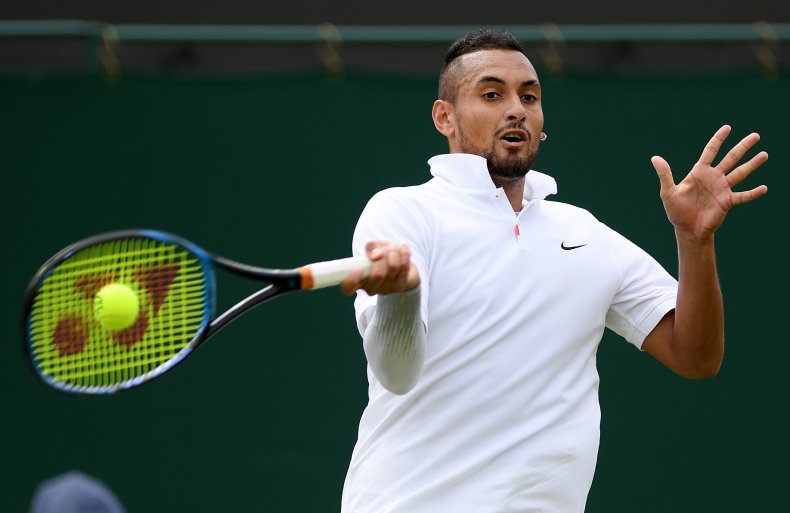 He then turned his ire against the woman in the crowd yet again.
"It's called awareness, show some," Kyrgios told the chair umpire.
"She's allowed to talk, there's nothing wrong with it. If I was doing that job I'd probably think, they're playing, maybe it distracts the players.
"Bringing a camera that's the size of a tennis racquet, it's pretty sunny, maybe the lens is shining into their eyes. I don't know, you know?"
The latest outburst cost him a code violation for unsportsmanlike conduct, as by then the chair umpire had clearly grown annoyed with the Australian.
Not to be outdone, Thompson earned himself a code violation for smashing his racket before having a call by the review system, which overruled the line judge.
The decision validated Thompson's belief and signalled his turn to get into the official's ears.
"Mate, you're having a shocker!" he yelled towards the umpire.
Kyrgios, who had loudly and repeatedly berated himself through the match, eventually took the third set in 76 minutes. Among other things, the Australian accused himself of being an "absolute lunatic" and complained that he "can't buy a first serve."
He then seemingly gave up on playing altogether, losing the fourth set 6-0 in just 17 minutes as the trademark petulance resurfaced yet again. During the set he still had time to have a go at his personal enemy in the crowd.
"Are you a spectator or part of the team?" he groaned. "Talking during a set point. What are you doing?"
After conceding the fourth set without a fight, Kyrgios then stormed back and took the decider 6-1 to earn a spot in the second round where he will play Rafael Nadal or Yuichi Sigita.
It will, almost certainly, not be a dull event. Matches rarely are when Kyrgios is involved.