'Slap in the Face': Kyrgios Wimbledon Match Amid Assault Claim Angers Fans
Nick Kyrgios has reached his first Grand Slam final at Wimbledon but faces an assault charge that has left some tennis fans questioning his presence at the tournament.
The 27-year-old Australian reached his first major semi-final with a 6-4, 6-4, 7-6(5) victory over Cristian Garín of Chile in the quarter-finals on Wednesday, soon after news broke that Kyrgios is due to appear in court in Canberra in August after being charged with assaulting his ex-girlfriend, Chiara Passari.
"It didn't really affect me at all, to be honest with you," Kyrgios said in a post-match press conference of the assault allegations.
"Obviously, I have a lot of thoughts, a lot of things I want to say, kind of my side about it," he said. "Obviously, I've been advised by my lawyers that I'm unable to say anything at this time.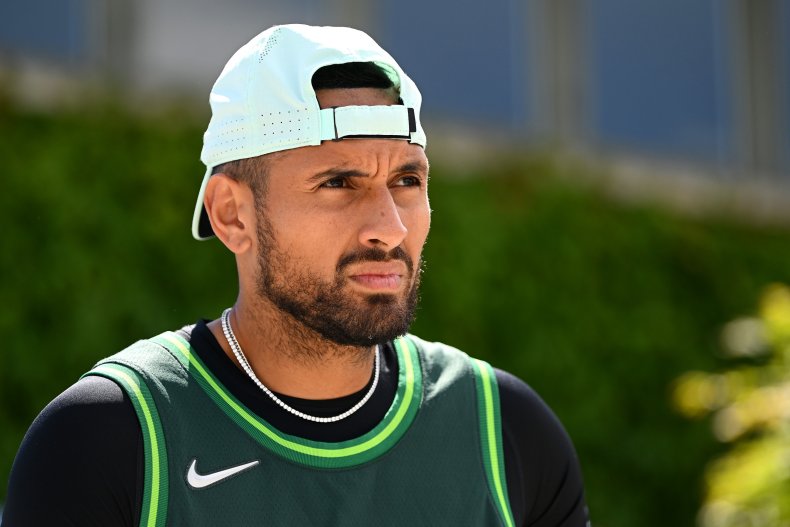 "Look, I understand everyone wants to kind of ask about it and all that, but I can't give you too much on that right now."
Australian Capital Territory (ACT) police confirmed the tennis star's court date earlier this week.
"ACT policing can confirm a 27-year-old Watson man is scheduled to face the ACT magistrates court on the 2nd of August in relation to one charge of common assault following an incident in December 2021," a spokesperson said.
Kyrgios' barrister, Jason Moffett, said in a statement to The Canberra Times in Australia: "The nature of the allegation is serious, and Mr. Kyrgios takes the allegation very seriously.
"Given the matter is before the court, he doesn't have a comment at this stage, but in the fullness of time we'll issue a media release."
Kyrgios' presence at Wimbledon since news of the assault charges broke has angered some fans.
"A man accused of assaulting his girlfriend, awaiting trial, is playing the finals at Wimbledon to a cheering crowd where he could win over £1,000,000. Kyrgios said the allegation of assault 'didn't really affect me at all' (why would it?)," tweeted barrister and author Dr. Charlotte Proudman.
"This is a slap in the face for victims," she added.
Women's refuge organization, Solace Women's Aid tweeted: "Someone facing charges of assault should not be allowed to compete in professional sports. The @atptour must take action and uphold the commitment they made last year to safeguard against all abuse, including domestic violence."
Kyrgios will play in Sunday's final against either Novak Djokovic or Cameron Norrie after an injury to his semi-final opponent Rafael Nadal handed him a walkover victory.