Nick Offerman is a noted gentleman and something of a soft touch. On each episode of Making It, the NBC crafting competition show that he co-hosts with Amy Poehler, he dreads the inevitable moment of elimination, when contestants are voted off. "It's heartbreaking and teary," says the actor. "From the get-go, Amy said, 'Isn't there some way we can do this without anyone ever having to be cut?' It was a running joke, but coming from a serious emotional place."
Fortunately, Making It also has Simon Doonan, creative ambassador at Barney's New York, and Etsy trend expert Dayna Isom Johnson as the judges tasked with delivering the bad news. "I come from a really nice family and the world of small Chicago theater. I'm predisposed to be encouraging," says Offerman, who is also predisposed to old-fashioned locution. "They are fair but not mollycoddling," he says of Doonan and Johnson.
The actor most famous for playing the eloquently cranky and equally soft-hearted Ron Swanson on Parks and Recreation is not a fan of mean-spirited reality shows such as The Bachelor. "Savory garbage," he says dismissively. He prefers a series that showcases ingenuity, like Survivor—a show his wife, actress Megan Mullally (Will & Grace), turned him on to. "She's the creative director of our home," he says. "She tells me what we're watching next, and I say, 'Great, thank you.'"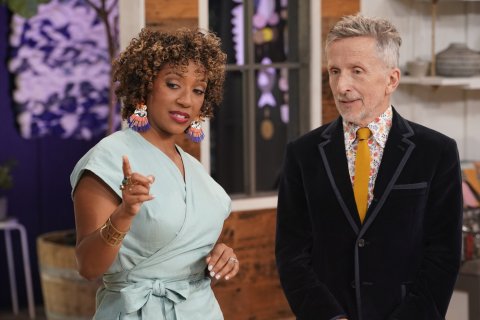 It was Poehler, his Parks and Rec co-star, who convinced Offerman to co-host Making It. He liked her pitch: "Amy said, 'We will never set up anybody to fail. Nobody will be tricked or trapped into anything. We don't want to see anyone crash and burn, and we don't want to make anybody cry.'"
Poehler, says Offerman, brings the formidable perkiness of her Parks character, Leslie Knope, to creating the show, which she is producing under her Paper Kite company. Making It, which follows in the uplifting footsteps of PBS's wildly successful The Great American Baking Show, pits eight contestants, or "makers," against one another. Each must complete two challenges: a "faster craft" in three hours (such as a terrarium representing the contestant's hometown) and a "master craft" in roughly 12 hours (like creating a playhouse for a child). There is no cash prize until season's end, when a "master maker" is awarded $100,000; episode winners go home with a Girl Scout–style patch.
The old saw about conflict driving drama contains truth, says Offerman. In the case of Making It, the high level of talent among contestants, all from diverse disciplines, ­created a concerning lack of tension. "Six hours into a 12-hour challenge and we'd realize it was going way too great," he says. "We'd say, 'OK, everybody tie your left hand behind your back!'"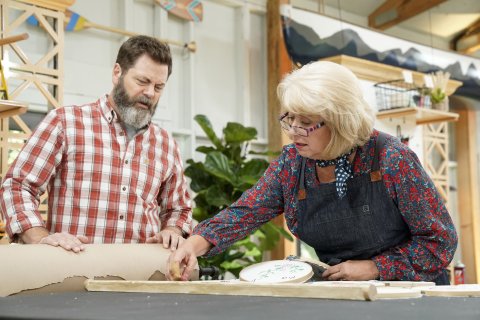 Offerman sees healing and therapy in the physical act of fabrication, an opportunity he hopes the show conveys. It's something he's experienced in his own life: He famously runs a woodshop in his spare time and appeared as the "wise-cracking carpenter" (his words) on Courtney Cox's short-lived interior design show, Mix It Up. "It was a lot of fun, but I learned the valuable lesson that I never want to subject my own work to the fast-paced television schedule," he says.
Perhaps because he feels the ­creative pain of the contestants, Offerman is averse to offering critiques during the show. He is happy, however, to assess his own performance. "The show doesn't have time for a Harold Pinter pause before everything," says Offerman of the British playwright's trademark. "'Be louder and faster' is the request of anyone that works with me."
He vows to take that note in Season 2, should Making It be renewed. "It's just good, emotional human stories for a dark time, when people have forgotten how to mind their manners," Offerman says. "Nobody's shooting up drugs, and there are no AK-47s to be found."