Is Nick Saban the Greatest College Coach of All Time? Alabama Wins Thriller Over Georgia, Boosting Coach's Resume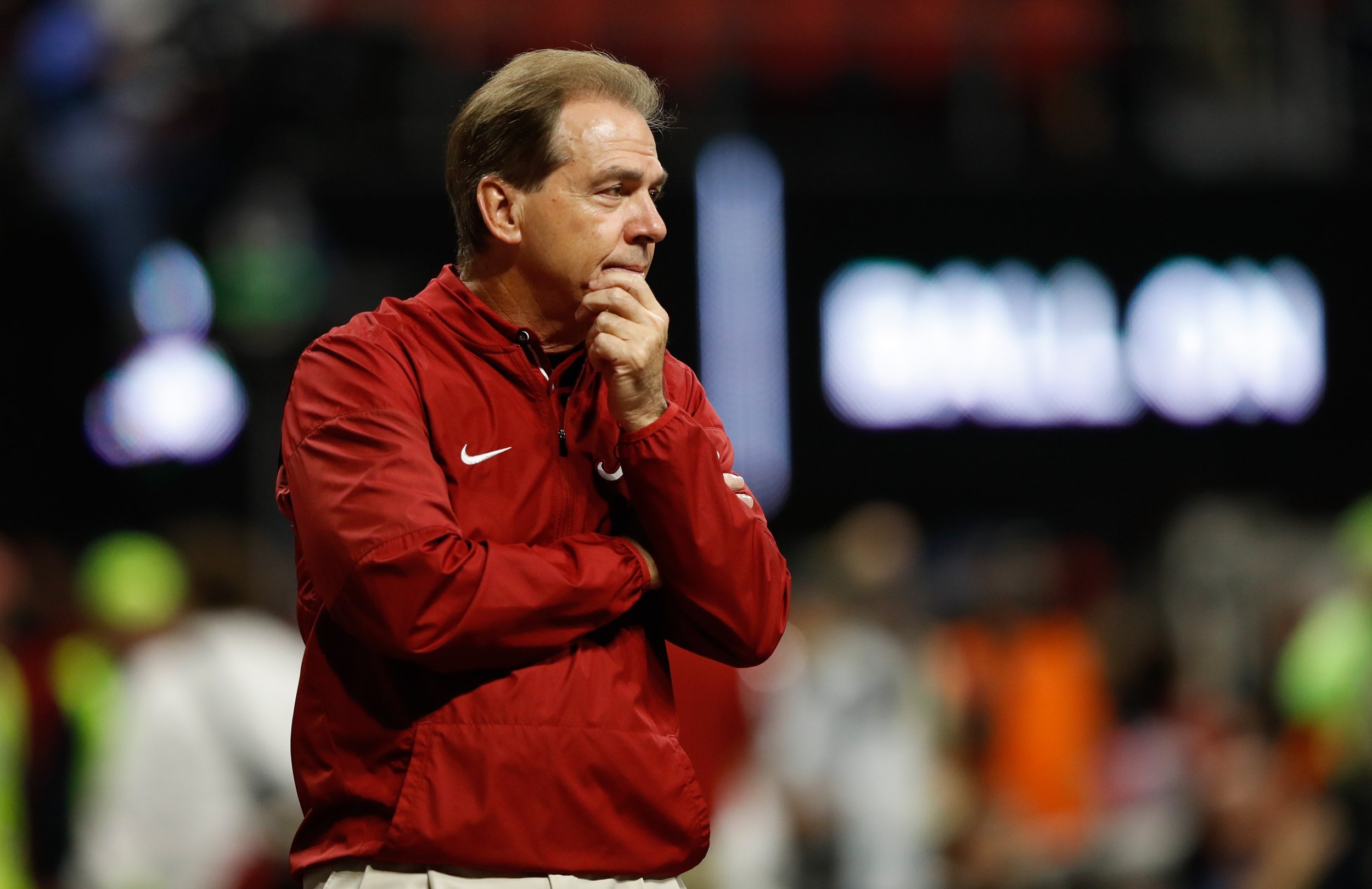 Nick Saban did it again. And in style.
The Alabama Crimson Tide head coach led his squad to victory over the Georgia Bulldogs in a thrilling, overtime College Football Playoff National Championship, 26-23. And with the win, Saban's case as the greatest college coach of all time is stronger than ever, perhaps even unassailable.
Saban entered the game with five national titles: four at Alabama and one at Louisiana State University. He earned his sixth ring Monday night, tying him with Alabama's legendary Bear Bryant for the most championships for a coach in college football history.
But there's more to Saban's case as the best ever than just rings. During his time at Alabama, the Crimson Tide has been consistently great. As Forbes pointed out, the team has won a remarkable 87 percent of their games since Saban took over in 2007. Alabama has been ranked No. 1 for some period of time in every season for the last decade and have qualified for the four-team College Football Playoffs every year since it began in 2014-15, winning it twice.
And Saban has always been good. Dating back to the start of his college head coaching career in 1990, he has won about 78 percent of his games with stops at Toledo, Michigan State, LSU and 'Bama. That success is a testament to Saban's legendary prowess as a recruiter—Alabama signs amazing class after amazing class—as well as his tactical brilliance.
Saban's football acumen was on display in the championship game against Georgia. After falling behind 13-0 in the first half, Saban benched sophomore starting quarterback Jalen Hurts, who had lost just twice in his career, for freshman quarterback Tua Tagovailoa, who hadn't played a meaningful down all year. Tagovailoa repaid his coach's trust. Using his strong arm and fleet feet, he brought Alabama back to tie the game at 20-20 with about four minutes left. A missed last-second field goal from 'Bama sent the game to overtime. But Tagovailoa delivered a strike of a touchdown pass to hand Alabama the championship after Georgia managed only a field goal in the overtime period.
Even ahead of the national championship win, CBS Sports' Dennis Dodd was ready to proclaim Saban the best coach of all time—Dodd wrote a piece last week claiming in the healine "the debate is truly over"—as was longtime ESPN announcer Chris Fowler.
The New York Post asked Fowler last week, "Will we ever see another coach like Saban with this level of success and influence?"
"It is going to be very, very difficult to do," Fowler responded. "I happen to think already that he's the greatest coach to ever coach college football. Will we see another like him? I don't know. Dabo [Swinney] is young. He's got a championship at Clemson. He's probably got the best chance of the guys that are active right now."
Someone may eventually catch Saban—records, as the saying goes, are meant to be broken. And, look, Saban caught Bear Bryant, right? But as of right now, it sure seems like the Alabama coach is the greatest of all time.
Even the notoriously grumpy coach seems to understand what Monday's win means for his legacy.
"I've never been happier in my life," Saban said to ESPN after the win.