Nick Saban Blasts 'Self-Absorbed' Bama Fans Not Happy With Close Wins
When Alabama football needed its next Bear Bryant, they brought in Nick Saban. Now, in the day and age of instant gratification, fans of the Crimson Tide have questioned their coach after a pair of close SEC wins over what many call lesser competition.
Saban snapped back on Wednesday during an interview.
It seems that some fans aren't happy with Alabama's 10-1 record and No. 3 ranking in the latest College Football Playoff (CFP) rankings.The Crimson Tide are coming off a 42-35 win over Arkansas, just two weeks after a 20-14 win over LSU.
Alabama slipped from No. 2 to the third spot this week after Ohio State leapfrogged them. That had some fans antsy, and Saban was asked about it during a radio show Wednesday.
"When we played LSU, everybody said 'well they lost two games in a row, they're not any good anymore,'" Saban said on the show streamed by the university.
Saban said that fans expected Alabama to just blow out LSU, which hasn't been the same since 2019 when they beat the Crimson Tide in Tuscaloosa en route to a national championship.
"It's just the opposite of that," Saban said. "They're competitors. They have moms and dads, they have pride in performance, they have things that they want to accomplish and they want to do, and they want to be good. They don't just throw in the towel.
"They work harder to try to get better, and everybody is trying to beat us."
The Crimson Tide have already clinched a spot as the SEC West champion in the SEC championship game on Dec. 4, where they'll meet SEC East champ Georgia, which is ranked No. 1. Georgia and Alabama have been the prohibitive favorites all season long to meet in Atlanta for the SEC title. Georgia is undefeated while Alabama has a lone, 41-38, road loss to Texas A&M on the last play of that game.
Alabama last week got a record-breaking performance from quarterback Bryce Young, who crushed the school record for passing yards in a game.
Alabama is the defending national champion after a 13-0 run during a COVID-shortened 2020 season, capped with a win over Ohio State in the national championship.
Saban, who won his seventh national championship as a coach last January, didn't stop his rant with the LSU game.
"We're going to get everybody's best game, and I don't know why people can't understand that," Saban said. "You can say it's not fair to our players that they get everybody's best game, but they do.
"When I came here everybody was happy to win a game."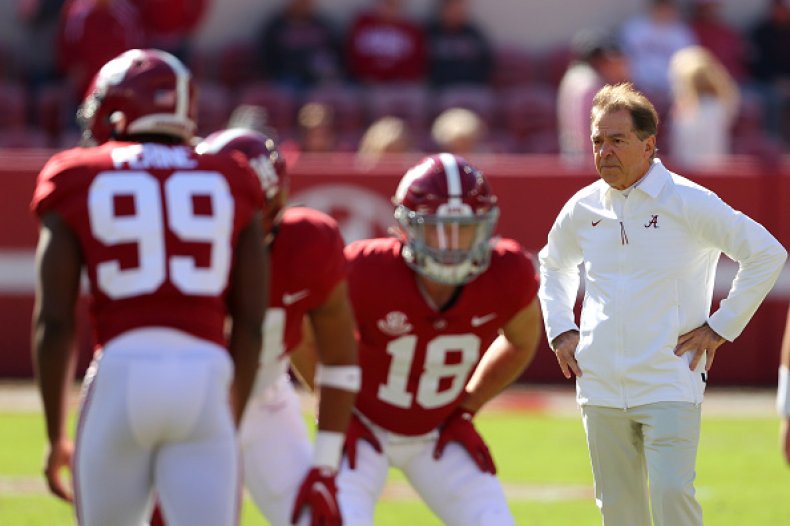 Saban said his players, like pretty much all athletes in college, have to attend classes, make study hall and then complete their athletic duties.
"Our players work their butt off to be the best that they can be," Saban continued. "To get criticized for what they work hard to do, so you can be entertained ... they're not perfect. They're just college students."
Saban continued his heated rant by saying his players "have to run extra" when they miss study hall.
"Come on, this is not professional football," the coach said. "These guys aren't getting paid to play here. They're representing you all. You should be proud and happy to support them. ... And you know what else, no one wants to win worse than they do."
He continued his response.
"Not me, not you, I don't care what kind of fan you are, nobody wants to win more than the players that play," Saban said. "And nobody feels worse than they do when they lose.
"So for all you self-absorbed folks out there that can't look past your own self to appreciate what other people are doing," Saban said as he tossed his hands into the air.
Saban has won seven national championships—six at Alabama and another at LSU in 2003. This is more than the six titles won by Paul "Bear" Bryant at Alabama during his storied career.
Alabama travels to Auburn this weekend for the Iron Bowl. Any loss by the Tide, either this weekend or the next against Georgia, would likely knock them out of playoff contention. Should they win the next two weeks, then Alabama would likely be a No. 1 or 2 seed for the playoffs.