Anywhere else in the world other than Alabama, it'd sound ridiculous to ask a coach who's won six national championships if the run of domination is over following a Week 2 loss.
Nearly anywhere else, last season's 10-2 record with a Sugar Bowl win would be parade-worthy. It was a cause for concern in Alabama, despite Bama winning a championship in 2020 and losing in the 2021 national championship game against the University of Georgia.
Saban has famously called praise from the media "rat poison" to get players to focus on their opponent. Now he's got to fend off negative chatter from fans and pundits rooted in the standard he set while winning six titles in 17 seasons as Bama's head coach.
"I haven't heard or read any of those things because I don't pay attention to any of it," Saban told reporters during Wednesday's Southeastern Conference coaches call. "I pay a lot of attention to what we're doing here internally and how we can get it fixed so our players have a better chance to succeed."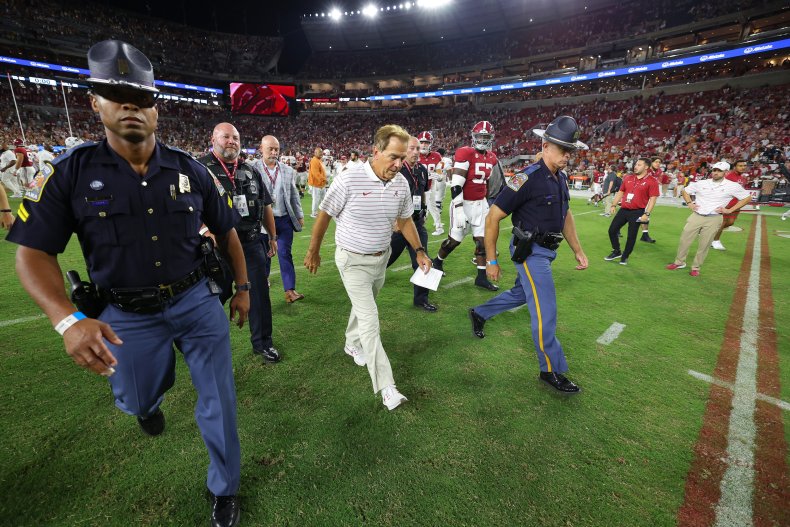 Alabama's head coach told reporters that he hasn't listened to any radio shows or read any articles critiquing his team. USA Today's Dan Wolken put the Crimson Tide at the top of his weekly 'Misery Index', saying "What this game revealed about Alabama is shockingly simple: Right now, the Crimson Tide isn't very good on offense or defense. Other than that, things are just great." Commentators nationwide joined in, questioning whether Alabama's reign of dominance was over.
Saban says he isn't upset by the criticism.
"We didn't play good," Saban said during his Wednesday evening press conference. "I'm responsible for us not playing well. In the real world when you don't produce you probably get criticized. Some people lose their job when they don't perform. That's maybe worse than losing a game, when you can't feed your family and your children, or can't make your house payment."
While Saban may want to turn the page quickly from last Saturday's game, it's unfamiliar territory for the Crimson Tide faithful. The loss against Texas was Saban's first double-digit defeat at home in his coaching career. It ended Alabama's 21-game winning streak at Bryant-Denny Stadium and a 57-game regular-season winning streak against nonconference teams since 2007 when Saban debuted as head coach.
Saban's long run of success makes it easy to forget the state the program was in when he took over. Before the first of his six national titles with the Crimson Tide in 2009, their last championship came in 1992 under head coach Gene Stallings.
Bama fans agonized through a 17-year drought of not winning a championship. If one wants to make an Alabama fan cringe, bring up the names of former head coaches Dennis Franchione, Mike Dubose, Mike Price, and Mike Shula, who were the coaches between Stallings and Saban.
One of the reasons why Alabama and Saban have worked is because Saban's standards for himself are as high as the maniacal expectations from the fanbase.
"I don't need anybody else to criticize," Saban said. "I've got pride in performance, just like everybody else in this organization."
It takes a unique person to handle the pressure of coaching at Alabama. The school places a plaque outside the stadium to commemorate every national title and there is a statue for each of the five championship-winning head coaches. For decades, it appeared impossible that any coach would match Bear Bryant's six plaques on the school's Walk of Champions.
But Saban isn't chasing the ghost of Bear Bryant's houndstooth hat anymore. He's matched Bryant's championship tally and has a better winning percentage over his tenure.
Instead, Saban is chasing the living legacy he's created.
"We want to try to get it right. We want to do everything we can to get people to play to a standard," Saban said. "That's what we're focused on. My standard comes from within me, not from some external motivation that comes from someplace else."
Alabama is a 32-point favorite in their upcoming road game Saturday against the University of South Florida.
Uncommon Knowledge
Newsweek is committed to challenging conventional wisdom and finding connections in the search for common ground.
Newsweek is committed to challenging conventional wisdom and finding connections in the search for common ground.
About the writer
Nubyjas Wilborn is Newsweek reporter based in Auburn, Alabama. Wilborn joined Newsweek in 2023 after winning the 2022 National Sports Media Association Award in Alabama for his coverage of the Auburn athletic department. He is a graduate of Clark Atlanta University. You can get in touch with Nubyjas Wilborn by emailing at n.wilborn@newsweek.com.
Languages: English