Nick Saban Hints at Tensions With Some Former Alabama Assistant Coaches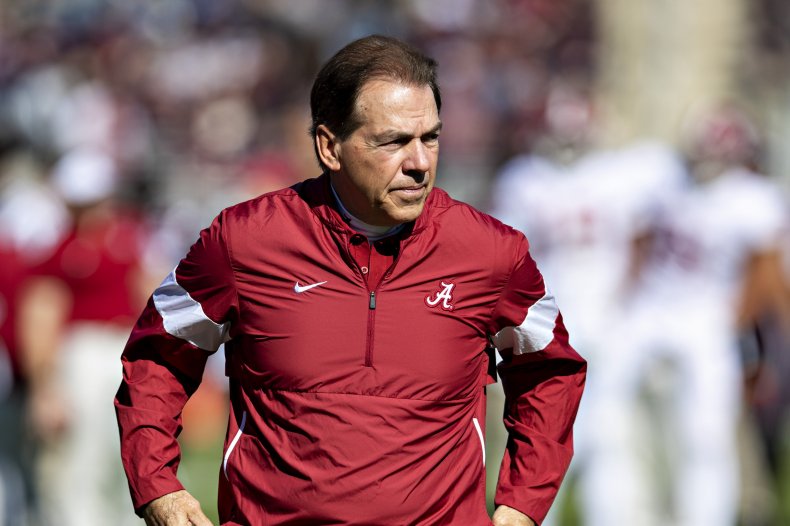 During the debut episode of the HBO Sports series 'Belichick & Saban: The Art of Coaching' Alabama head football coach Nick Saban suggested that he feels betrayed by some of his former assistant coaches.
The episode aired Tuesday night and featured a number of different discussions between New England Patriots head coach Bill Belichick and Saban. During a conversation, Saban talked about the respect he and Belichick have for each other and also touched on some of his previous assistant coaches and their hiring processes.
"We've always had sort of a mutual respect for how we sort of take each other's people," Saban said to Belichick. "It's one thing I always try to emphasize to the guys: what I have a tough time with, aight, is we've had however many guys who have worked here who are at Georgia, Tennessee – whoever, wherever – is when they get those jobs, and in most cases you've helped them, is they have a hard time understanding why they can't take your people."
Saban does name the former assistants he is referring to, but two of the schools mentioned -- Georgia and Tennessee -- currently employ former Saban assistant coaches to lead head their football programs in Kirby Smart and Jeremy Pruitt.
Smart, Georgia's head coach, worked under Saban as an assistant coach in 2007 and then as a defensive coordinator from 2008 to 2015. Pruitt, Tennessee's head coach, worked under Saban from 2016 to 2017 as a defensive coordinator.
In the case of both Smart and Pruitt, they each eventually hired another member of Saban's Alabama coaching staff after moving to their current jobs.
Glenn Schumann worked as the director of player development at Alabama until being hired by Smart as the co-defensive coordinator, while Pruitt hired Derrick Ansley as Tennessee's defensive coordinator after he worked under Saban as a defensive backs coach. Pruitt also hired another Saban assistant in Kerry Stevenson, who worked as the director of player development at Alabama.
"I'm gonna help you get a job, so that you can take what I've tried to build here and destroy the continuity of what I have? It's amazing how some of the assistants don't understand why that's not a good thing," Saban said.
Belichick has also seen his former assistants hire members of his staff. Current Houston Texans head coach Bill O'Brien worked under Belichick from 2007 to 2011, and tried to hire the Patriots' director of player personnel Nick Caserio as the Texans' general manager.
"Look, I'm happy for the people that have worked hard for me to get opportunities. I want to see them build their own program," Belichick said during the show. "When they try to tear down our program, that's kind of where the line, I feel like, gets crossed."