Nick Saban Leadership Lessons: Winning is a Strategy | Opinion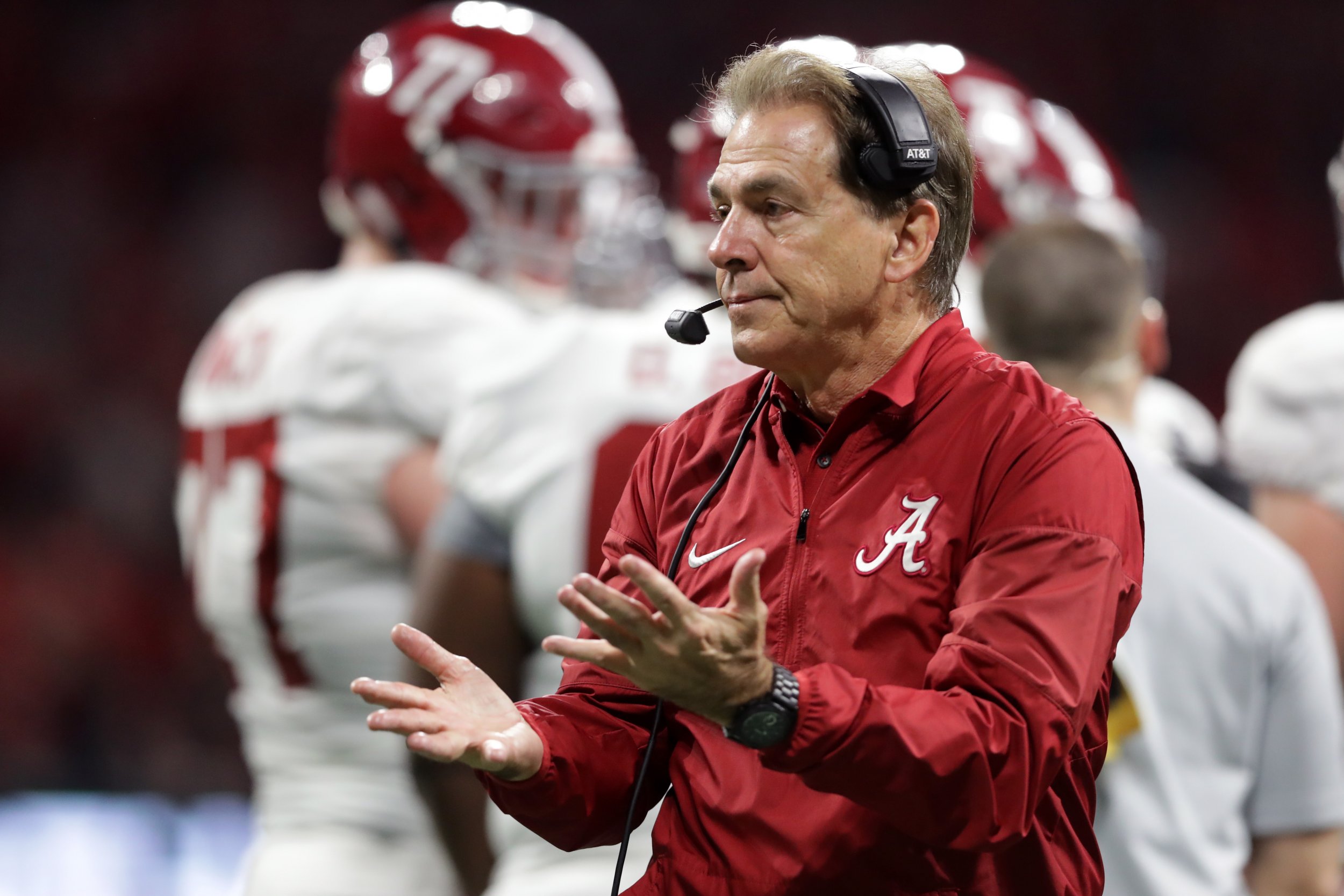 It's easy for college football fans to loathe Nick Saban and Alabama.
He wins so much (five national championships the past nine seasons) that it doesn't seem fair. He gets paid so much ($8.3 million this season, according to a new contract) that his amateur players should revolt in response demanding a fair share.
But there's no denying the Saban/Alabama excellence. The Crimson Tide has made the national championship game for four straight seasons. The two times they lost in the finals were considered losing seasons by faithful.
That's how serious Alabama takes its football.
But it's about more than X's and O's with Saban. For instance, one company CEO I know whose son made the Alabama football team as a walk-on was excited to get closer to Saban for leadership study. He was also more excited that his business-major son would get embedded in a provocative success case study than any potential playing prospects.
Saban may be the new Jack Welch, in other words, because he's doing something in his field that others haven't figured out.
Recently awarded a new contract that pays Saban $75 million through the year 2025, the Alabama coach begins the 2018 season this week, gathering his Crimson Tide players for another run at a national championship as fall practice gets underway.
There's no better time, then, to look at the leadership secrets of the 66-year-old Nick Saban, analyzing what makes most dominating coach in college football.
First, though, some disclosure: As an alum of SEC West competitor Ole Miss, I have been one of Saban's loathers because he's consistently hard to beat. However, several years spent in news leadership in Alabama (al.com/Alabama Media Group) gave me closer insight into the undeniable truth that Nick Saban is one of America's most dominant leaders of this decade.
Thus, here are some of Nick Saban's key leadership traits:
1) Maintain authority at all times.
Saban was grump before Trump. Long before Donald Trump assailed the news media or others who challenged him with an aggressive, attacking style as a presidential candidate, Saban deployed that style as a coach.
Saban's doesn't do it on social media since he doesn't use it, but he does with the press, often getting grumpy and aggressive to maintain a who's in charge perspective.
"Everybody has such a high expectation for what our team should be," Saban once said in a press conference, "but, it really doesn't matter what you think."
Such Saban rants are the norm, and part of his persona utilized to keep the upper-hand and himself entrenched as the most powerful in the room at all times.
2) Don't get easily distracted.
Winning in the rugged SEC is hard. Recruiting can be cutthroat and the games a gauntlet in which only the strongest survive. That's perhaps why Saban keeps a hyper-focus, spending most of his time with football or family, without much room in between.
Consider that Saban doesn't like to send text messages or emails. Most coaches would consider such a standpoint too old-school, but Saban takes the position without apology to remain focused on the task at hand: winning.
"We didn't have all that stuff when I was growing up," he has said.
Saban also often eats lunch at his desk – more time working – and eats from the same menu, as simple as a salad with chicken strips. He's been known to eat oatmeal pies for breakfast, regularly – part of his keep-it-simple persona.
3) Surround yourself with leaders.
The results say that Nick Saban is easily the best coach in college football, but he's got a keen sense of understanding that you become the best by hiring the best. He's not afraid to align with prominent personalities and talents as assistant coaches and coordinators because he realizes they can make the difference.
Among those who coached under Saban are Jimbo Fisher (Texas A&M); Will Muschamp (South Carolina); Lane Kiffin (Florida Atlantic); Jeremy Pruitt (Tennessee); and Kirby Smart (Georgia).
Kiffin is perhaps the best example of how Saban will do what's needed to win. Personality-wise, they aren't the best fit. Kiffin is all a-Twitter, while Saban doesn't Tweet.
But Saban needed an offensive coordinator several years back to get the Crimson Tide over the hump, so he made the hire. It made a difference, with Alabama winning another national championship.
4) Practice makes (almost) perfect.
It's a cliché, the adage of practice making perfect. But in football, as in profession, good practice does help us to perfect. For Saban, this process began when he was young because of his father, known as "Big Nick."
Pushed to perfection that was impossible to achieve, the young Saban learned from his father's relentless pushing how to work the process of practicing to get better. One may not achieve perfection, but Saban learned that practice certainly gets you closer to that aim.
Thus, he expects 100 percent in every practice and focuses on those results as much as he does game results. It's the process focus that is a signature of Saban's style – focus on the process, and it will get you the results.
5) Embrace the power of design.
If you want to be the best, you have to look your best – which means adopting a style and wearing it with consistency. It's what makes one coach stand out from another, or one job candidate stand out from another.
Saban's wife, "Miss Terry," helps the coach choose his style, and he wears it unapologetically – a scarf, a camel overcoat, the crimson blazer.
Just don't expect Saban to don worn out jeans.
"I just walked by some...jeans," he once said in a tone of sadness. "Wore out jeans. Holes in 'em. All cut up."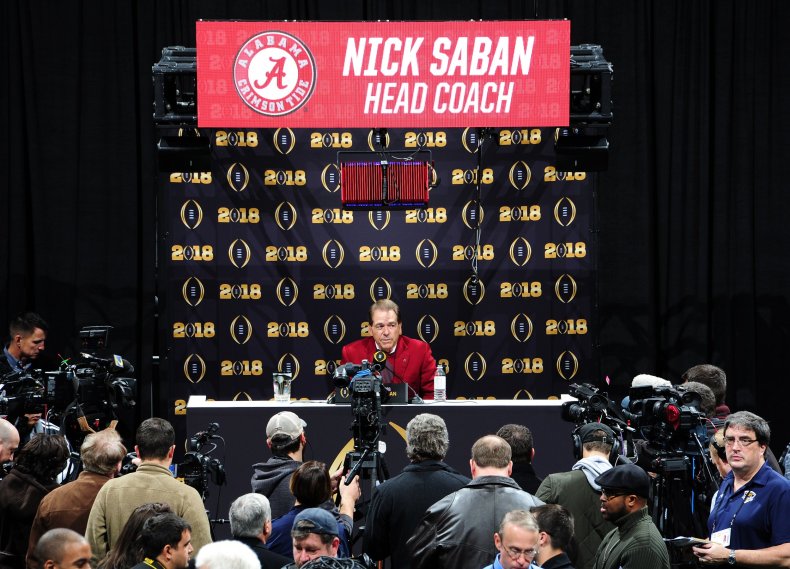 6) Focus on what you do to control the outcome.
Saban doesn't spend a lot of time talking about how great his opponents are.
"Otherwise," he said, "it would be negative teaching."
It's about focusing instead on what you can create – the opportunities you can build against the force of your opponents.
"We create the outcome of the game by doing what we do," Saban said.
7) Don't dwell on success.
One reason Saban wins year-after-year is that he never lets players, coaches or fans get too carried away with a big win, even if it is a national championship. Saban tries to stick to the 24-hour rule, consistently preaching it to players and assistant coaches, like he did this past January after Alabama claimed yet another title.
"In 24 hours, you probably need to move on," Saban said in a press conference after the game.
That's right. Saban's style: Have fun winning it all, but for just a moment.
There's another challenge looming around the corner, so don't let a victory set back your future.
8) Clearly define the talent you need and relentlessly go after it.
Nick Saban once said there are lots of good coaches out there, but he's the one who can also get good players. And that probably makes all the difference for Alabama, since the practice won't help if that talent is not there.
Saban redefined recruiting in college football, from how meticulously the staff assesses the needs to the details Saban collects about prospective players so that he can woo them on the trail.
Yes, the story that has been told and retold of Saban known which type of chewing gum a recruit preferred is right.
The bottom line is that from assessment through recruitment, getting the best and most talented in place is the essential ingredient to consistently winning championships.
But getting the top talent for Saban is a result of bringing it all together, his secrets to success, so that recruits, and their parents, see the potential for a win-win relationship.
For the past decade, it's been working quite well.
David Magee is a contributing editor and the author of a dozen non-fiction books, including top-selling leadership titles How Toyota Became #1 (Penguin); The John Deere Way (Wiley); and Turnaround: How Carlos Ghosn Rescued Nissan (HarperCollins). He is also a former Vice President at Alabama Media Group.