Watch Congressmen Debate Nickelback on House Floor: 'Why Would You Criticize One of the Greatest Bands of the 90s?'
An unusual debate took place in the U.S. House of Representatives on Thursday, Mediaite noted, between a Democrat and a Republican over an issue which perhaps divides Americans more than any other: The rock band Nickelback.
Reps. Randy Davis (R-IL) and Mark Pocan (D-WI) were discussing an amendment which would end the practice of prison gerrymandering in which the Census Bureau counts incarcerated individuals as residents of the districts in which their prisons are located, not their most recent residence prior to imprisonment.
During the committee discussion, Pocan noted how a particular provision related to the issue—which the amendment would address—had been put to the public for comment and did not receive a warm response, WLS-TV reported.
"I would just like to add in 2016 when the census and the federal register asked for comment on this, 77,000 people did comment, only four wanted to keep this provision," Pocan said. "Everyone else wanted to change this, out of 77,000. That's probably about the percent of people who think Nickelback is their favorite band in this country. It's pretty low," he joked.
Newsweek subscription offers >
Pocan continued, "And I think if you look at…," but he was then interrupted by Davis, who indicated that he liked the Canadian rock band. "Nickelback's your favorite band?" Pocan asked, smiling. "I apologize to the gentleman."
When Davis was given a chance to reply he asked, in good nature, "Why would you criticize one of the greatest bands of the 90s?"
Taken aback, Pocan then joked, "Wow. One more reason why there is a difference between Democrats and Republicans, clearly, found on the floor of Congress today," prompting laughter from those in the chamber.
Shortly after, Davis said: "I stand here to say that my colleague from Wisconsin, I know he did not mean to offend the many thousands upon thousands of Nickelback fans in his district in Wisconsin. I'll stand here to save you from doing that and have to face the political consequences at the ballot box," he joked.
Newsweek subscription offers >
"I enjoy debating back and forth and its always good to have some humor on the floor of the house. And yes, I actually do have a Nickelback song on my running playlist that I listen to on a regular basis. I was ridiculed by that when I posted my playlist one time, and I know some in this chamber are still laughing about that. But this amendment's a bad amendment."
Pocan finished his statements by saying to Davis, "I appreciate that very brave admission of your fandom for Nickelback, that's very brave, and I do recognize that. I didn't think we were gonna talk about Nickelback on the floor today, somehow it came up."
The committee eventually agreed to the amendment after a voice vote, WLS-TV reported.
Nickelback formed in 1995, in Alberta, Canada, however, the majority of their success came in the following decade. Over the course of their career, the group has sold tens of millions of albums worldwide, although they have often been the target of derision in the media.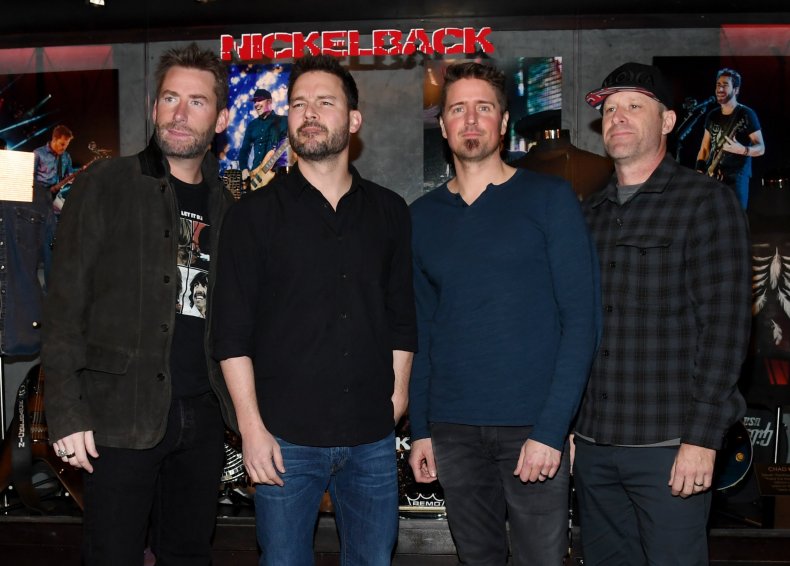 Watch Congressmen Debate Nickelback on House Floor: 'Why Would You Criticize One of the Greatest Bands of the 90s?' | U.S.