Nickelodeon Universe New Jersey: Location, Opening Times and Admission Price as America's Largest Indoor Theme Park Opens
Nickelodeon Universe—the largest indoor theme park in North America – will open its doors this Friday in East Rutherford at New Jersey's American Dream mall.
Visitors will find more than 35 rides and attractions across the 8.5-acre park, including roller coasters such as the Shellraiser—said to one of the world's steepest roller coasters with a 122-foot drop. Other roller coasters to be unveiled include The Shredder, The Nickelodeon Slim Streak and Sandy's Blasting Bronco.
Guests will be met by several Nickelodeon characters including SpongeBob, Dora the Explorer and the Teenage Mutant Ninja Turtles throughout the park grounds, CNN reports.
Other features will include live entertainment on the Nickelodeon Slime Stage, as well as retail venues, games, restaurants and themed party rooms, Fox 5 New York reported.
All Access tickets for admission to all rides are priced at $49.99, while General Access tickets—which don't permit access to some of the bigger rides—are priced at $39.99. Children 2 years old and younger are allowed free entry to the park. Currently, all tickets for the opening day admission are sold out, according to the American Dream website.
Parking will be complimentary during the opening weekend. Normally it is priced from $3 (for 30 minutes) to a maximum of $24 for all-day parking, the mall website states.
The latest installment of the Nickelodeon Universe follows the success of the 7-acre theme park of the same name which opened at the Mall of America in Bloomington, Minnesota back in 1992.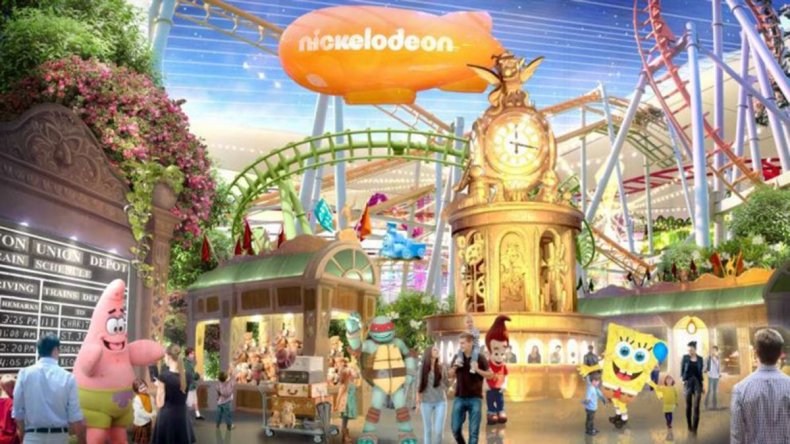 Open year-round, the new New Jersey theme park opening coincides with the unveiling of a massive NHL regulation-sized skating rink at the American Dream mall this Friday, which will be open for figure skating and hockey tournaments.
next month, the mall is also expected to unveil a Dreamworks-themed water park featuring the "world's most innovative and thrilling" water slides. These included the dual FreeFALL speed slide, said to be the tallest in the world with a 70-degree drop, and two SuperLOOP rides (which are said to be the tallest indoor SuperLOOP rides in the world) taking riders along 360 degree curves with "insane G-forces and down a near-vertical drop," according to the project's website.
The American Dream mall spans nearly 3,000 square feet, with nearly 55 percent devoted to entertainment and around 45 percent left for retail space, which is due to be opened in March 2020.
Nickelodeon Universe New Jersey: Location, Opening Times and Admission Price as America's Largest Indoor Theme Park Opens | News