Nicki Minaj Accidentally Exposes Herself in Major Wardrobe Malfunction at Made in America Festival
International hip-hop star Nicki Minaj was involved in a wardrobe malfunction while performing a show at the Made in America Festival.
The 35-year-old was singing in Philadelphia on Sunday night and was wearing an orange dress and a matching orange wig. But, during a dance routine, Minaj experienced the wardrobe malfunction when her dress slipped during her set.
She was quick to respond, however, and covered herself with her hands almost immediately. Minaj was then able to subtly reorganized her dress while still performing.
Minaj has not commented on the incident but she did respond to several fan tweets across several hours following the performance. She even tweeted "I feel GREAT" after the show.
Minaj recently cancelled the American leg of her live tour with Future. Despite rumors it is because of poor ticket sales, the superstar claims it is because of the late release of her album. "This is all happening because I pushed my album back two months and I just finished writing and recording literally hours before the album came out," Minaj said, according to Billboard.
"Now, I simply don't have the time to rehearse and be on the road and give you guys the level of a show I need to give. I really apologize but it will be worth it. Future and I will now start the european leg of our tour first, so those dates will stay exactly the same and the U.S. leg of the tour will now start in May. With Future's schedule, I may have to take another co-headliner or I may just do it like I did the Pinkprint Tour and it wouldn't be a co-headline."
The NICKIHNDRXX TOUR will now begin on February 21 in Munich, Germany, at the Olympiahalle arena.
If Minaj did need another headliner for her American leg, she could ask her rumored boyfriend Eminem. The rapper released his new album Kamikaze last week and would have a new setlist to perform. Rumors of their relationship have been circulating since Minaj's album Queen was released.
For the song "Majesty," Eminem was recruited to sing. "Better not use me as your topic, anybody who brings me up, duck it/ Let me keep it one hundred, two things shouldn't be your themes of discussion," Minaj rapped. "The queen and her husband, last thing you're gonna wanna be is our subjects."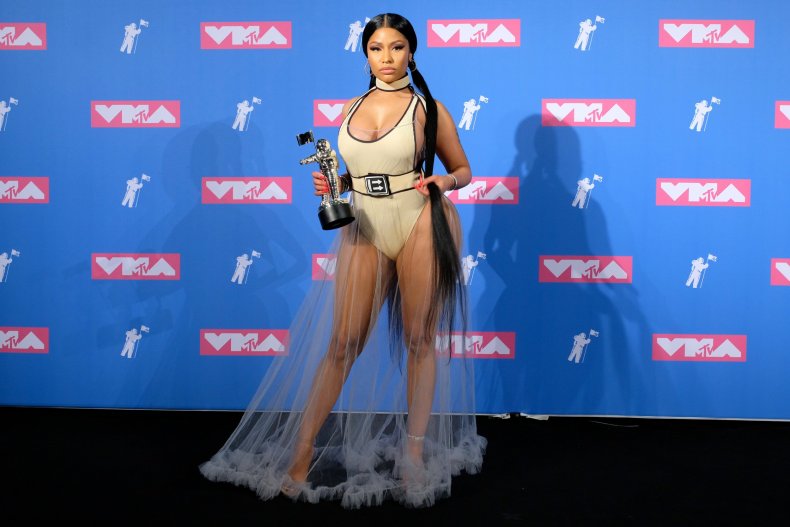 Queen was released under Young Money Entertainment, Cash Money Records and Republic Records. The 19-track record is her first full-length release in four years after 2014's The Pinkprint.
Nicki Minaj Accidentally Exposes Herself in Major Wardrobe Malfunction at Made in America Festival | U.S.