Nicki Minaj Calls Out Grammy Show Producer Ken Ehrlich for 'Bullying': 'I Pissed Off The Same Man Ariana Just Called Out for Lying'
Less than 24 hours after Sunday's Grammy Award ceremony, another A-list artist has called out the show's producer Ken Ehrlich.
In response to a tweet wondering why Nicki Minaj did not take a Grammy home last night after being "at the top of her game," the Queen singer took to Twitter Monday to point the aim toward Ehrlich.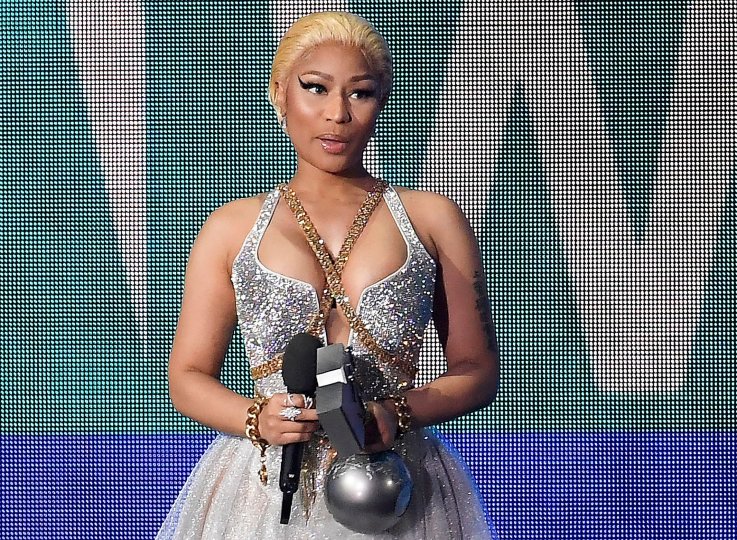 "I pissed off the same man Ariana just called out for lying," Minaj wrote. "Grammy producer KEN. I was bullied into staying quiet for 7 years out of fear. But I'll tell my fans the REAL on the next episode of #QueenRadio they deserve the truth."
Despite releasing multiple top hits, including "Good Form" and "Chun-Li," Minaji did not receive any Grammy nominations this year.
Minaj's comments toward Ehrlich comes four days after Thank U, Next singer Ariana Grande broke her silence regarding her sudden Grammy performance cancellation. The singers series of tweets were in response to the show's producer saying the cancellation was due to producers feeling "it was too late for her to pull something together."
"I've kept my mouth shut but now you're lying about me. I can pull together a performance overnight and you know that Ken," the singer tweeted. "It was when my creativity & self-expression was stifled by you, that I decided not to attend. I hope the show is exactly what you want it to be and more."
"I offered 3 different songs. It's about collaboration. It's about feeling supported. It's about art and honesty. Not politics. Not doing favors or playing games. It's just a game y'all ... and I'm sorry but that's not what music is to me," she added.
Meanwhile, Eurlich isn't the only one feeling the heat from Minaj. Following an "unauthorized" tweet by BET targeting the singer, Minaj announced to her followers that she would no longer be performing at BET-related shows.
In the since-deleted tweet, there was a dig at Minaj attached to an article of Cardi B's Best Rap Album win.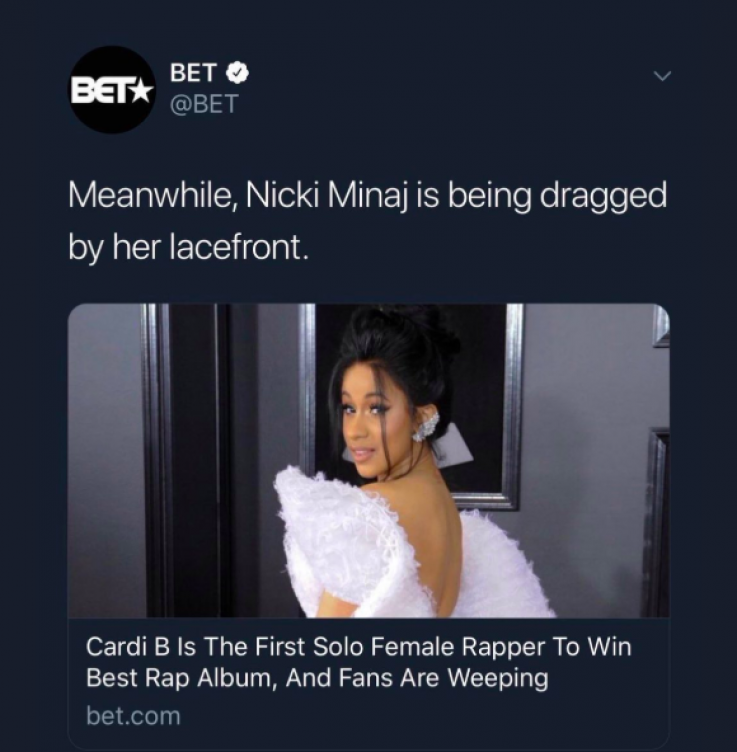 The channel, which stands for Black Entertainment Television, released a statement regarding the faux pas to TMZ.
"BET loves Nicki Minaj. We have supported her from the very beginning of her career and will continue to do so moving forward. Nicki has paved the way for so many performers and has solidified her place as one of the most powerful figures in the music industry," the statement read.
"Unfortunately the respect we have for Nicki was violated by this post that should never have been written. The post does not reflect how we feel about Nicki. And further does not reflect our company values," the statement continued. "We deeply apologize for the hurt, disappointment and confusion that this post has caused. We are committed to doing everything we can to address the situation."
The statement concluded: "We are also conducting an internal audit to assure these types of posts are not published again. We have apologized to Nicki and her team. The post has been removed and we have taken additional appropriate action. We understand Nicki's position and look forward to continuing our dialogue with her. Finally, we apologize to all of her fans. This should have never happened."
Nicki Minaj Calls Out Grammy Show Producer Ken Ehrlich for 'Bullying': 'I Pissed Off The Same Man Ariana Just Called Out for Lying' | Culture