Nicki Minaj Blames Spotify and Kylie Jenner for 'Queen's' No. 2 Debut on Billboard
Nicki Minaj explained why she isn't too happy with Spotify's promotion of her new album, Queen, on Twitter Sunday.
Queen, which was released August 10, debuted in the No. 2 spot on the Billboard 200 albums chart, behind Travis Scott's Astroworld, for the week ending on August 16. Scott's album earned 205,000 equivalent album units, a measurement made up of traditional album sales, track equivalent albums and streaming equivalent albums. Minaj's earned 185,000 units, with 97,000 of those from streaming and equivalent to 128.7 million on-demand audio streams.
"Spotify put drake's [sic] face on every playlist but told me they'd have to teach me a lesson for playing my music 10 mins [sic] early on #QueenRadio," she tweeted, referring to her streaming her album on her Beats 1 radio show on Apple. "Even tho [sic] they've been giving away my music for free for years & I am one of the top Spotify artists of all time."
"They took away my promotion they had promised for the 1st cpl [sic] days b/c [sic] of this," she continued in the next tweet.
As she explained, since her music was available on Apple, she assumed it was also available on other streaming services like Spotify. "Spotify said that Apple tweeted fans advising #Queen was up & therefore they had to teach me a lesson," she wrote. "My label [Republic Records] didn't want to defend me for fear of Spotify trying to teach Ariana [Grande, whose album, Sweetener, was released Friday] a 'lesson' too."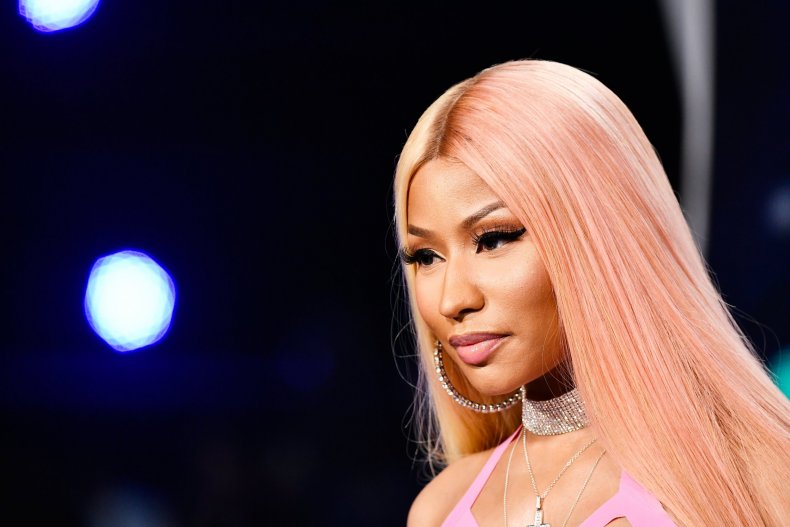 She pointed out her Spotify statistics (over 32 million monthly listeners and 12 million followers) in a subsequent tweet.
Minaj began her tweets with a screengrab of Kylie Jenner's Instagram post promoting her boyfriend's album with the caption "me and storm ready for tour" and a link to his online store. "I spoke to him. He knows he doesn't have the #1 album this week." Minaj wrote about Scott along with the photo and added, "I lost out on 12 hours of sales and did 200K in one week after I was supposedly canceled."
Despite its spot on the Billboard chart, she noted her album was number one in 86 countries.
While Minaj tweeted she "won't" be quiet on Queen Radio this week, she also said "this is sarcasm/dry humor" in her last posts on the matter. "I'm having the most iconNIC [sic] time," she wrote. "But I did write a new freestyle n [sic] I'll record it later. I felt it was time."