Nicki Minaj Says Her Cousin's Friend Is Willing to Talk For The Right Price
The Nicki Minaj saga about her cousin's friend's swollen testicles is continuing into Wednesday, with the rapper's beef with the COVID-19 vaccine's proponents descending into a public spat with Piers Morgan, as well as U.K. prime minister Boris Johnson also being mentioned.
And now Minaj has said her family friend is willing to tell his story for the right price.
Let's recap: On Monday the rapper revealed that the reason she would not be attending the Met Gala is because she is still unvaccinated against COVID-19.
"They want you to get vaccinated for the Met. if I get vaccinated it won't for the Met. It'll be once I feel I've done enough research," she tweeted to her 22.6 million followers, adding: "I'm working on that now. In the meantime my loves, be safe. Wear the mask with 2 string that grips your head & face. Not that loose one."
After drawing a backlash, Minaj then followed up with what has become an iconic anecdote about a family friend in Trinidad who claims to have had an adverse reaction to the jab.
"My cousin in Trinidad won't get the vaccine cuz his friend got it & became impotent. His testicles became swollen. His friend was weeks away from getting married, now the girl called off the wedding," she wrote. "So just pray on it & make sure you're comfortable with ur decision, not bullied."
Minaj later clarified her stance on the vaccine to fans: "A lot of countries won't let ppl work w/o the vaccine. I'd def recommend they get the vaccine. They have to feed their families. I'm sure I'll b vaccinated as well cuz I have to go on tour, etc."
The bizarre tweet from Minaj dominated Twitter yesterday, to the point where it was even mentioned by the British prime minister and his chief medical officer during a Downing Street news conference on Tuesday evening.
Chris Whitty criticized the New York rapper for her tweet, saying: "There are a number of myths that fly around, some of which are just clearly ridiculous and some of which are clearly designed just to scare. That happens to be one of them."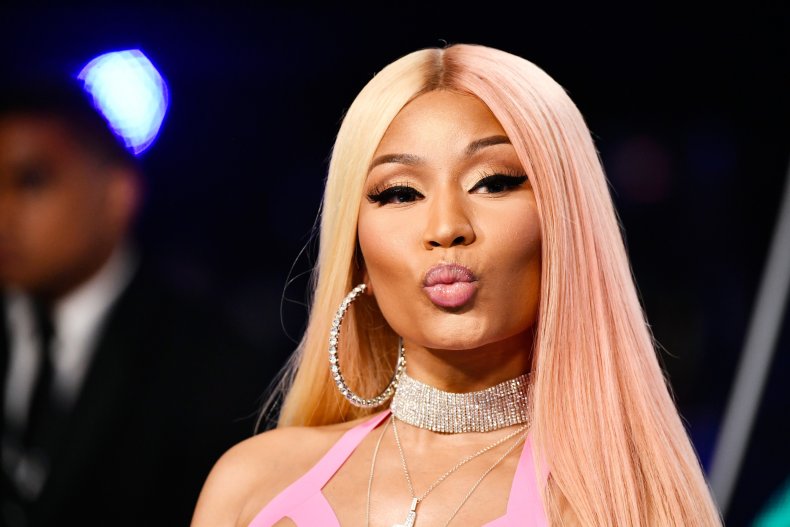 Johnson then added: "I am not as familiar with the works of Nicki Minaj as I probably should be. But I am familiar with Nikki Kanani, a superstar GP of Bexley who has appeared many times before you, who will tell you vaccines are wonderful and everybody should get them."
Minaj celebrated the namecheck on Twitter and complimented Johnson's accent before posting an audio of her speaking to the prime minister in a fake English accent.
"I was just calling to say you were amazing on the news this morning," she says before adding that she is "actually British," and "went to Oxford," "went to school with Margaret Thatcher."
The absurdity reached new heights when TV host Piers Morgan waded into things.
Minaj called Morgan "ugly", a "clown" and a "stupid piece of s***" after he accused her of "peddling lies" with her tweets about the vaccine.
Of course, the whole thing has proved to be ripe for late-night television comedy and Jimmy Kimmel's monologue on Tuesday night poked fun at the "Superbass" rapper and her vaccine anecdote.
"The poor guy's sitting at home on his couch, TV dinner resting on his nuts, and now he's famous," Kimmel joked.
He went on to say: "By the way, if anyone can track down this friend of Nicki's cousin, I would really like to talk to him."
Retweeting the clip, Minaj told Kimmel she might be able to arrange a meeting with her friend's cousin, writing: "He's willing to talk for the right price. I'm his manager. Call me, Jimmy."
This also prompted some journalists to joke they had tracked the mysterious person down, with CNN's Donie O'Sullivan tweeting: "Just landed in Trinidad on an important assignment."