What Did Nicki Minaj Mean With Her Harriet Tubman Tweet?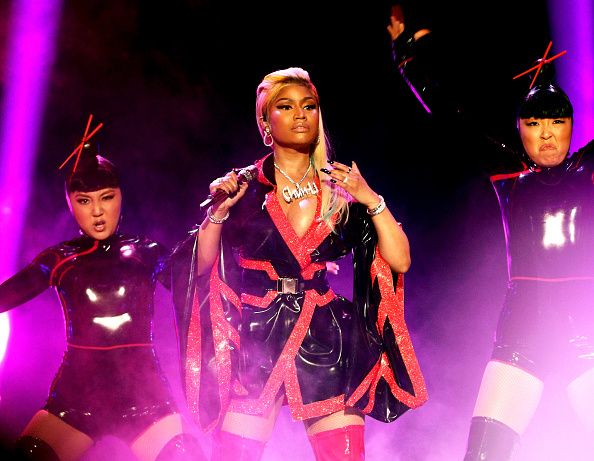 Nicki Minaj continued her Twitter ranting and seemingly likened herself to Harriet Tubman on Monday.
"All the QUEENS I remember, SHOOK S**T UP!!!!!!!! Queen of the week may go to HARRIET TUBMAM!!!!" Minaj wrote referencing her Beats 1 radio show on Apple Music, Queen Radio.
Noting the legendary abolitionist's remarkable contributions to African American history, Minaj continued, "Had she just sat there & ate her peas and rice, you n***az history would've been a lot less triumphant."
Several people on social media suggested Minaj was comparing her trailblazing efforts in the music industry to the revolutionary, considering Minaj's earlier tweets regarding her album Queen's No. 2 spot on the Billboardcharts for the week ending August 16.
In a string of messages, Minaj blasted music streaming service Spotify for preventing her album from superseding Travis Scott's Astroworld, which landed in the No. 1 spot on Billboard 200 albums chart.
"Spotify put drake's [sic] face on every playlist but told me they'd have to teach me a lesson for playing my music 10 mins [sic] early on #QueenRadio," she tweeted. "Even tho [sic] they've been giving away my music for free for years & I am one of the top Spotify artists of all time."
She continued: "Spotify had to teach me a lesson but rewarded the man who has had an Apple radio show the longest; inadvertently helping the platform the most. Oh, I can't wait for #QueenRadio on Tuesday. They took away my promotion they had promised for the 1st cpl [sic] days b/c of this."
Minaj said she assumed when her music was released on Apple Music her album was also uploaded onto Spotify and Tidal's streaming platforms as well. "Spotify said that Apple tweeted fans advising #Queen was up & therefore they had to teach me a lesson. But PRAISE BE TO GOD!!!!!!" Minaj wrote.
Despite Spotify's apparent interference, Minaj said her album went on to be named No. 1 in 86 other countries.