Nicki Minaj Tells James Corden She's Lost 'Freedom,' Confidence With Age
Nicki Minaj has revealed that she's lost a sense of "freedom" and confidence in the years since she first rose to fame.
The rapper, 39, made an appearance on The Late Late Show with James Corden's Carpool Karaoke segment on Wednesday night, during which she candidly discussed the way in which industry scrutiny has affected her.
After the chart-topping star, real name Onika Maraj-Petty, ran through a medley of some of her biggest hits, titular host James Corden enquired why she was eating ice in the car, as he said that he regularly sees her being supplied ice at events.
"I feel like it's an anxiety ball," Minaj explained. "You know how you can just [use] a stress ball? So like every time I'm like biting the ice, it's like taking out the anxiety."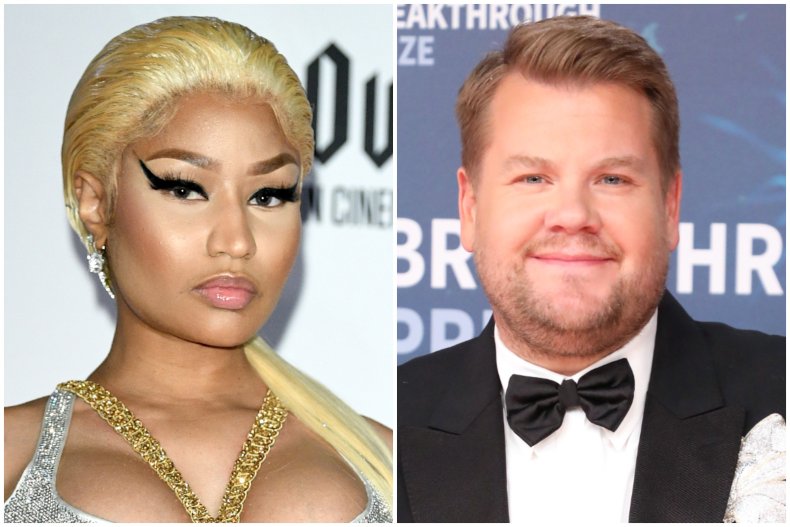 "Do you struggle with that, with anxiety?" Corden asked, which Minaj answered in the affirmative. "Because in so many ways you are so unbelievably confident. What is that, that mix between anxiety, nerves, matched with an extreme amount of confidence?"
"I don't know," the Trinidadian-born star responded. "I think when I was younger, probably my more natural state was to be more confident. But I think when you are a woman and you're in the public eye all the time if you're not careful you can become less confident because you're being constantly scrutinized, you know?
"And I just don't think it's natural. It's not natural for a human being to just always feel like everyone's critiquing them.
"Like, when I first came into the industry, I had this amazing sense of freedom, because nobody gave a s*** about what I was doing. Like, I could get away with doing anything. And they would just be like, 'Oh, haha, Nicki Minaj.'
"And then it goes from that to the complete opposite, where it's like if I blink my eye wrong they'll have a story made up about why I blinked my eye that way."
When Corden asked how she protects herself from such situations, Minaj said: "Whenever I am off social media and I take that [expletive] off my phone, I have this just enormous sense of peace. And then you realize what really matters. The things that you're thinking about, worrying about, you're like, 'Who cares?'"
Minaj, who welcomed a son with her husband Kenneth Petty in September 2020, went on to state that motherhood has "played a huge part" in her ability to prioritize the more important factors of life.
"Because I don't care what could be going on, what text just came through to my phone or what I just saw on the internet, when I look at my son, I'm like just magically in love," Minaj said. "You know, he just makes me laugh, makes me smile, makes me happy. He's just so cute and cuddly."
Elsewhere in the interview, Corden asked Minaj why she often affects a British accent, prompting her to joke: "It's motivational speaking for the world to see."
British comedian Corden then told the star that she sounded like chart-topping singer Adele, before he asked what he thought of her word-for-word rendition of Minaj's verse on the 2010 smash hit "Monster" during a previous Carpool Karaoke session.
"I just loved it," said Minaj of Adele's rap. "I mean, she made me so, so happy. She embodied Nicki Minaj."
"She just naturally has that thing, you know what I mean?" Minaj added. "But it's different, because she's singing these sad songs, so you don't expect it from her, you know what I mean?"
Returning the favor, Minaj and Corden then broke into a rendition of Adele's hit ballad "Someone Like You."