Nicki Minaj Appears to Push Fan Amid London Melée
A video of Nicki Minaj appearing to push a fan out of the way during a chaotic London meet and greet has gone viral.
The rapper was in the U.K. to headline London's Wireless Festival, but all hell broke loose when the Superbass hitmaker was mobbed by crowds of fans, forcing her to cut the event short.
Minaj took to Instagram to tell fans that she would be at Cafe Koko in Camden, North London at noon on Monday which prompted hundreds of people to show up in the hopes of meeting the star.
But when she eventually arrived at around 6 p.m. local time, police had to form a protective wall around her and escort her to the venue.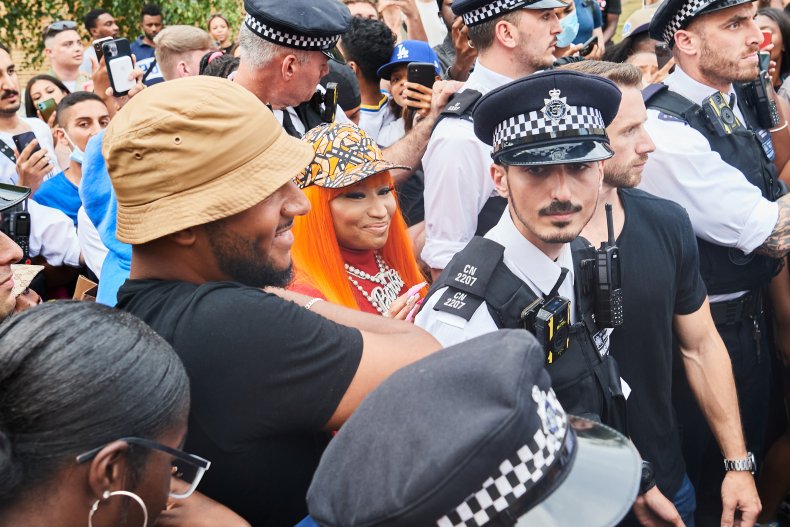 Footage shared on social media showed severe overcrowding as fans clamored to meet the rapper.
"Guys, if you don't get in a contained space they won't let me get out the cars. Pls don't run in the streets. Please get in 1 place. 1 line," she tweeted at one point, in response to footage of the frenzied crowd.
One clip, originally shared by TikTok user @theyluviish, shows the 39-year-old artist surrounded by people as she tried to make her way to the crowd.
The person filming the clip, turned their back to Minaj and attempted to record a selfie, but this action appeared to inhibit the rapper from moving through the crowd.
Minaj can be heard pleading with the crowd to "back up" before seemingly pushing the fan out of the way.
"Nicki Minaj literally pushed me omg," the fan said in the TikTok, adding: "My fave literally touched me."
Newsweek has reached out to Minaj's representatives for comment.
Further footage from the day shows Minaj seated inside a car as fans surround the vehicle and bang on the windows.
Meanwhile, a fan who was injured by a phone thrown during Lil Uzi Vert's set at Wireless Festival in the U.K. has addressed the situation, telling her TikTok followers that she had her "head smashed in."
The rapper was performing at Wireless Festival's first weekend in London's Crystal Palace on July 1 when the incident occurred, and TikTokker Drilla G took to the platform to say she was hit when the Money Longer hitmaker threw a phone from the stage.
A video of the phone being thrown was initially shared by user @angelo15055 and Drilla G responded to show a photo of her bloodied head.
She addressed the incident in a further video, telling her followers: "I am sadly that chick that got her head smashed in by the phone." She mentioned that someone else was also hit, but she did not identify the other individual.
"Yes, there was some damage caused," she explained. "But the guy got his phone back and everything is being dealt with."