Nicki Minaj's Paper Magazine Cover Topples Kim Kardashian's 'Break the Internet' Issue, Fans Say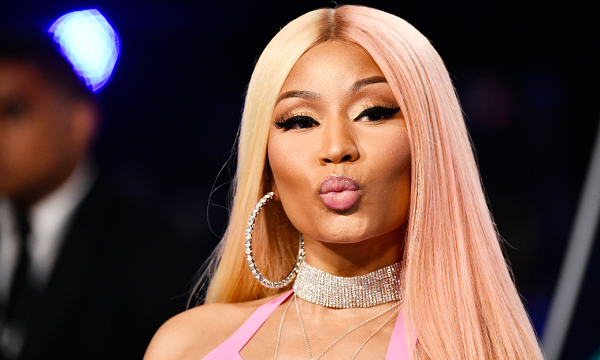 Nicki Minaj has blessed Paper magazine with a bodacious, NSFW cover that is so hot it might melt, rather than simply break, the internet.
Three years ago, the magazine released a "Break the Internet" issue that featured reality TV star and business mogul Kim Kardashian wearing nothing but a high ponytail. It had fans in a tizzy, and got lot of people talking. But Paper has gone much further this time. The issue hits stands on November 28, but the "Minaj à Trois" cover, which captures three of Minaj's many different sides all, um, interacting with each other, was released early and immediately turned social media upside down.
One Nicki sits in a chair wearing nothing but pink Spanx and pasties. Another Minaj, in a scantily clad pink dress, stands above her and gropes her breast. The third Minaj, dressed in a pleather bodysuit with long blonde hair flowing down her backside, is seen sitting on the floor with her face between the sitting-Minaj's wide-open legs. The intention seems clear.
"It came to me one day that 'Minaj à trois' had never been done. HOW? We have seen different versions of Nicki, from high fashion to seductive to in-your-face and eye-catching all at the same time. But we had never seen all of these together," Paper editor Drew Elliot wrote about the cover image, shot by photographer Ellen von Unwerth.
The cover is undeniably raunchy. nut it's really no surprise. The 34-year-old rapper has been starting fires with her over-the-top, risqué costumes and music videos since she first emerged on the music scene. (Example: Her 2014 "Anaconda" video, in which the rapper shakes her butt in a thong leotard.)
Minaj's fans appear pleased with Paper's cover.
The original Internet-breaker appears to be among those ogling the Minaj à Trois. Kardashian commented on Minaj's Instagram post of the cover with three fire emojis. But her 2014 Paper cover, shot by Jean-Paul Goud, was certainly provocative. It showed the mother-of-two in the buff, slathered in oil, her butt serving as a tray for a champagne glass.