Nicki Minaj Will Give $100K to Person Who Leaks Cardi B Fight Footage
Nicki Minaj is not done feuding with Cardi B just yet. During an appearance on her Queen Radio show Monday, she claimed she'd reward $100,000 to someone who's willing to leak footage of their September altercation at New York Fashion Week's Harper's Bazaar ICONS party.
Minaj weighed in on her beef with Cardi once more. She wants the world to know the truth about the 26-year-old "Money" rapper's part in their infamous brawl, which has since resulted in a back-and-forth shading spree.
Cardi tossed a shoe at Minaj during the ICONS party, ultimately missing her. This attack prompted for security to interfere. Cardi notably parted the event with a bump on her head. She initially alleged a security guard was responsible for giving her the mark, but the 35-year-old "Chun-Li" hitmaker suggested Love & Hip-Hop New York star Rah Ali was the one who hit Cardi.
"Anybody that wants to pull up the surveillance footage, I will give you $100,000," Minaj said. "Anybody that says that didn't happen. I would never come up here and lie. For people who don't know, Rah Ali beat Cardi's a** real bad. You went home and told people that security hit you, and we let that ride for legal reasons."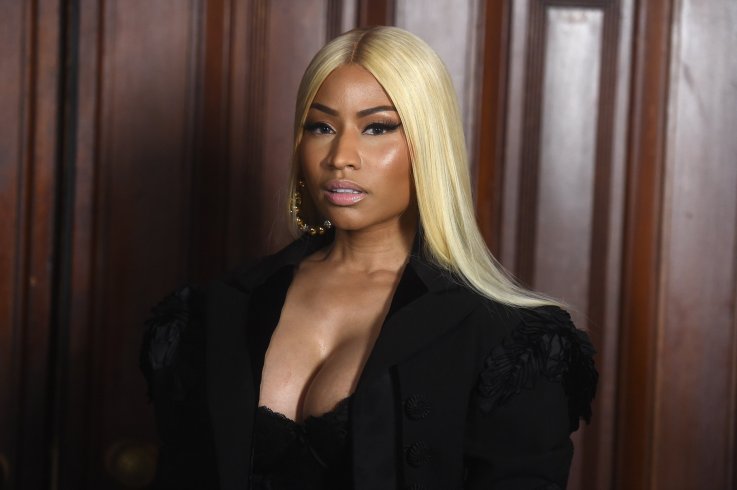 Speculation regarding Ali's involvement first surfaced over the weekend. She slammed Cardi's sister, Hennessy Carolina, with a comment on her Instagram. "Keep playing with me you dumb B**** and Ima RAG YOU like I did your sister," Ali wrote.
Minaj last addressed her fight with Cardi via Queen Radio on September 10. She described the altercation as "mortifying" and advised the rapper seek "some f***ing help."
"I was in a Alexandre Vauthier gown off the mother f***ing runway. I could not believe how humiliating it all felt...how we made ourselves look," Minaj said. "I would never discuss anyone's child and it's so sad that for someone to pin that on me because I'm the bad guy and people would believe them."
Before this, Cardi slammed Minaj on Instagram. The "Taki Taki" rapper claimed to have "let a lot of s*** slide" and allowed Minaj to "lie" about her.
"You've threaten other artists in the industry, told them if they work with me you'll stop fuckin with them! I let you talk big s*** about me," Cardi wrote. "I addressed you once in person, I addressed you a second time in person, and every time you copped the plea!"
Cardi added, "But when you mention my child, you choose to like comments about me as a mother, make comments about my abilities to take care of my daughter is when all bets are f***in off! I've worked to hard and come too far to let anybody f*** with my success!!!! B****** talk all that shit in they raps but in real life they p****!! This shit really is for entertainment!!"
Nicki Minaj Will Give $100K to Person Who Leaks Cardi B Fight Footage | Culture