Nicki Minaj Plans To Sue Husband's Rape Accuser After Harassment Charges Dropped
Nicki Minaj's lawyer has expressed plans to sue the woman who accused the star and her husband, Kenneth Petty, of intimidation and bribery.
Jennifer Hough, who alleged that Petty had raped her back in the 1990s, has dropped her harassment charges against rapper Minaj, according to documents.
"The case against Nicki was voluntarily dismissed," Hough's lawyer, Tyrone Blackburn, told People. "The case against Kenneth Petty is still ongoing. Stay tuned!"
"Super Bass" hitmaker Minaj, whose real name is Onika Tanya Maraj-Petty, is now planning to sue Hough to recoup the cost of legal fees.
According to People, Minaj's lawyer, Judd Bernstein, told Hough's attorney via email that he was pleased the complainant and her representative "came to their senses" with regards to the lawsuit.
"Your conduct in pursuing this case against Nicki represents the worst of our legal system: bottom-feeding lawyers who pursue frivolous actions against a celebrity assuming that they will be paid off if they throw up enough dirt," he is said to have written.
Bernstein said, per People: "It is just the beginning of Nicki's and my efforts to make you pay for your disgraceful conduct with both money and, if the Court recommends it, disciplinary sanctions."
Back in 1995, Petty was convicted of attempted rape after Hough alleged that he had raped her at knifepoint as she was on her way to school in New York City a year earlier.
After denying an initial charge of first-degree rape, he pleaded guilty to attempted rape and was ordered to register as a sex offender. According to inmate records, he spent about four-and-a-half years in prison.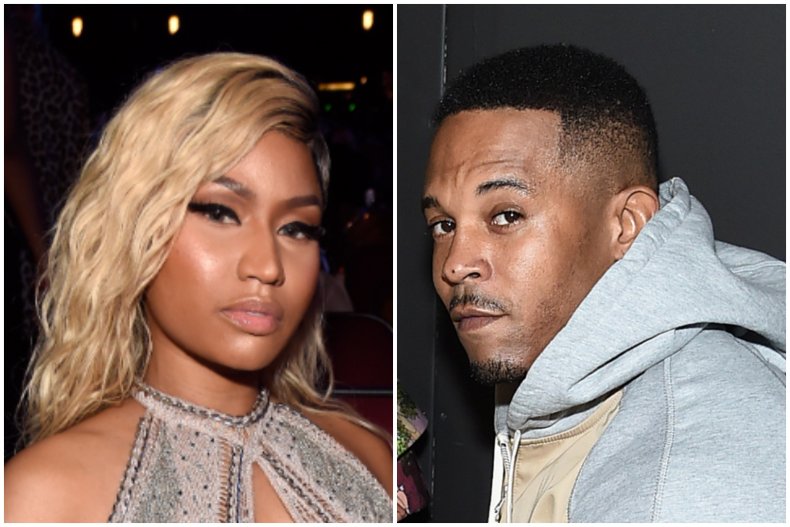 In August 2021, Hough sued Minaj and Petty, alleging that they had attempted to bribe her to recant her accusations. She was offered as much as $500,000, according to the suit.
Hough accused Minaj and Petty of "intimidation, intentional infliction of emotional distress, negligent infliction of emotional distress, harassment, assault, battery, sexual assault, and sexual harassment."
During an appearance on talk show The Real in September 2021, Hough alleged that she and Minaj had spoken directly over the phone after the star called her.
"She offered to fly me and my family to L.A. I turned it down," Hough said. "And I told her, woman to woman, this really happened. And I hadn't spoken to her since."
Hough also claimed that Minaj and Petty had been "sending people to negotiate numbers, as far as money is concerned, with family members."
"And Nicki is the one who personally reached out to me, in regards to helping her, helping them, in this situation," Hough said. "And then the threats that I received because I kept saying no to every offer, to every suggestion.
"The last incident was when one of their associates put $20,000 on my lap. And I still kept saying no. The last message I received was that I should have taken the money because they're going to use that money to put on my head."
Speaking with The New York Times about the lawsuit in an interview published in August 2021, Hough said that she had been telling the truth.
"If I lie now and say that I lied then, you know what that does?" Hough said. "Do you know what that's going to say to my two little girls, or even my sons?"
While Petty is still named in the lawsuit, he is also facing potential prison time after pleading guilty to failing to register as a sex offender in California, where he now lives with Minaj and their 16-month-old child.
Petty entered the plea during a virtual hearing with the U.S. District Court for the Central District of California, per court records obtained by People.
He faces a maximum sentence of 10 years in prison and a lifetime of supervised release. His sentencing has been scheduled for January 24.
Petty was also imprisoned for shooting a man in New York in 2002. He pleaded guilty to first-degree manslaughter in 2006 and was subsequently sentenced to 10 years in prison, serving seven.
Newsweek has contacted representatives of Minaj and Petty for comment.